With fireworks, cookouts and stars and stripes on consumers' minds, it's time for marketers to prepare for Independence Day. Luckily, we've just released a Holiday Hot Sheet that is chock full of Fourth of July insights, including search, email and content trends that are sure to make your customers "ooooh and ahhh!"
Search data gives marketers Fourth of July insights
Unlike many of the holidays we analyze, online searches related to America's birthday are almost exclusively focused during the week of the holiday itself, with a small increase in activity the week prior. The window for marketers to capitalize on Fourth of July-related searches, then, is much smaller than the typical four week period we see for other holidays.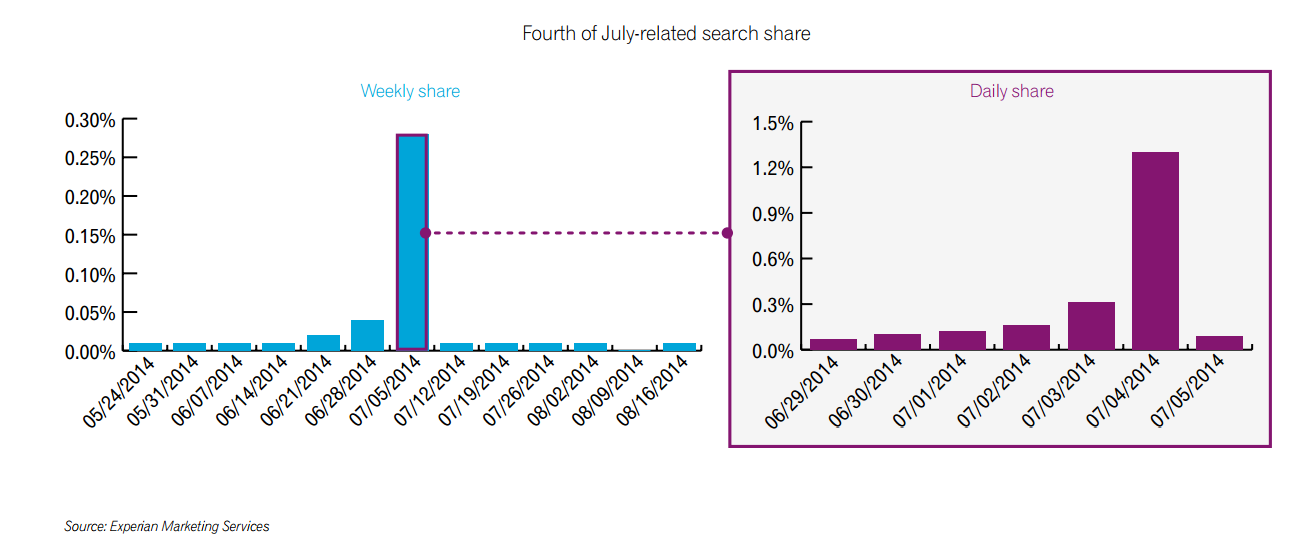 For what are consumers searching? Beyond generic holiday queries (61 percent of related searches), image-focused searches claimed 11 percent of search volume and 63 of the top 300 variations. These also included searches for memes and animated gifs.  Other top categories:
Events (five percent of related searches): Much of the traffic around this topic included local holiday celebrations, parades and fireworks. Sponsoring these is a great way for businesses to associate their brand image with family-friendly tradition.
Flair and food (fine percent each): Patriotic nail polish and outfits make up much of the flair-related searches, while desserts dominate the food conversation.
Arts and crafts (three percent): Many queries in this category sought out kid-friendly Independence Day-themed coloring pages or word searches.
Email marketing for the Fourth of July
Similar to search, July 4th-related emails are typically concentrated around the holiday itself, with 70 percent sent within one week of the holiday last year. Additionally, 65 percent of the revenue from the holiday was captured within the week of the Fourth, with the highest revenue days being July 3rd and 4th.
With all of the email volume concentrated on such few days, how can you stand out in the inbox? Using the words "celebrate," "fireworks" and "grill" should boost open rates, while "deals," "% off" or "free shipping" bring the highest transaction rates.

Like what you learned here? There's even more insight to be found if you download the entire hot sheet. Visit our Holiday Hot Sheets resource page to read the full report!