Building an email is a complex process met with the intention of creating an engaging, easy to read, informative and attractive final product. To keep up with advancing technology, emails also need to be readable on multiple devices like smartphones and tablets. Optimizing email for mobile and other advances in technology is important. With all the different optimization tactics out there, many email marketers constantly wonder, "What is the best approach for me?"
On Thursday, August 21st my colleague and design expert, David Kepets, will present a webinar on an array of creative tactics and best practices email marketers can use to give their campaigns an extra boost. During the presentation, he will provide real-life examples to help explain why certain tactics work better than others, including a whole section dedicated to responsive design vs mobile-friendly approaches to optimizing email for mobile. In anticipation of this event, I would like to share my take on this debate.
To start, there is a place for both approaches to mobile optimization in the world of email, so the decision to use responsive design or a mobile-friendly format is made based on the content of the email and the creative wishes of the sender. Determining the best approach also depends on how often the content will be updated and whether it will be uniform or change from mailing to mailing. Given the nature of the industry and the constant need for updates, responsive design can get tricky in ways that mobile-friendly design doesn't.
The primary difference between responsive design and mobile-friendly design is that the former locks content into one format or layout, while the latter can be designed any way the sender wishes. The creative liberty granted by mobile-friendly design is what makes it an attractive choice for some content and people (like me), while the strict rules associated with responsive design works for others.
Responsive design is a winning approach if the sender wants a static, grid-like layout and requires that only content is updated. If going that route, designers must also keep in mind how email content will stack once the design is reconfigured for a mobile device. Mobile-friendly design is considered one size fits all because there's no restacking and there is more freedom to suit a creative vision – especially for reading on a mobile device. This flexibility leads to a design that appears seamless and eye catching rather than boxy and formulaic.
In terms of deadlines, mobile-friendly design allows for faster turnaround times and last minute edits. Since mobile-friendly is faster to code, edits can be made closer to the deployment date without holding up production. Also, since mobile-friendly requires a much smaller amount of quality assurance time and resources, the entire process is more efficient.
Once the code is complete, mobile-friendly designs are less likely to break. Coding only one version makes it easy to regulate what the final product will look like across all browsers. Apps and browsers are always updating the way they treat email code, which is why there is such an extensive QA process for responsive design. However, even after a thorough QA, an app or browser could update and break the code. Mobile-friendly design features very basic code, which almost all browsers and apps will read correctly, even if they update after the email has been deployed.
When it comes to the mobile-friendly design process, here are some rules to follow to make sure the final product will appear flawless across all devices:
The width of the email should be about 560 pixels.
The font size should be no smaller than 16 point.
Adequate space should be left in between CTAs so that the reader doesn't unintentionally press the wrong CTA on the screen with their finger.
Imagery and CTAs should be proportional to the email's width. If the email is wide, the imagery needs to be larger to ensure it will be visible once the email is shrunk down on a mobile device.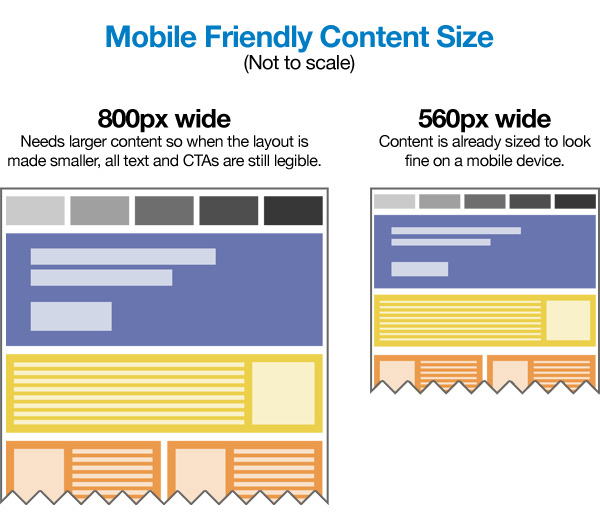 Remember, email users read their mail on a number of different devices with varying capabilities. That's why when designing an email it's important to choose the design that will be most compatible across browsers, platforms, phones and constantly changing apps. I personally prefer a mobile-friendly approach that doesn't limit my creative to a certain, regulated format, but that is just one designer's opinion. To learn more about the advantages of responsive design and other creative tactics not covered here, I strongly encourage you to attend David's webinar, Email Makeovers: Creative best practices that give your campaigns a boost!, on Thursday, August 21st from 1-2PM ET. I promise you will gain new insights and ideas to improve your email creative.
Until then, good luck and happy sending!