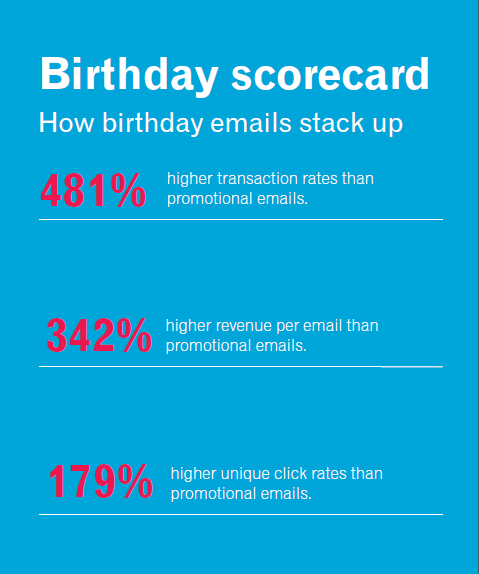 On the day of your birthday you may expect the dozens of happy birthday texts, calls and Facebook messages from your friends and family. What you may not expect, are the many personalized birthday emails and offers you receive from your favorite brands.
Because birthday emails are inherently sentimental and delightful to customers, they are a quick and easy win for any brand looking to enhance customer relationships. In fact, in a recent Experian Marketing Services audit of birthday email campaigns, we found that sending birthday emails is one of the most effective ways for brands to increase unique click rates, transaction rates and revenue for their email program.
The following are select tips from our recent Birthday Emails Best Practices Guide to help you maximize the effectiveness of birthday emails as a part of your marketing program:
Promotional birthday emails can be highly effective as long as you follow three key steps:
Customers love a good mystery: People are always intrigued by what they don't know. Mystery birthday offers retain the highest revenue per email compared to all other offers and discounts, making them a great marketing tactic.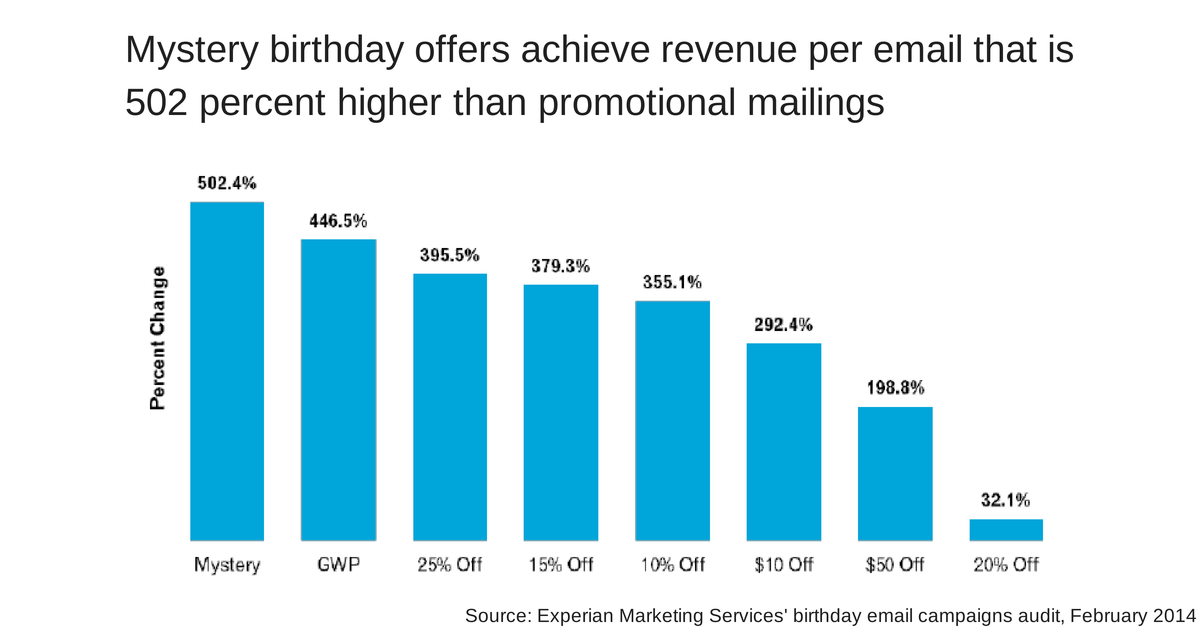 Send a reminder: Birthdays are always a busy time for your customer, the festivities and events that surround birthdays can lead to them forgetting about that previous birthday offer you sent. Sending a reminder email can be the determining factor of whether your customer remembers to take advantage of your brand's birthday promotion.
Fast facts:
→ 12 percent of brands send reminder emails for birthday offers
→ 19 percent of emails received are reminders
→ Reminder emails generate rate increases of at least 20 percent in open, click-to-delivered, average order value and revenue per email
Personalization matters! Emails with subject lines that include first name personalization have 17 percent higher unique open rates than emails that do not include personalization. For example, subject lines that include the customer's first name tend to grab attention and stand out in the overcrowded inbox.
Example subject line: "Happy Birthday Elaine – Our Gift to you!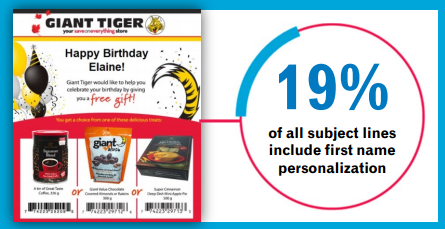 Birthday emails are extremely effective way for brands to strengthen customer relationships and boost transaction rates. For more tips and tricks to optimize your brand's birthday emails, download our Birthday Emails Best Practice Guide.