Ask the people around you how they use their mobile phones and they will likely respond with a laundry list of actions, ranging from emailing and Instagramming to paying the bills and managing their calendars. No longer are mobile phones used for the basic purpose of calling and texting, but rather as a staple to function in modern day society.
I for one view my phone as an extension of myself. I rely on my Google maps app to navigate the New York City streets and subway system, defer to my Yelp app as I plan out my social life on the run, and constantly consume and exchange information from the palm of my hand.  My friends and I have even grown so accustomed to making purchases and paying bills with the simple tap of a finger that Venmo has become the preferred method of splitting the check after Sunday brunch.
It's hard to imagine life without the convenience of a smartphone, and like me, most consumers are relying more and more heavily on their phones to consume information and make purchases. As such, mobile has become quite an honorary friend to the marketer. For example, results from a recent Experian Marketing Services' survey show that 28 percent of mobile phone owners purchase apparel and accessories from a mobile phone (47 percent from a tablet). Of even more interest to marketers is that one-in-ten people in this same group are also likely to buy products that they see advertised on their phones. Download Experian Marketing Services' 2014 Digital Marketer: Benchmark and Trend Report for more on these findings.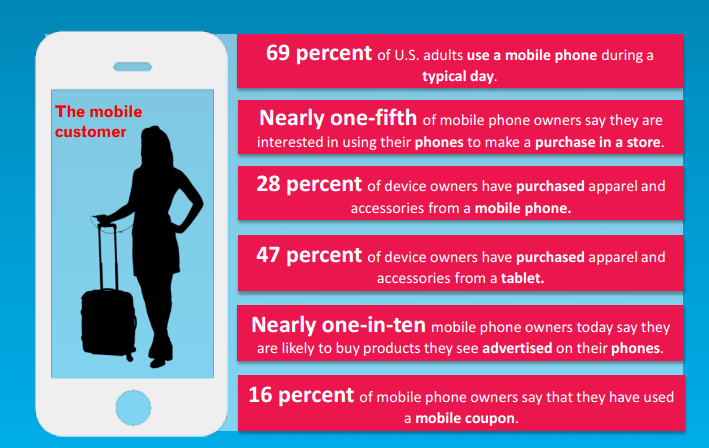 As mobile devices gradually become the preferred platform for consumers to interact with brands, marketers are realizing the importance of incorporating mobile into their digital marketing programs. However, busy on-the-go customers expect convenient and seamless mobile experiences, and delivering on these expectations can be a challenging task for marketers who are just starting to experiment with mobile campaigns. The key to successful mobile integration is constantly having the mobile customer top of mind. Therefore, when creating your customer journeys and campaign content, you should constantly be asking yourself:
Will my customer be able to quickly and efficiently consume the information I'm trying to relay?
Is my call to action prominently displayed and easy to interact with on a 5 inch screen?
Can my customer easily click through my email offer or advertisement and make a transaction directly from her phone?
Will my customer get frustrated with her mobile experience?
It is crucial in the beginning to keep things simple and customer-centric. Even as the complexity of a mobile program grows, today's cross-channel marketing platforms are designed to help marketers create a single point of integration that organizes all marketing activities, intelligence and measurements in a single system. Having this integration in place will allow you to cut through the data and deliver only what is effective for your mobile customer. For example, optimizing content for mobile across channels, such as email and web, will become easier and more streamlined, and the risk of your own mobile campaign cannibalizing an important email promotion due to uncoordinated or conflicting messaging will be eliminated.
When utilized correctly, mobile integration can be very advantageous for marketers seeking to create more impactful and profitable customer relationships.  Have your doubts? Peruse this recent case study to learn how American Eagle Outfitters leveraged mobile to connect with more than 8 million email and SMS subscribers and drive exceptional customer engagement during the competitive holiday season.
For even more mobile insights and tactics, check out Experian Marketing Services' mobile acquisition webcast and mobile marketing best practices guide.