Customers today are crystal clear about what they want from interactions with their favorite brands: highly personalized, one-to-one dialogues that are conducted when and how they prefer. They crave authenticity, integration and real-time responsiveness. If a brand can't deliver on those wishes, the customer will look elsewhere.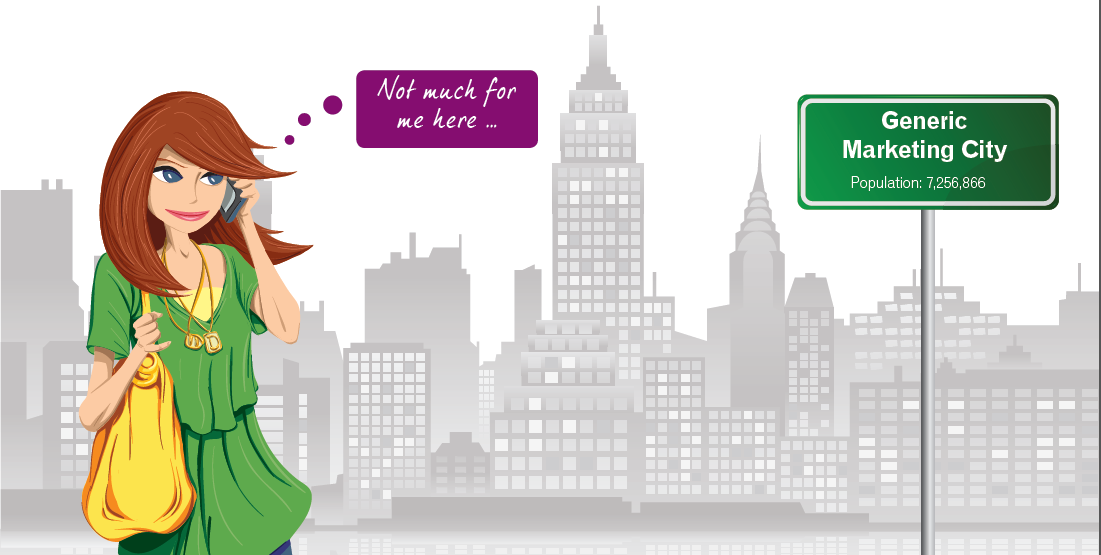 Simply put, the rules of engagement have changed, and marketers are finding that their once tried-and-true single- or multichannel marketing programs also must evolve to keep pace with the demands of today's customer.
Enter, cross-channel marketing — an approach that leverages analytics, dynamic customer intelligence and rich behavioral data to help marketers coordinate campaigns across channels and deliver real-time integrated experiences that are relevant to every customer in every context.
It sounds like marketing nirvana, doesn't it? It can be — if it is managed properly.
So, what is exactly is holding marketers back from fully leveraging the value of cross-channel marketing? In a recent Experian Marketing Services global study, marketers reported that the biggest cross-channel challenges they face revolved around having the right technology in place to support a fully integrated cross-channel program, breaking down organizational silos to align marketing efforts around the customer and having budget to execute the right campaigns and activities in the correct channels.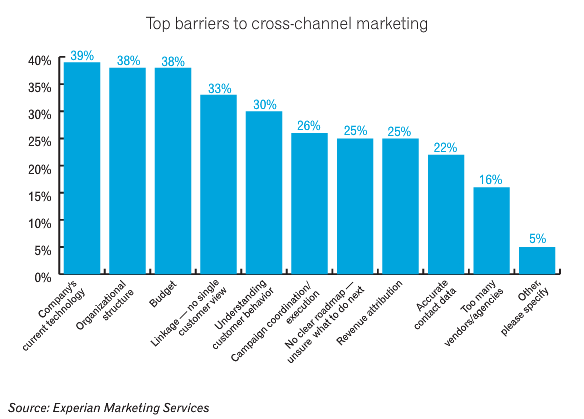 Furthermore, Experian Marketing Services' Digital Marketer also reports that nearly two-thirds of senior-level marketers cite their top business challenge as effectively collecting, managing and synthesizing data. With consumers seamlessly moving in and out of a wide variety of marketing channels, it has become extraordinarily difficult for marketers to quickly collect — and make sense of — the digital fingerprints they leave behind. The challenge is compounded by the increasingly complex dynamics of online consumer interactions and affects essentially every part of a business, including marketing budget decisions.
The pain is felt deeply within organizations that operate in silod teams supported by disparate technologies and uncoordinated processes. The reality is that this how most marketing organizations evolve their strategy. With each new marketing tactic, channel or technology they implement, they subsequently create a new team for it. With that team often comes a new set of strategies, tactics and metrics that aren't necessarily aligned. Unfortunately, that not only limits the marketing organization's ability to interact with customers on their own terms, it also generally results in fractured customer conversations and disjointed marketing messages. After all, without the left hand knowing what the right hand is doing, it's nearly impossible to coordinate efforts and operate efficiently. Point blank, business leaders are feeling the pain and the pressure to evolve.
Identifying these major problem areas and opportunities for improvement is a crucial step in the right direction, and the majority of business leaders are leading the charge in that respect. However, converting an organization from a single-channel focus to a true, integrated cross-channel program often requires foundation-rattling change. Traditional marketing practices, processes and principles are affected. Rigid organizational silos must be torn down. Individual teams need to broaden their focus to put the customer — rather than their own channel-specific goals — at the center of everything they do. The good news is that the organizational change doesn't have to happen overnight.
What comes next is the development of a systematic plan to tackle those challenges and opportunities head on, which also requires setting a framework in place that supports the cross-channel strategy and transition from end-to-end.
If you're interested in learning about the immediate things you can do to build an effective cross-channel strategy, join our webinar: Five steps to building an effective cross-channel strategy.