The customer visits your site, browses your sales section, throws a few items into her online cart, browses some more and then (for whatever reason) she LEAVES before making a purchase! You're probably thinking: What can I do to get her back? Well, for all you email marketers out there, here's a tip: Show customers you care by making your abandoned cart emails dynamic and personal!
And here's why…
Based on our recent study of 18 brands that sent abandoned cart mailings, we found that series emails with personalized subject lines had 12 percent higher unique open rates than series mailings without personalization (36.1 percent unique open rate with personalization compared to 32.3 percent without). Moreover, our 2013 Email Market Study reports that out of all email messages sent (not just abandoned cart emails) those with personalized subject lines have 26 percent higher unique open rates than non-personalized emails (19.4 percent with personalization compared to 15.4 percent without).
Additionally, abandoned cart emails that dynamically showed the actual customer cart had 25 percent higher transaction rates than abandoned cart emails that just linked back to the brand's Website.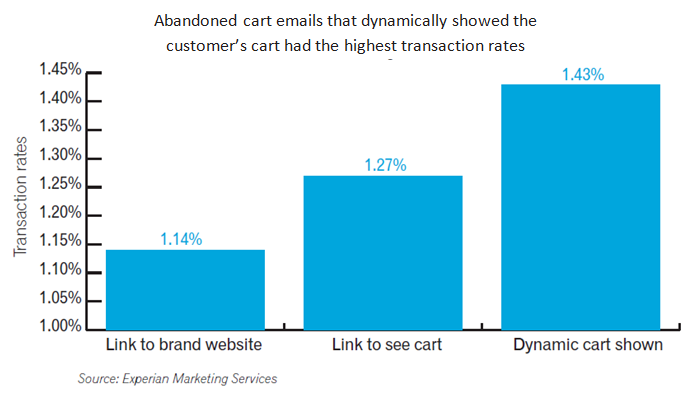 For more on how you can apply real-time, dynamic content to create highly effective and relevant messaging, download our technical guide: Breaking the complexity barrier: Applying cross-channel content for message optimization.
Good luck and happy sending!