Marketers are increasingly looking to data as the foundation for many key strategic initiatives. However, this insight does not come without responsibility. To gain meaningful insight, organizations need to ensure that the data is accurate. Without effective data management, marketers are unable to gain necessary insights or perform required customer analysis.
Even with this growing emphasis on data, 84 percent of organizations are experiencing data quality challenges, according to a recent Experian Data Quality study. Marketers in particular feel they are experiencing data quality challenges, seeing a six percent increase over all respondents in the survey.
These issues are mainly due to a high level of inaccurate data. Currently, U.S. organizations believe a quarter of their information is inaccurate. This high level of bad data is leaving marketers unable to even keep open lines of communication with certain consumers.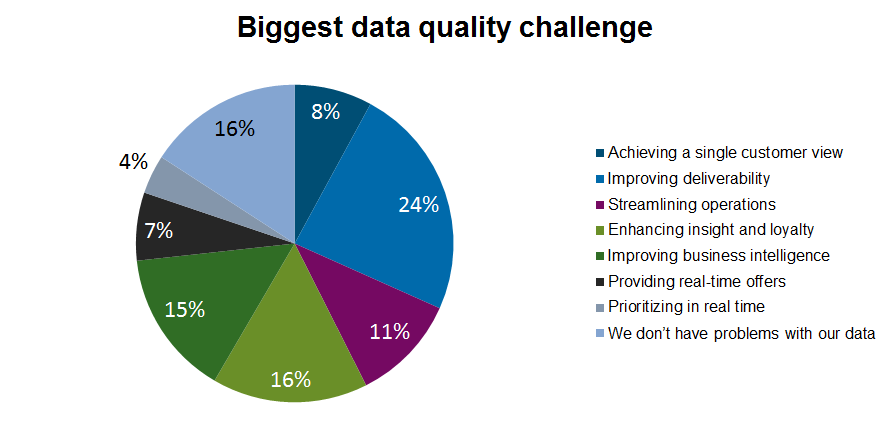 The top data quality challenges for marketers in the study were improving deliverability, achieving a single customer view and enhancing insight and loyalty. All of these areas are extremely important for marketers as they look to connect intelligently with consumers.
Poor data quality impacts each of these areas differently.
1. Deliverability
Marketers work to improve deliverability to increase email marketing conversion rates. On average, companies attribute 32 percent of revenue to the email channel. However, 66 percent of marketers have experienced email deliverability issues in the last 12 months, mainly due to inaccurate data. Without accurate information, marketers simply cannot deliver their carefully crafted messages to consumers.
2. Single customer view
Maintaining a single customer view was more important to marketers than any other department in the study. Consolidating information into a single customer view is a basic step in maintaining accessible information that can be utilized for data-driven insight. According to the survey, a single customer view is mainly used to generate business intelligence and create targeted marketing offers, something many marketers are looking to leverage with an increasingly digital environment.
3. Enhancing insight and loyalty
Marketers work to enhance intelligence or insight in order to improve customer engagement and increase revenue. As uses of data expand and marketers become more sophisticated with data manipulation, it is expected that this area will continue to grow more prevalent.
To achieve these objectives, marketers need to overcome obstacles around data quality and reduce the amount of inaccurate and disparate information. While information is collected through a variety of channels that marketers do not control, they are ultimately reliant on the information to be able to perform core functions.
Marketers need to work across the organization to improve insight and message delivery. This will not only benefit marketing objectives, but also many other departments looking to better utilize intelligence.
For more information on data quality challenges, download the new Experian Data Quality report 'The effect of dirty data on business.'