For many marketers, comparing campaign results against their peers or industry averages is a primary tool to measure success. However, because email marketing campaigns vary so greatly it can be difficult to accurately benchmark your program's success.
Another way to think about campaign success is achieving the highest possible delivery rate. This looks at your own individual campaign and the likelihood of your specific campaign meeting its full potential by actually reaching the consumer's inbox.
Email deliverability is affected by a number of factors, most notably your sender reputation. Internet Service Providers (ISPs) all calculate sender reputation differently, however there are several factors impacting it, including: use of email authentication, volume of email sent, compliant and hard bounce rate, spam trap hits and blacklists, content of the campaign and your consumer engagement level.
According to a recent Experian Data Quality study, 66 percent of companies have experienced email deliverability issues over the past 12 months. Many of these result from issues that will impact their sender reputation, including 35 percent of companies identified hitting spam traps and 24 percent responding that they have had high levels of bounced email.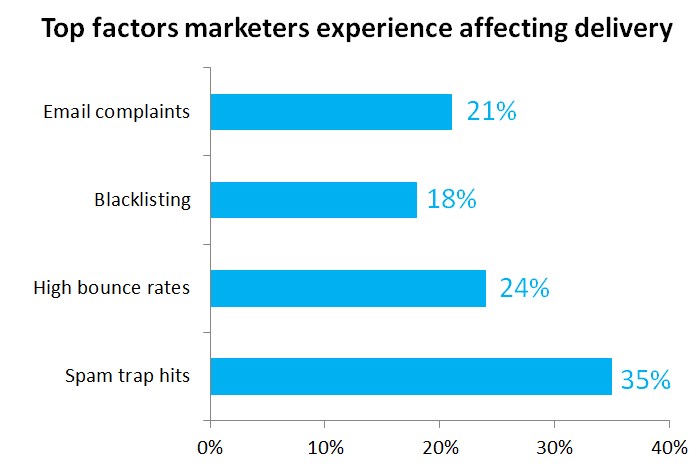 In order to combat the issues impacting sender reputation, many organizations recognize the need for proper list hygiene, including dedicating resources to data quality as part of their email marketing strategy. Currently, 68 percent of organizations use some form of technology for email cleansing and 45 percent specifically use email validation technology after emails have been captured.
Since there are so many factors that will affect an email campaign's performance, industry averages or benchmarks alone might not be enough. However, comparing the types of issues your peers face and the ways to combat them can help you improve performance, specifically your email deliverability.
To learn more, download the new Experian Data Quality study The dark side of email deliverability.