We all stare at them quizzically, taking note of the company names we recognize, those that sound familiar, and those names that are completely new. Marketers stare at them quizzically for a few moments during vendor presentations before making a joke about Rorschach tests or plates of spaghetti. I am, of course, referring to the famous LUMAscape diagrams authored by LUMA Partners every year. For those of us who have been in the interactive marketing business for many years, the value of the LUMAscape diagrams are found not in the litany of ever changing company logos, but in the categories that those logos are grouped into. After all, in this industry, logos disappear as quickly as they appear, gobbled up by other, larger logos.
LUMA Partners recently issued their 2014 Strategic Buyer LUMAscape with Experian's logo firmly anchored in the marketing quadrant, very close to the point of convergence with technology. The Strategic Buyer LUMAscape charts out industry leading companies likely to expand their size or capabilities through corporate acquisition. For those not familiar with this format of LUMAscape, it is divided into four quadrants. Each quadrant classifies companies by their primary line of business: Marketing, Technology, Media, and Network/Commerce. Leading companies in each space are closest to the center. The chart is further broken down by color gradient, classifying all Marketing and Media companies as being defensive in posture while technology and network/commerce companies are on the offensive.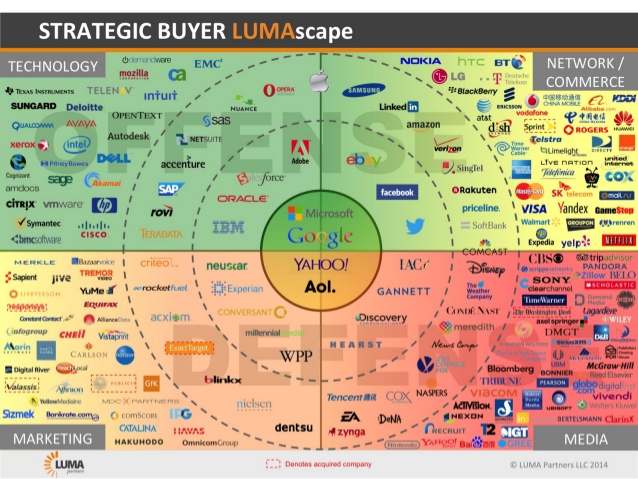 The ultimate message of the chart is that technology companies are innovating while media companies are struggling to maintain their market position.  I understand LUMA's need to create aesthetically pleasing charts that illustrate clear definition in their diagrams, but I disagree with their offense/defense generalization – an oversimplification that ignores the fact that there are innovators in each quadrant.
I joined Experian Marketing Services just last month because of what I have witnessed as an emerging trend in the SaaS/technology/platform space. That is, enterprise technology decisions are increasingly driven not by the bells and whistles of the technology being pitched, but by the ability of that technology to maximize the value of marketing data. Experian's launch of the cross-channel marketing platform in 2013 introduced to the market a data-driven campaign management solution. By integrating the management of marketing data directly into the campaign management tool, Experian created a new paradigm in cross-channel marketing. Rather than buying a bolt-on solution and investing a huge amount of cash and resources in linking it up to the marketing data mart being managed by another vendor, the cross-channel marketing platform gives marketers direct and instant access to their data. Further, by tying the campaign management platform not to a channel (e.g. email, social, etc.) but to the marketing data, Experian was able to introduce a solution that is not biased toward any channel, but a true cross-channel marketing platform that focuses on maximizing campaign performance regardless of channel.
It is through companies like Experian, who have devoted decades to the management and analysis of data, and through platforms such as the cross-channel marketing platform,that marketers will find their own, customized answer to the toughest and most complex marketing questions. In fact, as marketing strategies mature and the fog that surrounds Big Data begins to lift, technology platform companies are increasingly attempting to adapt to the complex data management needs of the marketer — a significantly more challenging task than the one facing marketing data companies, like Experian, who are rapidly expanding the capabilities of their marketing platforms. Ultimately, I would love to see a LUMAscape diagram that analyzes technology providers by their data expertise AND platform sophistication. I think that would prove to be very valuable to marketers. I would build one, but EXPERIANscape doesn't roll off of the tongue quite the same way.
Increasingly, marketers are chipping away at the Big Data monolith as they sculpt a cross-channel marketing toolkit that fits their needs. They are increasingly wary of "omni-channel" technologies hastily adapted from channel-specific platforms (e.g. email, mobile, etc.) that are easily overwhelmed with complex or high volume marketing data, or that simply pretend offline marketing channels don't exist. Marketers are also increasingly forward-looking in their technology decision criteria, seeking out solutions that they can grow into rather than channel-oriented technologies that suit their short-term needs but fail to deliver best of breed capabilities in other channels.
As you look at any LUMAscape (Ad Serving, Email, etc.), remind yourself of where your data truly lives and whether the solution you are evaluating is forcing your data to support and adapt to the limitations of its technology, or if the solution is supporting and enhancing the value of your data.