Organizations house a wealth of information internally that can be valuable for consumer insight, from basic contact information to purchase patterns and channel preferences. All of this information can be used to better connect with consumers and drive a better customer experience.
However, this information is often segmented and divided among many databases. According to a recent Experian Data Quality study, the average large organization houses eight different databases. That does not include spreadsheets or separate files that main contain consumer information.
In addition to the division, many organizations suffer from a high level of poor data quality. Data quality is essential to achieving a single customer view. Thirty-four percent of companies maintain accurate data for this purpose. But, on average, companies believe a quarter of their information is inaccurate.
In order to create a single customer view, organizations need to prevent data quality errors, but also improve duplicate identification and account consolidation.
When looking at data management practices, many organizations rely on manual review methods that are prone to human error themselves. In fact, 53 percent of companies use manual methods for data cleansing.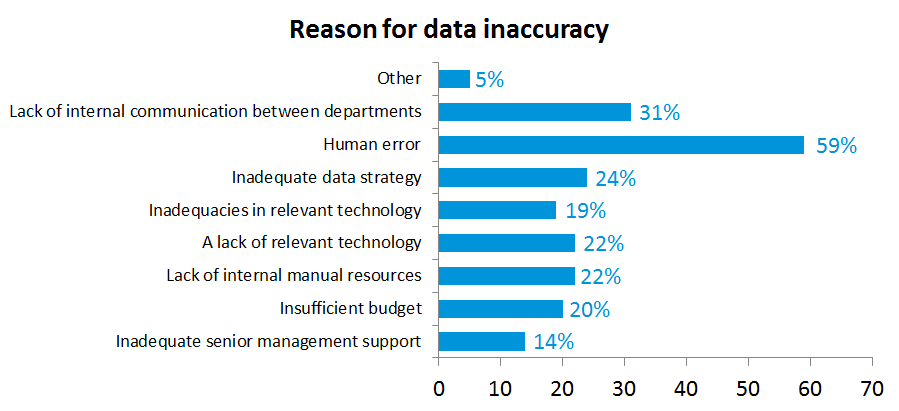 Source: Experian Marketing Services
Compounding this problem is the fact that most data quality strategies lack a central approach. Decentralization creates inconsistencies across the database and segments customer information. According to The 2014 Digital Marketer: Benchmark and Trend Report, only 30 percent of organizations around the globe manage their data quality strategy centrally, through a single director.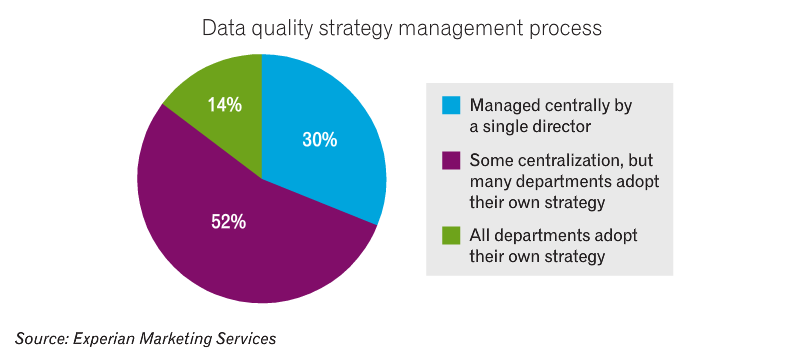 If organizations do not have a trusted, centralized source for customer data, marketers will fail to gain the insights required for data-driven efforts.
Use the five steps listed below to improve data accuracy and achieve a single customer view.
1. Clean up existing information
The first step to consolidating information into a single customer view is to make sure that data is as accurate as possible. When combining different sources of information, it is important that stakeholders have a unique identifier to distinguish between given records. Clean data is the first step in better understanding individuals, but also in better identifying what records should be combined and what should remain separate.
2. Consolidate data sources
One major problem for data-driven marketers is lack of accessibility to information. Marketers often struggle to access the information that they need in real time, which is a requirement in today's fast paced business. Disparate data sources should be consolidated into one central source, providing better access to information and a consolidated place to gain insight.
3. Create a centralized process for data management
With many individuals and departments adding and utilizing data, data quality must be a strategic, centralized initiative that spans across the organization. The speed at which information is used in data-driven organizations demands that it is accurate upon entry. Marketers need to work with colleagues across departments to achieve a meaningful data quality strategy.
4. Automate processes
Reliance on manual data cleansing methods leads to human error. Automate processes and utilize software to better validate and standardize information upon entry and consolidate it into a single record. This will eliminate human error and free up staff resources to focus on deeper analysis rather than data hygiene.
5. Utilize better searching technology
When consolidating information across multiple channels, it can be difficult to find existing client records because of poor searching functionality. Utilize more sophisticated searching methods to link new information with existing records as soon as details are entered. This helps prevent records from becoming disjointed after the initial consolidation.
By better managing the quality of data within a central source, marketers will be able to gain accurate consumer insights in real time to better enable customized messaging and cross-channel marketing. For more on data quality and creating a single customer view, download The 2014 Digital Marketer Report.