In email marketing, one of the most fundamental units of measurement is the "click." It's pretty much the email marketing version of the Like button, and we use this data to determine various findings; to see how many people wanted to "learn more," or persuaded to "buy now" or perhaps excited to "watch video." Clicks are extremely versatile, having the ability to take the viewer to a brand's website, Facebook page, YouTube channel, a PDF and so on. But here's the big question marketers have been asking: can a clickable button dial a phone number? And if so, is it possible to determine how many people "tapped 2 call" from an email?
Yes, thanks to the advent of smartphones and HTML5, it's now possible to dial a phone number by clicking a link – and that's a very beneficial marketing tool. Let's face it, even with all this new technology, call centers are a great thing. People still crave human contact. While on-the-go, and not in front of a computer, you can talk to someone to get something done rather than being confined to the small screen and your thumbs. If looking to order flowers, book a tee time, schedule an appointment or make a dinner reservation, a "call today" button may be all that's needed.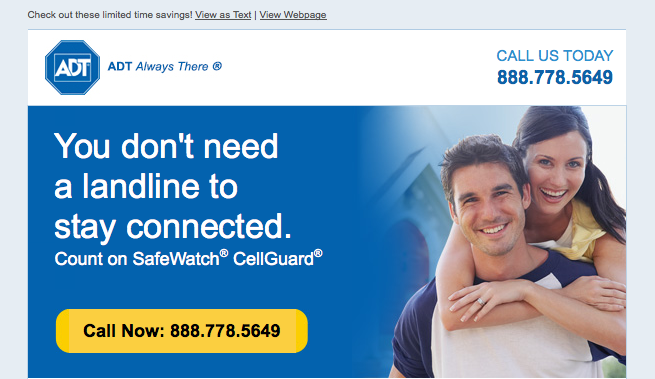 Shown here, ADT uses clickable phone numbers in their email to drive traffic to their call center. (Credit ADT Email Team: Anjie Moin & Danielle Van Acker)
So, how does it work? To get geeky, the syntax would be <a href="tel:8005551234"> in your email code. Because it's not an "http://" link, the phone number doesn't get encrypted and redirected, which allows you to measure performance. Sure, you could have a dedicated phone number for the email campaign, but people could also manually dial the number. That means you won't be able to capture who "tapped 2 call" from the email.
There is a trick. You can have that call button link to a webpage, and then have that page redirect to dial a phone number. To get geeky again, the syntax in your redirect page would be <meta http-equiv="refresh" content="0"; URL="tel:8005551234">. For a user experience, the call button would open a mobile browser window first, then immediately prompt to call. Without the redirect, the button would just prompt to call.
But, there is a caveat: the "prompt" pop-up. People can still tap to call, but then they have the option to choose cancel on the prompt box. With the redirect, you will capture the click activity, but you won't necessarily capture the final decision to call. It may not be a perfect measurement, but it's still a good approximation.
Regardless of whether you decide to report on a tapped call or not, making phone numbers clickable in email makes for a good customer experience. I can honestly say that after spending many years working with pizza delivery and in technical support, I still enjoy a good call center experience. I love websites, mobile apps and "do-it-yourself" too, but we in the digital realm would be wise to never underestimate human accessibility and convenience.