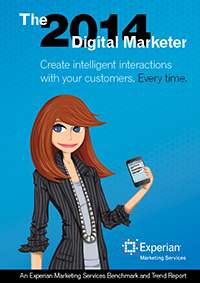 I'm happy to say that we just released our sixth annual Digital Marketer Report and I was able to contribute the foreword to this valuable piece, which presents rich data on how consumers are using email, mobile, social media and search, and how those channels intersect. Many insights are added throughout around how marketing channels interact and how you might best think about your cross-channel marketing strategy to maximize customer acquisition and retention. Here's a bit more from the foreword and also information about how to download the complimentary report:
As digital marketers, we find ourselves in the center of a swirling, increasingly complicated digital vortex. If you browse the program of any social media or digital advertising conference, you can sense the challenges facing today's marketing professional. In such a conference, sessions emphasize ways of leveraging Big Data, multichannel discussions give way to omni-channel strategy, and the number of sessions on new technology and social media channels continue to grow. With each year that passes, it seems that a whole new dimension of consumer data leads to an exponential increase in marketing complexity.
At the center of the vortex, one thing hasn't changed: your customer. Yes, social media has provided consumers with the voice to express their preferences, and it's easy to shift your focus to the latest mobile technology or social media channel du jour to build your marketing strategy. At Experian Marketing Services though, we believe that putting the customer at the heart of all you do is what will lead to marketing success.
With that focus in mind, this year's report provides an added emphasis on the actionable insight that follows when you obsessively pursue an understanding of your customer.
Let's face it: there is no shortage of massive data sets accessible to today's marketer. Successful practitioners, however, have discovered the value in performing data triage, or limiting their emphasis to data that can be employed to acquire, retain and maximize customer relationships. Through extensive analysis and case studies, The 2014 Digital Marketer: Benchmark and Trend Report provides examples of how you can employ data, targeting and cross-channel marketing to achieve measurable results.
I hope that you will download the report and also register now to join me for a live Webinar on March 27th at 1:00 PM EST where I'll cover key insights from the report.