The progression from single-channel execution to customer-centric, cross-channel optimized marketing is being inspired by customers and technology. This progression requires brands to not only systematically, and honestly, assess the current state of their marketing program, but also utilize a proven framework to develop strategies and tactics aligned with their current state of sophistication.
Experian's Marketing Sophistication CurveSM is a progressive and detailed guide that helps marketers carefully and purposefully map their journey through today's increasingly interconnected, real-time, multichannel marketing landscape.
Leveraging decades of experience in data management, analytics and multichannel delivery, the curve connects an organization's current marketing programs with a tangible and actionable road map for cross-channel marketing success.
There are four stages of Experian's Marketing Sophistication Curve, each representing a distinct collection of strategies, tactics, technologies and goals that must be firmly in place before a brand can be said to have mastered that particular stage. Here's a brief snapshot of each phase of the curve and then a short explanation of the five core areas marketers can use to move up from one stage to the next.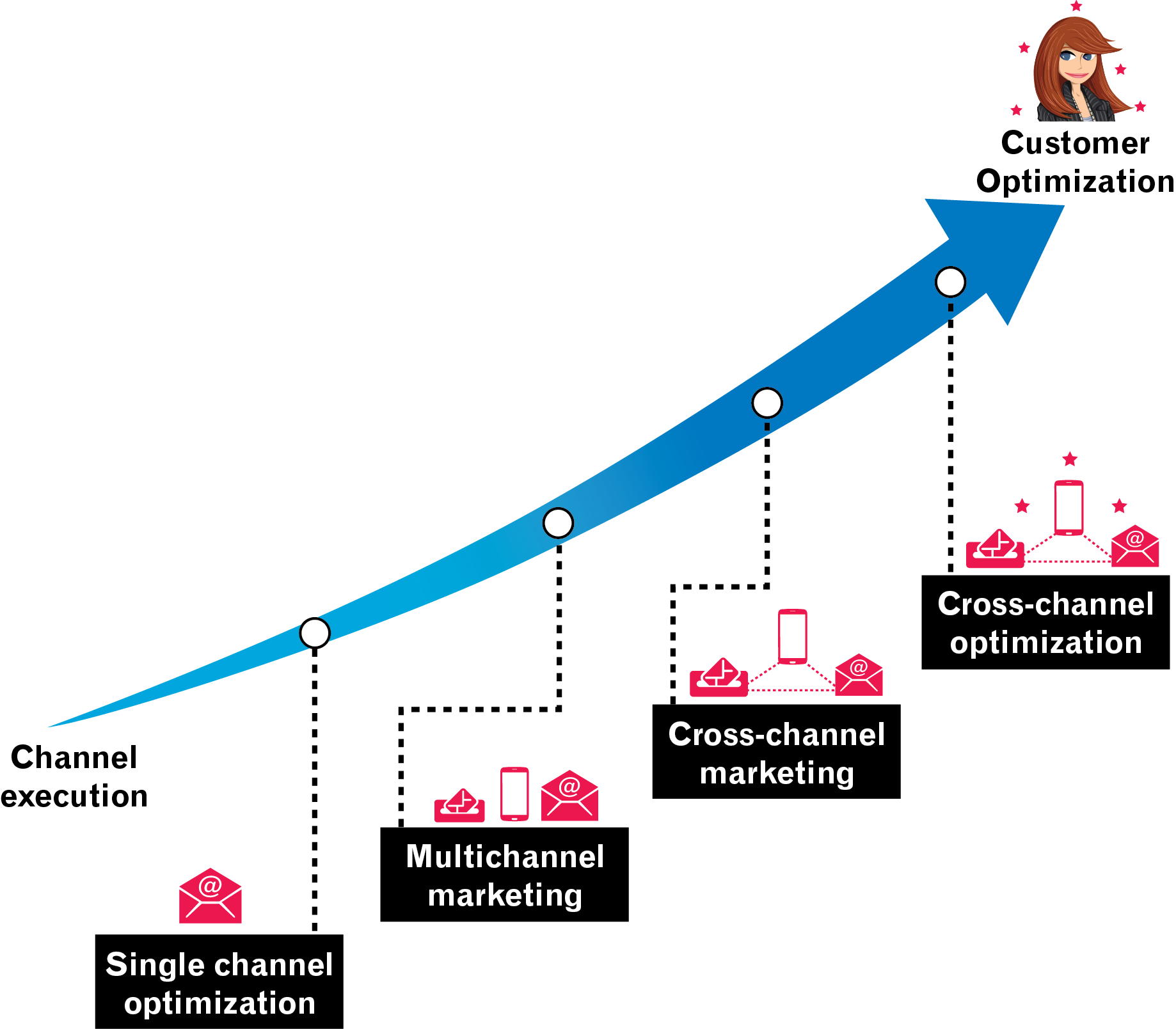 Phase I: Single-channel optimization
Marketing organizations at this stage are the metaphorical equivalent of single-channel black belts in a multichannel world. These brands are optimizing for specific channel performance rather than for overall customer experience and engagement. They constantly seek more customer and prospect data to squeeze performance out of each of those preferred channels individually.
Phase II: Multichannel marketing
Marketing organizations at this stage recognize the need to engage customers across multiple channels with consistent messaging. However, while these companies have worked hard to venture into new areas such as social or mobile, they are struggling to extend their core campaign capabilities and to integrate customer data across those channels.
Phase III: Cross-channel marketing
Companies at this stage have made a quantum leap forward in their marketing sophistication, most notably because the customer now takes center stage. While these organizations "get it," they still struggle with organizing data around customers in useful time frames and seek ways to easily and consistently target campaign content at the individual level.
Phase IV: Cross-channel optimization
This is the apex of modern marketing, where customer context, location and timing merge with every imaginable form of customer data to create a single, shared and immediate view of the customer across all channels. While brands at this stage can initiate or respond with personalized messaging and offers in real-time, they still may struggle with adopting an operational approach to message strategies at the customer level instead of the campaign level.
Understanding your organization's starting point on the curve is the first critical step in the process, as your road map to customer optimization will be determined by your current state. Strategies and tactics for increasing marketing sophistication also should be aligned with your starting point.
Where does your brand lie on the curve?

Take the online assessment to find out. Once you know where your starting point is on the curve, you'll get a framework to advance your marketing program up the curve.