From the first moment we realize Santa is coming to town, we're told to make a list. Even as we get older and lose some of the magic, we still make holiday wish lists – for our family, friends and maybe even ourselves. It's ingrained in us, and that's why I love the wish list emails that are trending so far this holiday season.
What we're seeing
In these emails from DSW, MAC Cosmetics and Harley Davidson, the main call to action is to create a wish list for the holidays. Although it's not a hard sell, it's a great way to get subscribers engaged with your emails and it encourages site browsing.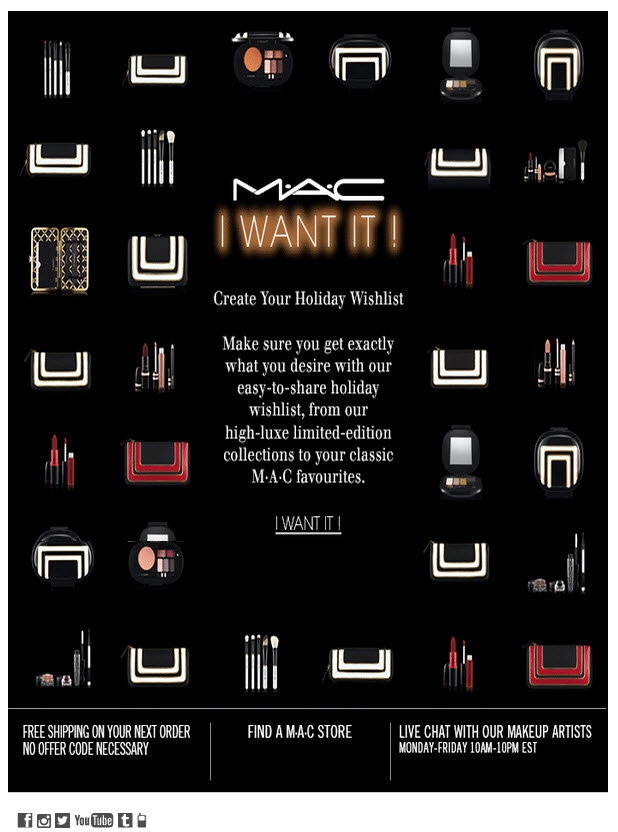 Many brands are also featuring their wish list functionality in banners or secondary calls to action within emails. I like this banner featured in an Urban Outfitters email because it incentivizes the creation of a wish list with a chance to win a $1000 UO gift card.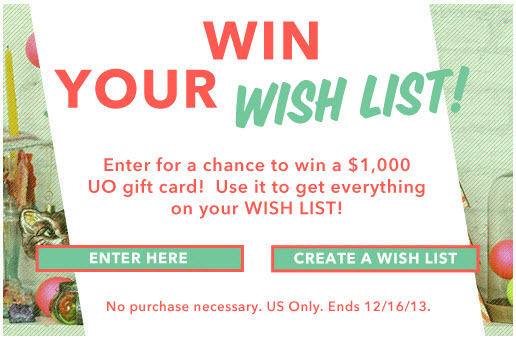 The wish list theme has also made its way in to social media:
The opportunity for more
Once your subscribers click through and make their wish list, you have new data that you can use to help close the sale.
Remarket to the creator of the wish list
Before the holidays are over, target those who have made wish lists with the items they selected, similar to an abandon cart series. There's also an opportunity to trigger messages when wish list items go on sale or have a relevant offer tied to them. After the holidays, try follow up email or social campaigns with messaging such as "did you get everything on your list?" to capture post-Christmas self-gifters.
There's also the potential to reach your in-store shoppers by suggesting that they print or save their wish list to their mobile device – this could be an effective call to action prior to Black Friday or during the last push to shop before Christmas.
Encourage those who make a wish list to share it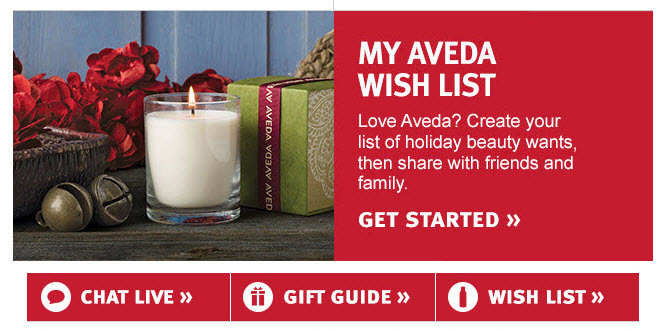 When you make your list for Santa, you can't forget to mail it to the North Pole! In the same way, being able to share your holiday wish list with others is essential. This banner from an Aveda email encourages subscribers to create a wish list for the purpose of sharing it (bonus: they have included "wish list" as a part of the standard bottom template of their emails this holiday season).
I love the functionality Victoria's Secret has on their site that lets users share their "Love List" via a direct link, social networks and email:

Here's a look at the email that is triggered from Victoria's Secret – It's a simple, yet effective way to get into the friend's inbox. Obviously you wouldn't be CAN-SPAM compliant if you just added the friend's email address to your regular mailing list, but this is a good first step to get them shopping and potentially interested in receiving regular emails from your brand. Once they click through to the site, I recommend targeting these visitors with a site layover to sign up for emails; try using messaging that speaks to how they will need to know about current offers when they shop for their friend.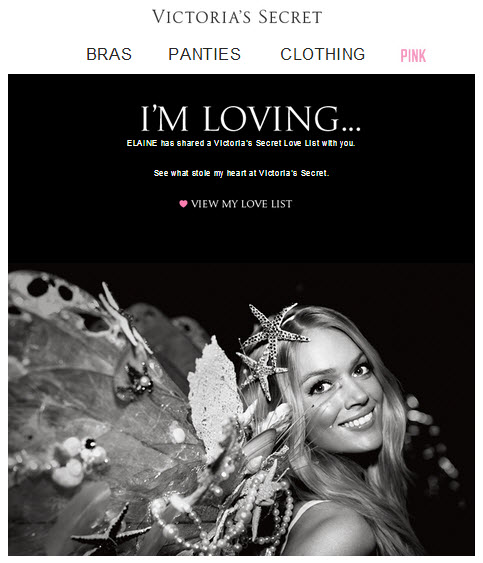 Use wish list data beyond the holiday season
Chances are there's some sort of theme to what was added to your subscribers' wish lists. Use your data to target them in post-holiday messages with similar themes/categories. The caution here is to not overdo it – this is just one piece of data that helps make up the view of the customer – so use it in addition to what you already know.
Have you seen any great wish list campaigns or other trends this holiday season? Send me a tweet @emoneyhon.
Keep your eye on the Marketing Forward blog or follow @ExperianMkt for more holiday insights.