Did you know that the 'personal' touch is increasing email open rates and online searches this season? Read on to learn about the power of using personalization this holiday season and join us on December 5th as we give a live analysis of what we see during peak week. We'll share what consumers are searching for and which retailers are winning in capturing the shopping audience.
What's hot this week:
Unique open rates are 26 percent higher for emails with personalized subject lines.
Travel and multichannel retailers saw the highest open rate lift from personalized subject lines.
Handmade and personalized gift searches have begun their seasonal rise; until just recently such searches were more common in 2013 than they were last year.
Personalized/homemade gift searches incorporating 'Christmas,' 'Pinterest,' and 'easy' are popular.
Email highlights and trends: What's working
One email feature that has often provided higher unique open rates is the use of the subscriber's name within the subject line. A review of promotional emails so far this holiday season has shown that emails with personalized subject lines have 26 percent higher unique open rates than non-personalized emails from the same set of brands (19.4 percent with personalization compared to 15.4 percent without). The lift from personalization, however, varies by industry. Personalized subject lines have provided the biggest boost in unique open rates for travel (unique open rates of 28.5 percent with personalization compared to 17.3 percent without).

Personalization can also have an impact on triggered mailings. Just as results from personalization varied across industries, they also varied by mailing type. While birthday mailings showed a clear boost from personalized subject lines, abandon cart emails showed no increase with subject line personalization. Perhaps this is because the subscriber has already shown their interest by coming close to purchasing the product and does not need the additional personal incentive to open the email. In addition, abandon cart emails already enjoy high average unique open rates of 35 percent, and the personalization just may not provide an extra lift.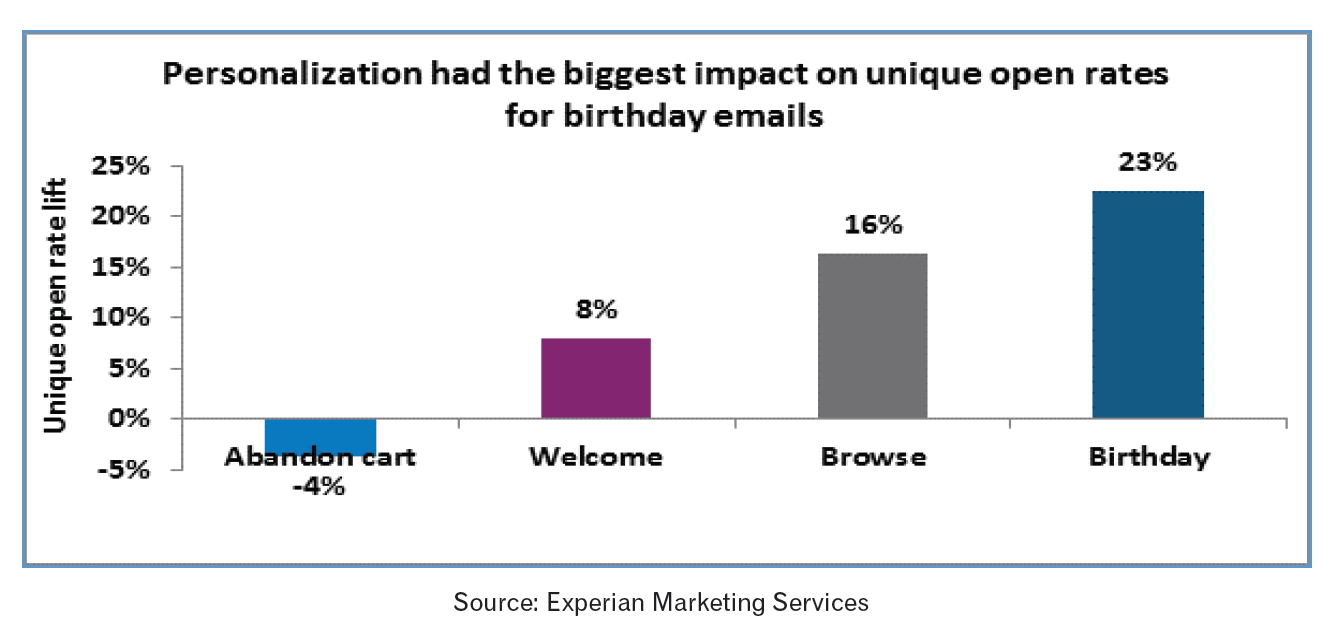 Retail highlights
In our ongoing analysis of multichannel retailers throughout the holiday season, we found that as a percentage of total emails from brands in the study, Black Friday mentions have increased dramatically this past week and were mentioned in 11.1 percent of emails on 11/17. The chart below shows the percentage of emails with Black Friday in the email content as compared to Black Friday mentions within subject lines. Although brands aren't necessarily mentioning the upcoming event in subject lines, they are still featuring it within the creative.

Personalized gifts
Homemade or personalized gifts are a great way to ensure that your holiday presents are memorable and unique. To get a better understanding of what would-be gift givers are looking for, we conducted an analysis of the online searches including the phrases "personal or personalized gift" and "handmade or homemade gift." Up until a few weeks ago, search clicks for personalized/homemade gifts were higher in 2013 than they were in 2012, but given the fact that Thanksgiving is a week later this year, it's understandable that search clicks lag behind slightly at this point in time. The trend, however, clearly shows that searches for personalized/homemade gifts have begun their rise as we near the holiday season.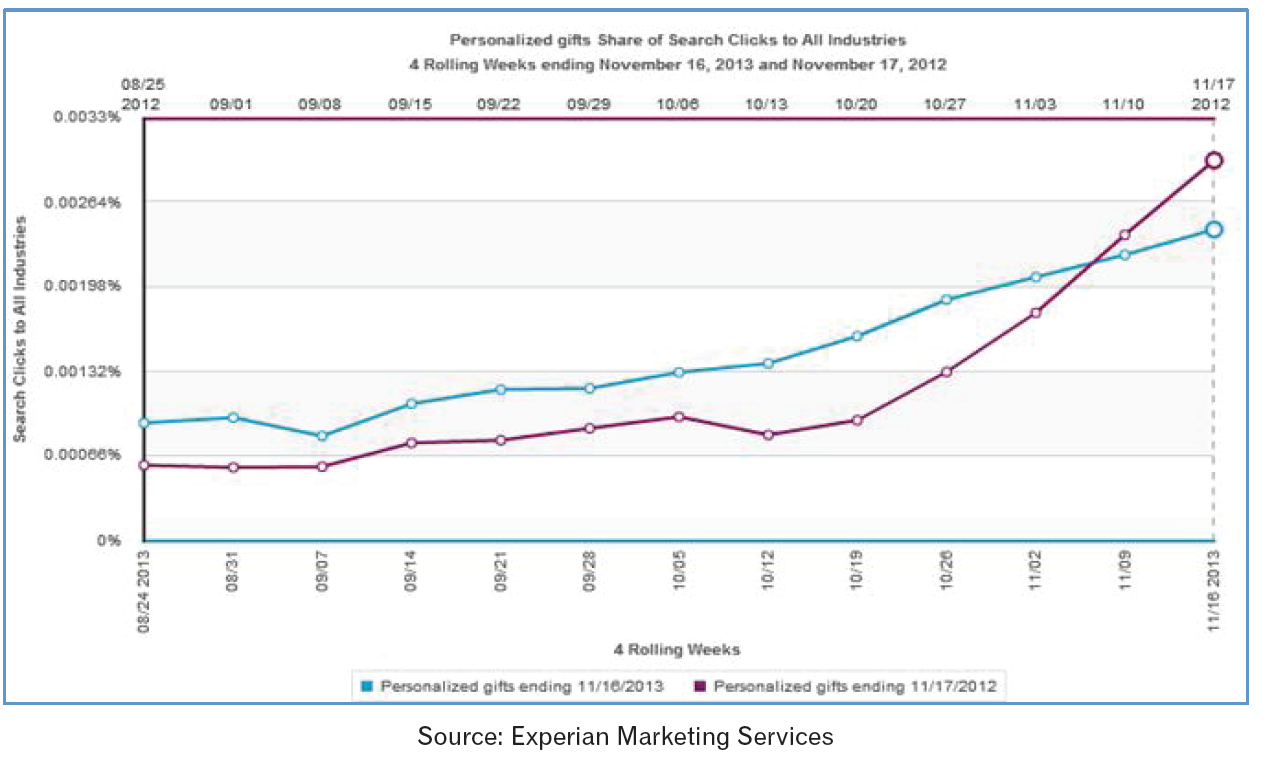 An analysis of the specific search variations in personalized/homemade gift queries provides insights into what consumers are looking for and what terms marketers and publishers might use to increase their share of clicks. The first thing we notice is the prevalence of the word "Christmas" in searches. While Americans celebrate a variety of cultural and religious holidays this time of year, most consumers are clearly looking for gifts to give at Christmas.
The second thing we notice is that searches including the word "Pinterest" are up. In fact, search clicks for the number four ranked search term "Pinterest handmade gifts" is generating 49 percent more search clicks this year than last. Meantime, the same search minus the word "Pinterest" is generating 37 percent fewer search clicks this year.
Next, while we included the terms "homemade" and "handmade" in our search portfolio, variations using "homemade" clearly exceed those using "handmade." Likewise, searches including "personalized" receive a greater share of search clicks than those including "personal."
Finally, while consumers want to give gifts that are personal and memorable, they still want them to be easy. Exhibit A: search clicks following "easy homemade Christmas gifts" are more than double this year than they were in 2012.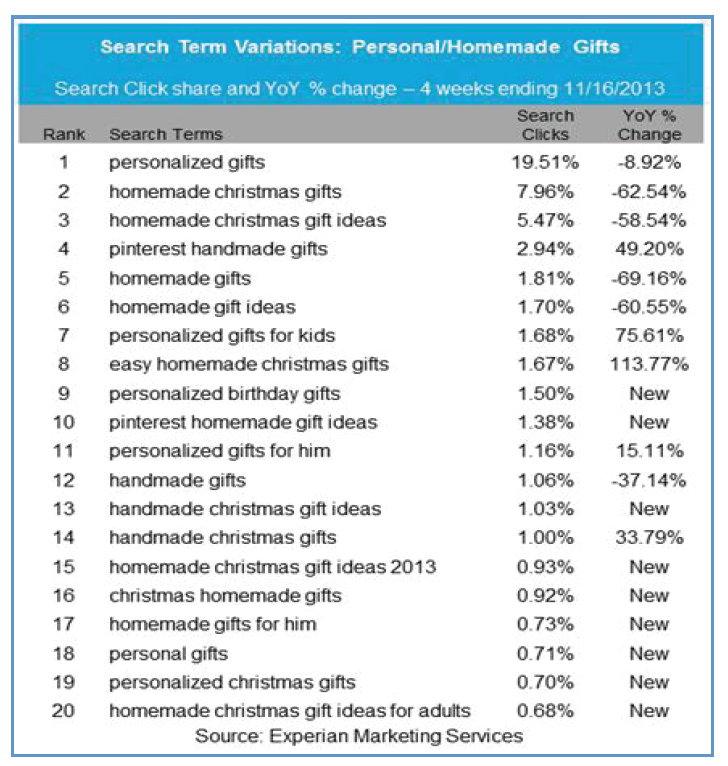 After seeing how much work is required to create handmade or homemade gifts, it seems that many of us would rather outsource the job. For instance, websites receiving the bulk of traffic from personalized/homemade gift-related searches include sites like Personal Creations, PersonalizationMall.com and Things Remembered. These sites all allow gift-givers to personalize a wide array of gifts with custom embroidery, engraving, etching, etc. without the need to break out a glue gun or bedazzler.
That's not to say that we've completely thrown in the towel; Pinterest is the number two site on the downstream traffic list garnering 8.74 percent of clicks from personalized/homemade gift searches, many likely coming from gift-givers looking for ideas of things they can make themselves. Content rich sites like Martha Stewart, Spoonful, Real Simple, etc. are also capitalizing on searches for personalized/homemade gifts. All three sites, in fact, at least doubled their share of search clicks from related searches relative to last year.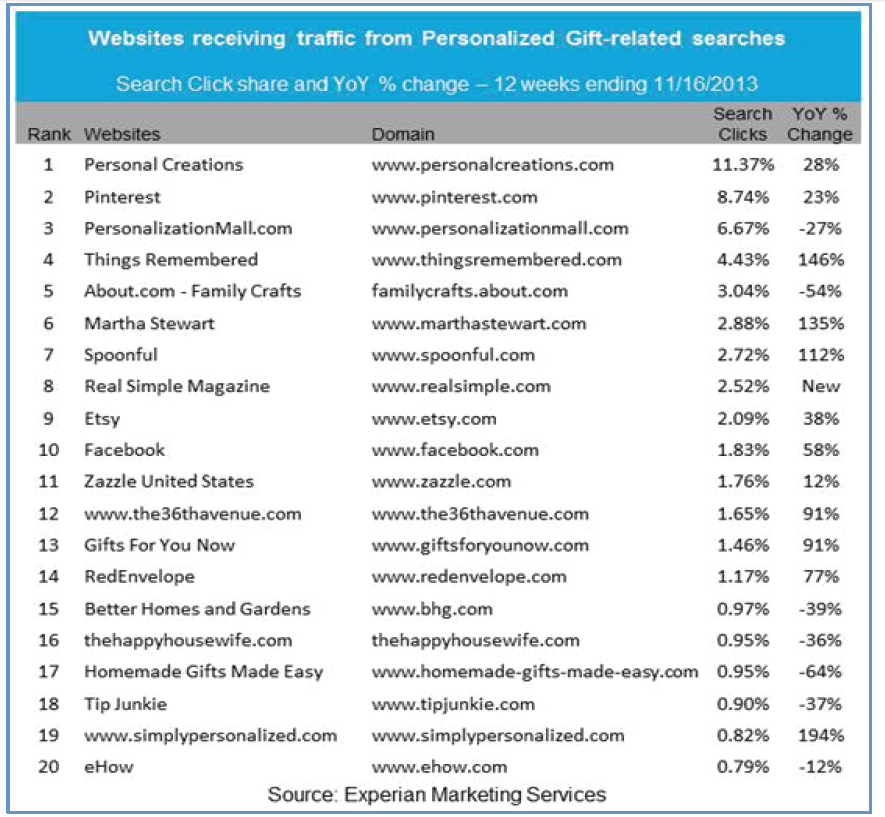 For more up-to-date holiday search trends, visit and bookmark http://ex.pn/hhp. We'll update the data every Monday, so check back often!