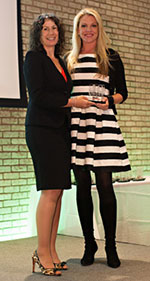 Experian Marketing Services' senior vice president of global marketing, Ashley Johnston, was named a 2013 40 Under 40 Winner by Direct Marketing News. This is the second consecutive year that Experian Marketing Services has been honored as part of the annual awards program that recognizes companies, talent and initiatives that have influenced and advanced the marketing industry while making an impact on client businesses. "The success stories of the 2013 Direct Marketing News 40 Under 40 winners are inspirational," said Direct Marketing News Editor-in-Chief Ginger Conlon. "It's our honor to showcase the accomplishments of such an exceptional group of marketers."
In 2013, Ashley successfully led the launch of the Experian Marketing Services' global cross-channel marketing platform and go-to-market strategy. Under Johnston's leadership, Experian Marketing Services contributes widely to the direct marketing industry by publishing research, analysis and insights on cross-channel marketing, consumer insights, targeting and consumer trends to help marketers better connect and engage with their customers, including the Digital Marketer Report and quarterly Email Benchmark Study, among others. She also spearheaded the formation of several highly regarded client community programs including the Experian Marketing Services' annual client summit, The Marketing Forward Tour, a global thought leadership series, peer-to-peer dinner series, and client advisory boards, among others, with the end goal of enhancing Experian Marketing Services' client community through knowledge exchange.
At the Direct Marketing News 40 under 40 awards luncheon, Ashley spoke on a panel about adaptability the secret for both business and professional success. "Change needs to be embraced quickly and intelligently," noted Ashley. "The empowered consumer is forcing us to constantly adjust how we think about business and the value we deliver."
You can read more about Johnston and all of the 2013 40 Under 40 award winners in the November issue of Direct Marketing News.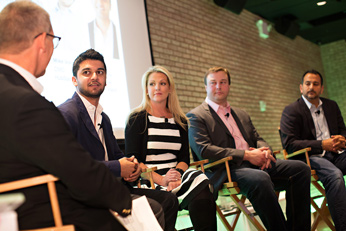 Photos by Inku for Direct Marketing News.