Now that we've hit November and Black Friday is less than four weeks away, it seems appropriate that holiday emails would be filling my inbox. I've definitely noticed the resurgence of messaging about gift guides, holiday collections and pre-Black Friday sales, but overall it just hasn't felt like the holidays have impacted the inbox yet like they did last year.
This is the second year that my team is doing an in-depth look at emails received by 55 multichannel retailers over the holiday season. The purpose of the study is to find trends and gain understanding of what retailers are sending to a "typical" inbox from the end of September through the first week of January. During the last week of October we saw a 75% increase in holiday-themed emails, compared to the previous week.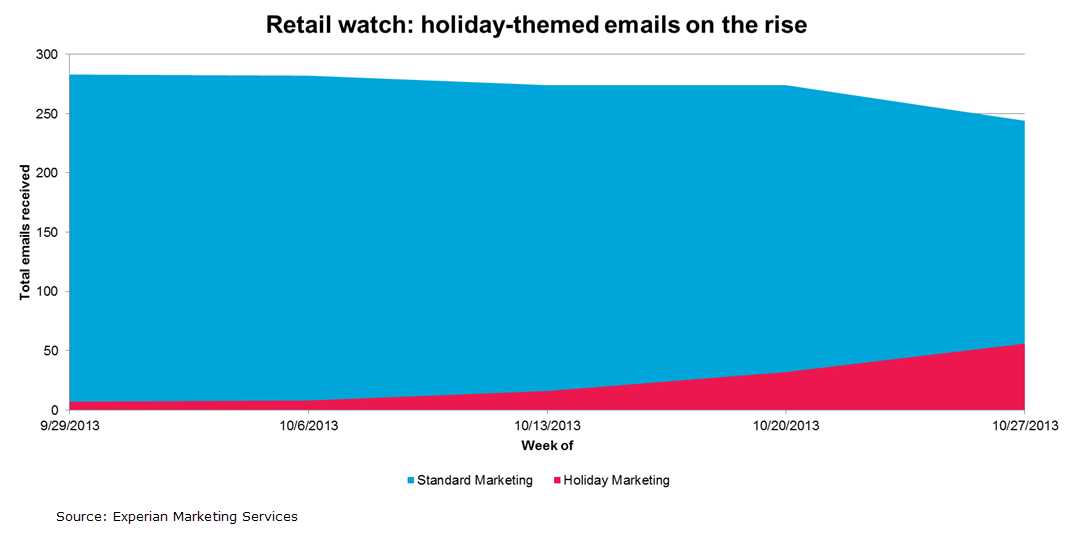 A holiday-themed email (labeled "Holiday Marketing" above) is defined as an email with holiday specific mentions or wording, such as Christmas, Cyber Monday, gifts, stockings, Santa, etc., or imagery such as wreaths, candy canes or wrapped gifts. Standard marketing emails in this study are defined as any other marketing email received that did not have holiday wording or imagery.
For the same time period last year, we saw a similar increase (72%). For the most part, it's business as usual, and it would seem that the data doesn't support my feeling that holiday emails haven't come in as strong … but the data doesn't end there. We looked at a subset of the brands we tracked as a part of the study last year and are tracking again this year, just to keep things consistent. (If you run these charts with all of the data we have from this year and last, the numbers are very close and tell the same story.)
Take a look at these two charts: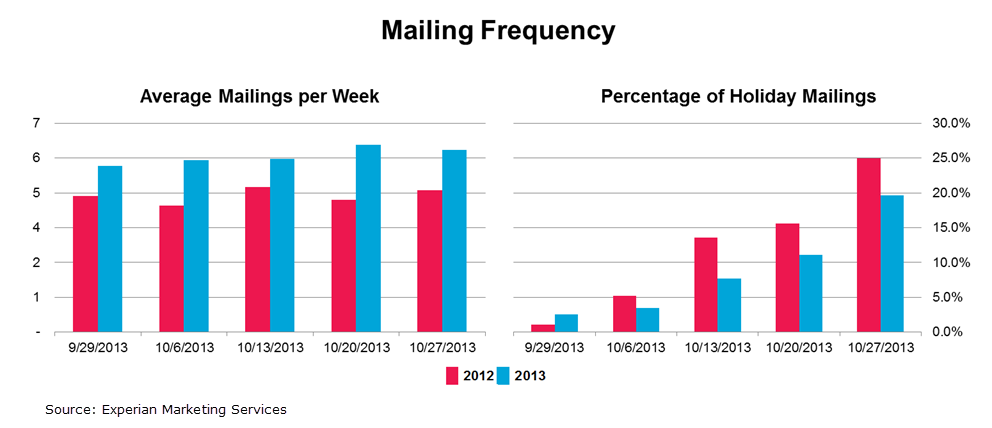 The average number of emails sent to a single email address per brand per week is up this year over last year. Translation: last year you got 5 emails a week from Brand X, now you're getting 6. From there, we looked at the percentage of holiday-themed emails from these brands for the same time period. We see that the percentage of holiday-themed emails sent per brand is actually down from last year. The culprit? More emails sent overall.
So what does it mean? It means that perhaps the reason I didn't feel like holiday emails were as impactful this year is because they're being drowned out by the increase of other emails in my inbox. This data was for the last week of October; the obvious statement here is that it's only going to get worse as November and December roll on.
To every email marketing strategy question it always comes back to being relevant and this data just amplifies that message for the holidays. In this case, the question is: How do we as marketers get our messages across this holiday season if the inbox is going to be so full? Answer: Be relevant. Use your data to understand your subscribers and speak to them in ways that will get them to respond. This is nothing new, it just matters more and more as your competition gets savvy. Success in being relevant via email doesn't happen overnight – it's a test and learn process, and the holidays are a perfect time to learn what does and doesn't work.