Deep in the throes of holiday season 2013, the few months capping off the year are often the busiest for email marketers. With an influx of email promotions and offers hitting consumers' inbox daily, how do you drive click through-rates, boost conversions and increase revenue per email? In a nutshell, how do you set your email campaigns apart from the rest?
One word: Engagement!
With mere seconds to pique their attention before your email is promptly filed in trash, engaging consumers with relevant experiences that speak to their individual preferences and recent shopping activity is the element that makes all the difference. This falls back to tried and true strategies that drive performance year-round. Below are five ways you can pepper in seasonal business rules to optimize these strategies for the holidays:
Deliver contextual product recommendations
While context is important year-round, during the holidays it is critical. The activity of a consumer shopping for holiday gifts can look very different from their normal shopping behavior. Profile insights such as brand preferences and price sensitivity still apply, but most important is what they are interested in right now. Regardless of the personalization type in use – "Best Sellers", "Trending", "Top Rated", etc., delivery of product recommendations when an email is opened should be dynamic, pulling in products that apply to the shopper's most recent browse and purchase activity.
Optimize for the holidays:
Show only in-stock products that can be delivered before 12/25.
Use badging to create interest and a sense of urgency. For example, "Holiday Special", "Stocking Stuffer", Holiday Limited Offer" or "Buy Now for Holiday Delivery".
Promote products that align with your holiday promotions and merchandising goals.
Use dynamic titling such as "Stocking Stuffers" and "Gift Ideas".
Target with content and creative
What better way to gain attention, engage consumers and foster click-throughs than making the email all about the customer. In addition to product recommendations, the message, imagery, videos, recommended articles and advice can all be targeted to each individual based on their profile and most recent browse and purchase activity. For example, if a customer browses skis, when opened, their email can populate with a skiing related hero shot plus an article and advice from expert skiers. Linked content and video pages can also include relevant recommendations.
Optimize for the holidays
Create seasonal imagery for your best-selling categories and set priority rules.
Define holiday themed content. For example, in the skiing scenario, the article delivered may be titled "The Top 10 Winter Vacation Skiing Spots".
Incorporate product recommendations within content pages that include the holiday optimization business rules called out above for delivering contextual product recommendations.
Align personalization to your messaging and promotions
Category recommendations are an effective way to drive product discovery while promoting items that align with your email message and offers. Set up one email template that can be populated with the elements of your various campaigns. Define categories that go with each campaign, and dynamically pull in product recommendations within that category based on the customer's profile and activity. This can be especially useful during the holidays when consumers are shopping for multiple people on their list and, thus, a broader range of products.
Optimize for the holidays:
Choose categories that align with your holiday promotions. For example, a Fall accessories sale might include product categories such as hats and gloves.
The far left recommendation area tends to perform best. Use this for categories with specific merchandising goals. For example, selling cold weather coats during the holidays and through the winter months might be a merchandising priority.
Include the holiday optimization business rules called out above for delivering contextual product recommendations and targeting with content and creative.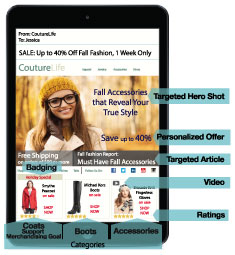 Send timely remarketing emails
Browse and cart abandonment emails provide tremendous opportunity for re-engaging interested shoppers. Comparison shopping and price are top reasons for abandonment. Address these with targeted content, creative, offers and personalized product recommendations. Tackle comparison shopping and price objections by responding within 24 hours with recommendations that include similar items and products that bridge the gap for free shipping. Include any available offers specific to the product category in which the customer is shopping, and drive engagement with targeted imagery and content.
Optimize for the holidays:
Set a rule to always deliver a gift card option as one of the recommendations. During the holidays, abandonment can be a result of just not being able to find that perfect gift, and often times a gift card ends up being the perfect gift.
If you are doing category recommendations, include a stocking stuffer type category that consists of lower cost upsell items, and where applicable products that bridge the gap for free shipping.
Include the holiday optimization business rules called out above for delivering contextual product recommendations and targeting with content and creative.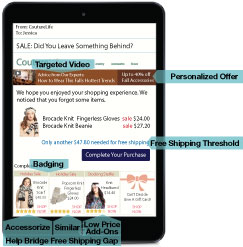 Don't forget to personalize transactional emails!
Order and shipping confirmations have the highest open rate of all emails. You know your customers are looking at these emails … re-engage them! You might include a "Complete The Look" category with expert advice on the product they bought and items that accessorize the purchase. For example, if they purchased a comforter, the imagery might be bedroom-focused with a link to advice on decorating tips, and the recommendations might include items that accessorize the comforter, along with any items that are relevant to browse activity between the purchase and opening of the email.
Optimize for the holidays:
This is an ideal time to deliver a targeted offer, and one that is aligned with your holiday promotions and merchandising goals.
Dynamic titling can be very effective here. For example, rather than "You May Also Like" title recommendations with "Stocking Stuffers" or "Gift Ideas" and include product categories that provide lower cost gifting items, as well as a category that accessorizes product(s) purchased.
Include the holiday optimization business rules called out above for delivering contextual product recommendations and targeting with content and creative.
Click here to learn more about Certona's solutions.
For more holiday marketing tips and trends, stay tuned to our blog or follow us on Twitter @ExperianMkt.
Zach Freitas: Sr. Revenue Optimization Analyst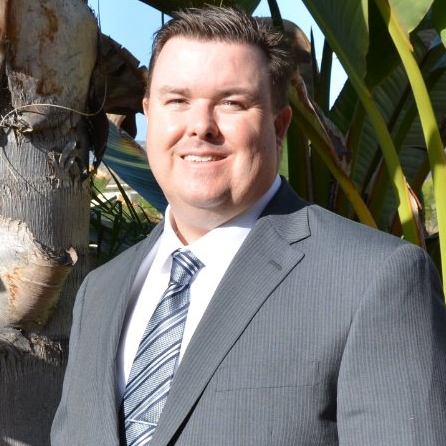 Zach Freitas is a seasoned analytics leader with a Six Sigma Black Belt and more than 11 years of web analytics and online optimization experience. Zach's primary responsibility is to help Certona develop the Revenue Optimization team, by creating methods, processes and thought leadership which help Certona Clients leverage the most out of their Certona's investment. Prior to joining Certona, Zach was contracting as an Optimization and Behavioral Targeting Consultant thru Numeric Analytics, helping Fortune 500 clients, like Symantec, turn information into actions to maximize their online profitability. Prior to that, Zach was a Director of Decision Support for H&R Block, where he managed a team of several subject matter experts who were responsible for three distinct areas of analytics; Web Analytics, Market Research, and Competitive Research. Prior to that Zach worked at Intuit Inc., where he got his Six Sigma Black Belt training and certification.  During his tenor, Zach held various positions in analytics that lead him to insert multivariate testing into the DNA of Intuit's Turbo Tax and Turbo Tax affiliated websites. Zach holds a BA in Economics from San Diego State University and an MBA from California State University San Marcos.