Hot this week:
Consumers spend less time on sites when visiting from a mobile browser than from a PC. Content needs to be easier and quicker to find and transactions streamlined on mobile-optimized sites.
Shoppers of home electronics and home furnishings stores are most likely to use smartphone shopping apps. Home improvement store shoppers are the least likely.
Black Friday is not just the day after Thanksgiving. "Early Black Friday" offers have begun to appear in inboxes: "Early Black Friday 25% Off Savings — Shop Now, Save More."
Email highlights and trends: mobile vs. desktop
This year 48 percent of total email opens are occurring on a mobile device. With mobile being such an important component to email strategy, we conducted a deeper analysis into the platforms and devices email recipients used to engage with emails. For this study, we looked at mailings sent before the holiday season (August 2013) from brands in the top six industries with highest email volume. We will look forward to reviewing this same sample again in late December to see if the pressures of the holiday season change email engagement on mobile devices in any way.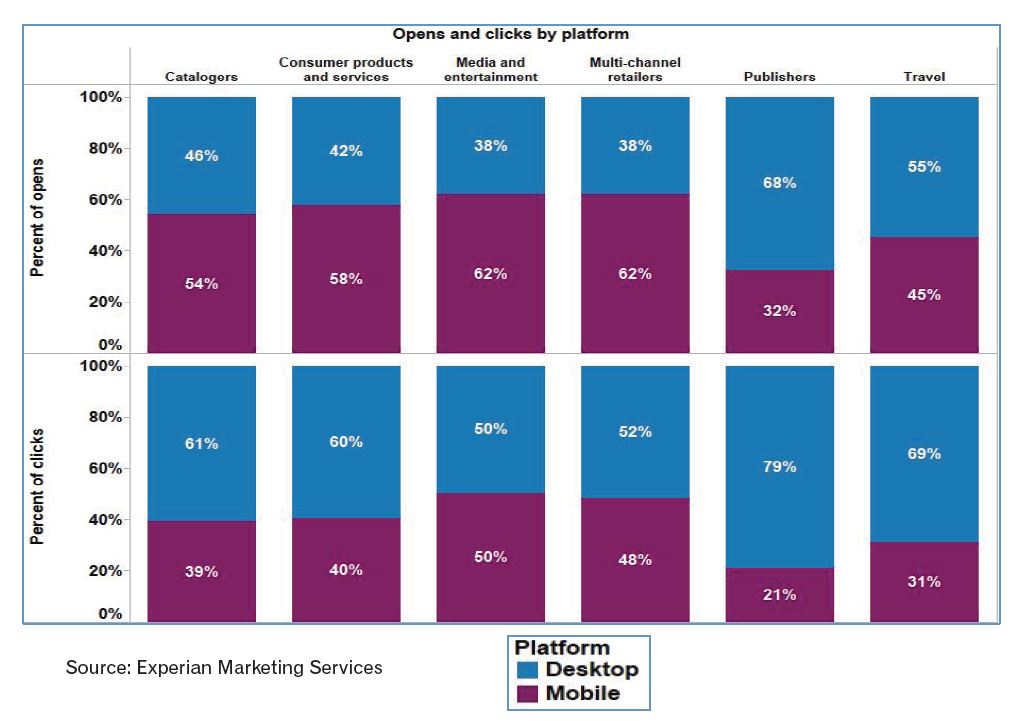 As you can see in the results above, media and entertainment brands,as well as multichannel retailers saw the highest percentage of opens and clicks from mobile devices. However, all in all industries we analyzed, a high percentage of both opens and clicks occurring on mobile devices. So, regardless of your industry, it is critical to make sure that your email design is optimized for mobile.
In addition, emails are not the only way to take advantage of the power of mobile. Fifty-two percent of smartphone users are expected to use a mobile device this holiday season to research products, redeem coupons and assist in holiday gift purchasing. There's still time to send SMS campaigns to your mobile list to boost holiday sales. Be sure to include mobile sign-ups in your emails and ask for both mobile and email sign-ups on your social media sites.
Retail highlights
In our in-depth analysis of 55 multichannel retailers this holiday season, we saw a 75 percent  increase in holiday-themed emails during the last week of October, compared to the previous week.
Brands in the department store category sent 300 percent more holiday-themed emails last week than the week before.
The word "holiday" was found in 16.5 percent of subject lines of holiday-themed emails, while "gift" was found in 12.8 percent of subject lines.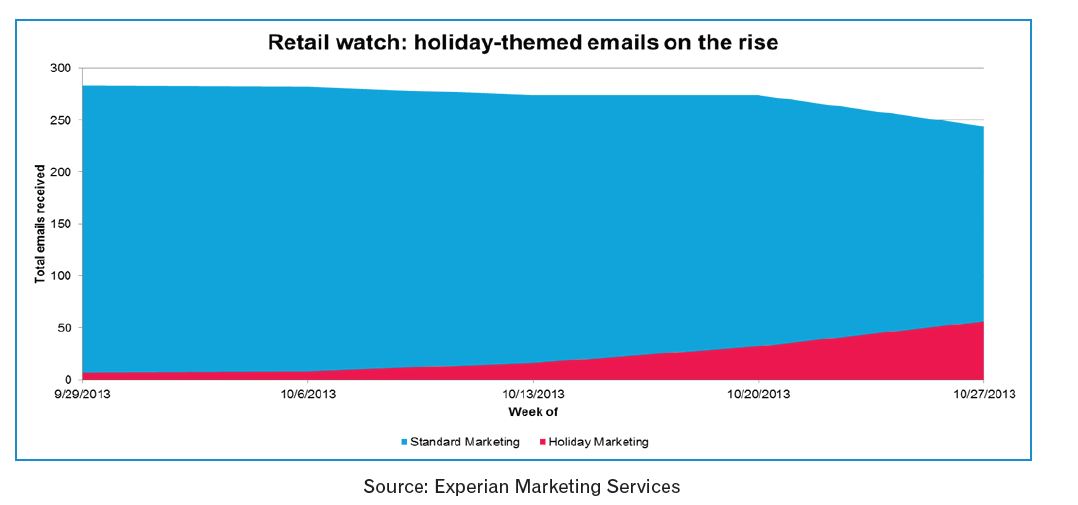 Consumer insights: Mobile vs. PC site visits
Across the board, consumers spend less time (often much less time) on shopping pages from a mobile browser than they typically do from a PC browser. For example, visitors to Amazon on a PC spend nearly 5 times longer during an average visit than those visiting the site from a mobile device. Marketers need to ensure that content is quick to locate and transactions are streamlined on mobile-optimized sites to combat the shorter period of time that mobile consumers spend on these sites.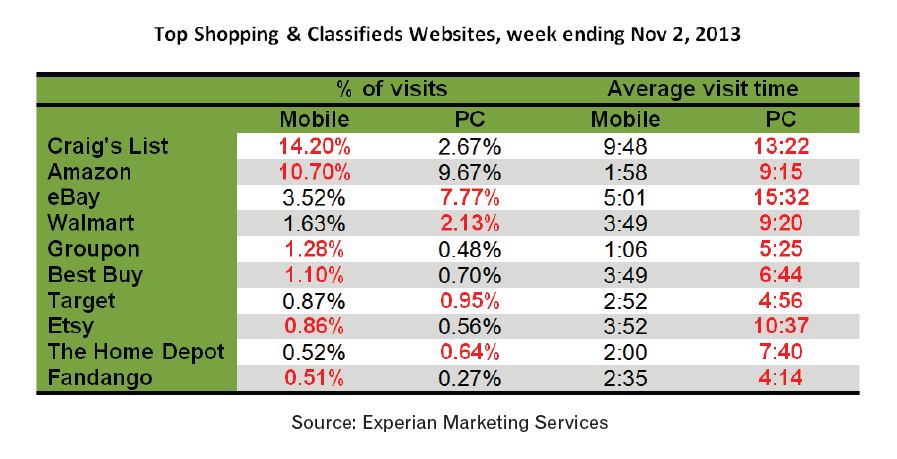 Shopping apps
Apps are key to understanding and enhancing the mobile shopping experience. Simmons ConnectSM, an ongoing study of consumers' media consumption and behaviors across 11 different media platforms, found that 38 percent of adult smartphone owners use shopping apps on their phone during a typical month. Among the 22 different shopping apps reported in the latest study, the two most widely used are Groupon and eBay, which 9.5 percent and 9 percent of smartphone owners, respectively, use at least once during a typical month. Amazon Mobile, Starbucks and Apples' Passbook app are the others rounding out the top five.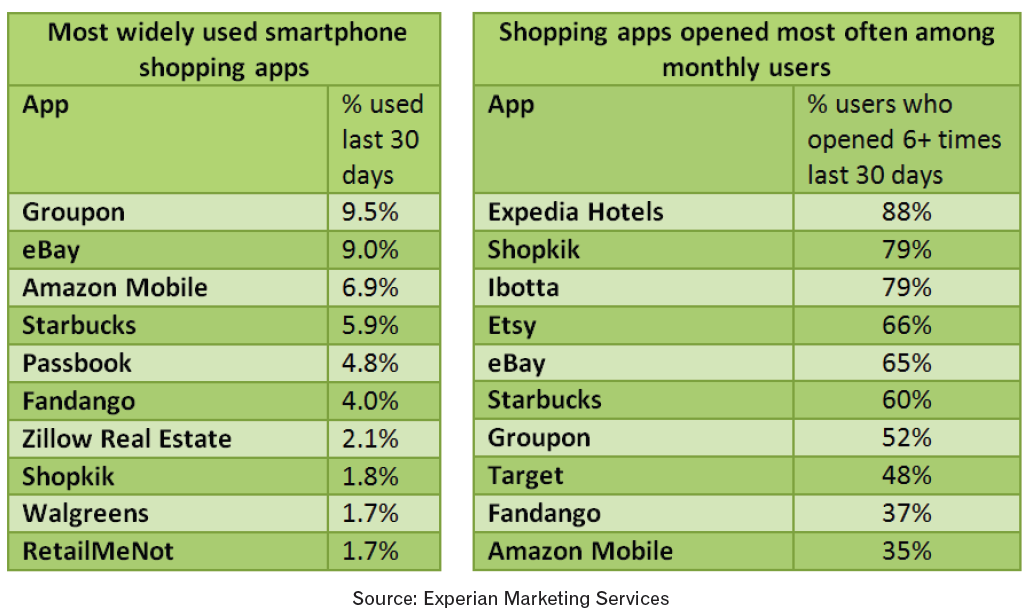 Shopping apps users' retail preferences
Consumers who shop at home electronics stores are the most likely to use smartphone shopping apps while home improvement store shoppers are the least likely. During a typical 30 day period, 27 percent of home electronics store shoppers used a smartphone shopping app compared with 21 percent of home improvement store shoppers.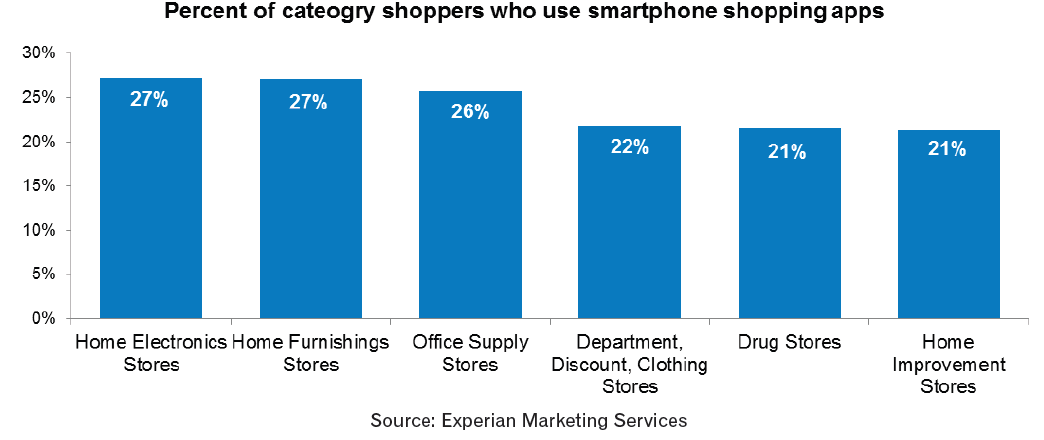 Want more holiday insights? Watch Experian Marketing Services' recent webcast for insights and tips to help you boost campaign results.