Hot this week:
Deals! 26 percent of all email campaigns so far this holiday season include offers in their subject lines. Catalogers include the most offers in email subject lines, but multichannel retailers send more coupon offers in subject lines than any other industry.
Heading into the holiday season, consumers are conducting fewer online searches for coupons, discounts and deals than in 2012. These searches are expected to increase as we near the peak shopping season, but this trend could indicate that consumer expectations for deals are getting higher or that they are already exposed to deals and don't need to seek them out.
Keyword search trends this holiday season show that consumers seek out "coupon" and "deals" differently. "Coupon" as a keyword is often used in conjunction with a specific brand name. Target, Kohl's, Bed Bath & Beyond, Hobby Lobby, JCPenney and Walmart are the most popular brand names used with coupons searchers.
Email highlights and trends: holiday offers
So far this season 26 percent of campaigns include offers in subject lines, which is a slight decrease from the 27 percent seen last year. The percent of subject lines with offers varies by industry. Looking deeper into what's being offered this season, we noted that the popularity of some offer types has changed this season as well. Percent off, points and coupons all show increases in popularity this year while $ off offers has decreased this year.

We looked at the most popular offer types by industry to understand who is providing these discounts and offers. Catalogers mention free shipping in more than half of their subject lines with offers, while marketers in the Travel industry favor offers with points/rewards and $ off. Media and entertainment industry emails had the highest percent of free gift offers, while % off is the most popular offer type for Multi-channel retailers.

Coupon, discount, deal searches
As consumers increasingly expect a deal, there's less need to hunt one down. In fact, heading into the 2013 holiday season, consumers are conducting fewer online searches for coupons, discounts and deals than last year. Even so, the holiday shopping season is typically the most active time of year for discount searches and we will almost certainly see a rise in such searches in the days and weeks ahead. In 2011 and 2012, for instance, searches for "coupons," "deals" and "discounts" hit their annual peak the week after Christmas despite being at or near their lowest levels of the year in late October/early November.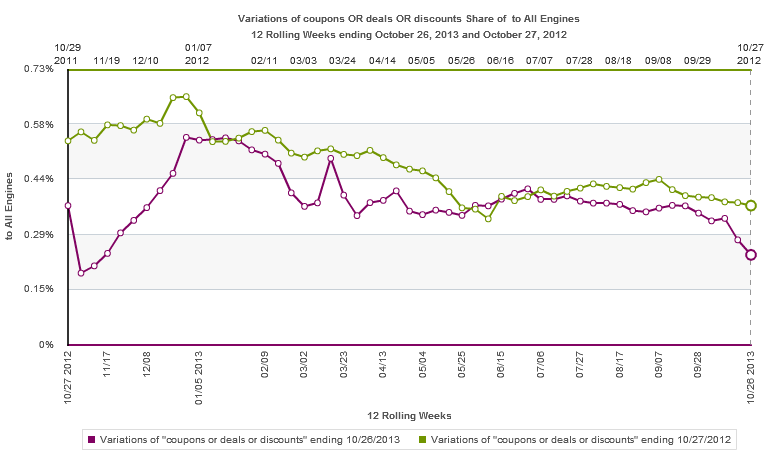 Stay tuned to the blog for ongoing holiday updates. And register for our Hot Holiday Products and Key Trends webinar to learn which products are burning up the Internet so far this holiday season.