What's hot this week:
Emails are driving both in-store and online purchases this holiday season. 71 percent of consumers report that email influences them to take an action and 40 percent make purchases.
Friends-and-family email campaigns consistently provide higher transaction rates and revenue per email. During the 2013 holiday season to date, friends-and-family emails are generating 2x the revenue than other promotional mailings.
More retailers are using coupons and discounts as the primary call to action in email subject lines accounting for 5.3 percent of offers this holiday season, compared to 3.9 percent in 2012. 20 percent, $5, and $20 are the most popular coupon offers.
Email highlights and trends: friends-and-family
Friends-and-family emails address the needs of subscribers to belong to a special group. In addition, by encouraging subscribers to share these offers with their own 'friends-and-family', they help create brand ambassadors as well as repeat customers. While friends-and-family promotional emails were sent throughout the past year, over 50 percent of them were sent during the 2012 holiday season (Oct – Dec). We've looked at sixty-four brands that sent friends-and-family emails last holiday season, and twelve brands that have done so in the first weeks of the season this year. When compared to other promotional mailings from these same brands, friends-and-family campaigns consistently provided higher transaction rates and revenue per email.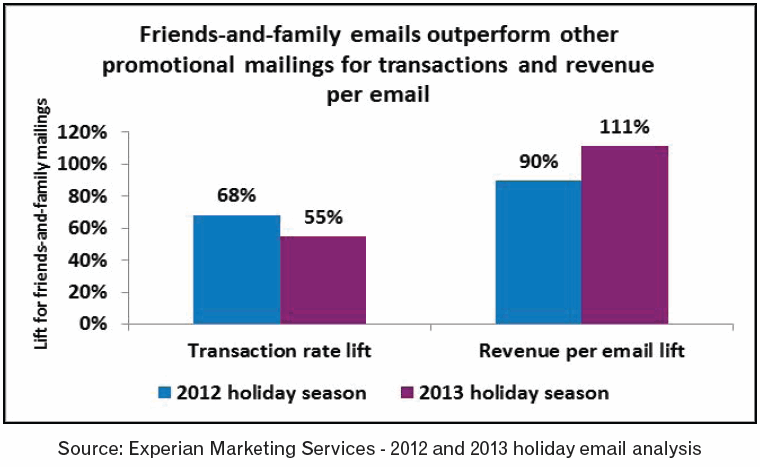 This season's friends-and-family emails have more than double the revenue per email of other promotional mailings.
Two hot tips for your friends-and-family emails based on 2012 stats:
Mention 'holiday' in the subject line (i.e., "Save 20% on Holiday Shopping at our Friends & Family event"): they have 19.7 percent higher unique open rates (17.2 percent with holiday, 14.4 percent without holiday mention)
Use the word 'exclusive' in the subject line (i.e., "Exclusive Friends & Family Sale-Limited Time Only"): they have 18.6 percent higher unique open rates (18 percent with 'exclusive', 15.2 percent without)
Consumer insights – Emails drive action
Everyday consumers are bombarded with emails from companies and during the holiday season, they receive even more. According to research by Experian Marketing Services, 71 percent of online adults say that they are influenced by promotional emails to take some sort of action. The most common action reported by consumers is clicking on a website link in the email, which 40 percent of adults do. In addition, 40 percent of online adults say they're influenced to make a purchase as a result of an email received from a retailer or other company. Specifically, 34 percent make purchases online and 18% make offline purchases. Young adults are the most likely to be influenced to buy, as 47 percent of those ages 18 to 34 make purchases compared with 42 percent of adults ages 55 and older. Young adults are also over 50 percent more likely than the average online adult to download an app after receiving an email. Fourteen percent of 18 to 34 year olds download apps versus 9 percent of all adults.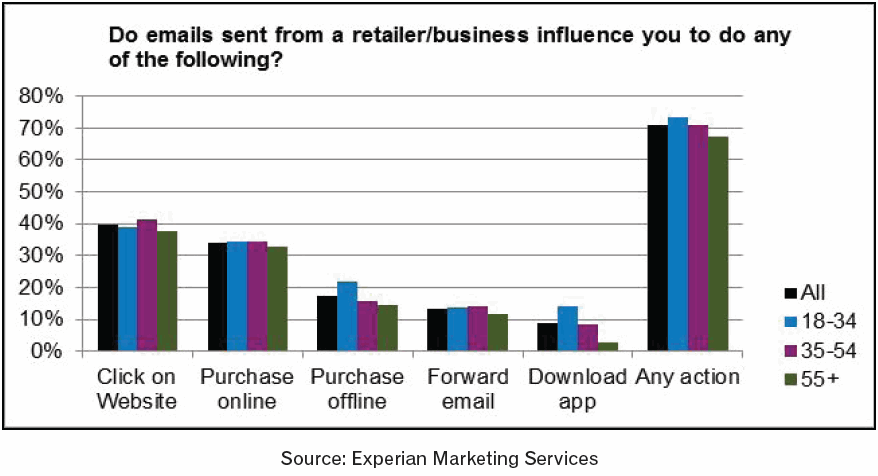 Regardless of click-throughs and conversions, many adults are also forwarding emails they get from retailers and other businesses to family and friends. According to the same Experian Marketing Services study, 13 percent of online adults say they forward those emails to others. While forwarding rates are fairly consistent across age groups, Hispanics and tablet owners are noticeably more likely to forward emails with 21 percent and 16 percent of the respective group doing so.
When asked how likely they are to forward specific types of email content (e.g.: jokes, news stories, videos, etc.), the content most likely to be forwarded after news stories is information about new products and promotions/coupons. Fifty-one percent of online adults say they are at least somewhat likely to forward both types of email content. On the receiving end of an email forward, consumers are even more likely to open all types of emails when forwarded by a trusted source. In fact, 73 percent of online adults are at least somewhat likely to open emails containing promotions or coupons. Sixty-four percent are likely to open emails containing information on new products.