I'm sure it's no surprise that holiday promotions have already begun to trickle in through email, social and mobile streams. According to a recent Experian Marketing Services survey 49% percent of marketers said they planned on running a holiday promotion before Halloween. That may be a result of this year's holiday season being a little different than last year, in that Christmas falls closer to Thanksgiving this year. Last year there were 29 days between Cyber Monday and Christmas, this year there are only 23 days. Cyber Monday is in December (December 2) for the first time since 2008.
This certainly will impact the way we see marketers navigating the coming holidays. So with that in mind, here are the top ten email predictions for this holiday season.
1.      Our top trend is how people react to this "aggressive" calendar. Of course we'll see much earlier promotions, more aggressive promotions and even more emails with countdowns and dates highlighted letting consumers know that time is ticking. We anticipate seeing many more daily deal campaigns across channels, real time countdown clocks in emails and doubling up on reminders across channels as well. We are already seeing Black Friday online searches on the rise, as they are up 23% this week compared to the same week last year according to our data. Kmart already launched one such ad touting only 105 more days until Christmas.
2.      Layaway. A trend that began during the downturn of the economy and seems to still be on track to be touted again this year is layaway. We saw companies like Best Buy, Kmart and Sears bring layaway back in 2011 and we saw more companies continuing to hype it last holiday season as well. We anticipate more promotion around layaway again this year and EARLY. Top brands that see online traffic from searches on layaway include Walmart, Kmart and Sears. Toys R Us already promotes layaway in all their emails as you can see in the example below: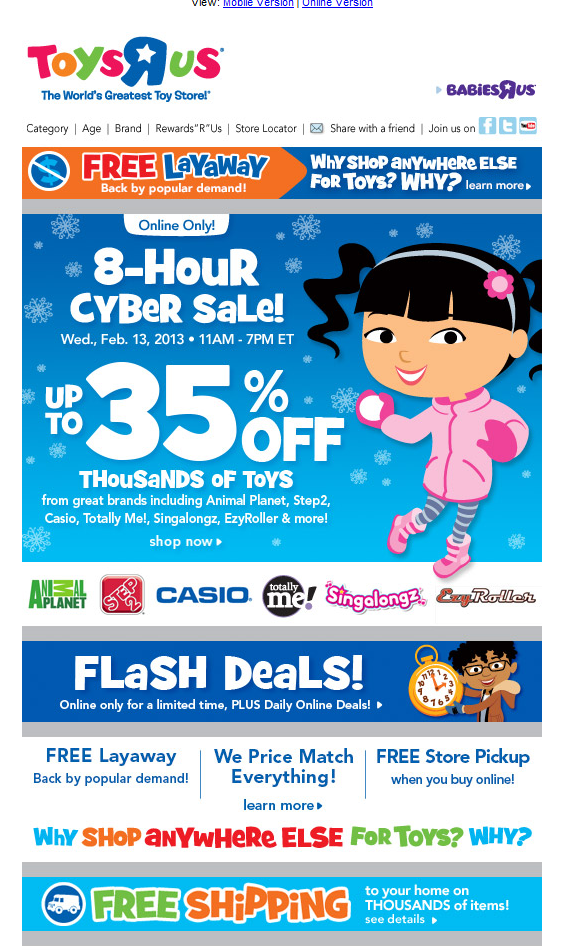 3.       Toys R Us is also plugging our next trend, an increase in "ship-to-store efforts."  In the email above they promote "FREE Store Pickup." Brands such as Walmart, Sears and Nordstrom are using this as a loyalty building opportunity. Those are just a few of the retailers who are making a bigger bet on ship-to-store efforts this holiday season, driven by the increasing importance of mobile for the bricks-and-mortar shopping experience.
4.       More mobile optimization. The mobile focus we've been seeing over the last year or so will only intensify over the holidays. The National Retail Federation is forecasting mobile to drive ecommerce sales gains of between 13 and 15%. Last year, ecommerce sales increased 15.5%. They're predicting retail sales to gain only 3.9% as the U.S. economy continues to try to improve, however, online sales broadly, and mobile sales more specifically, according to the article, will be a bright spot driven by growing consumer adoption and retail innovation. This may translate to more optimization overall, more promotion of apps, more aggressive acquisition of mobile numbers, more SMS and even MMS, like the example below from early mobile adopter, Starbucks: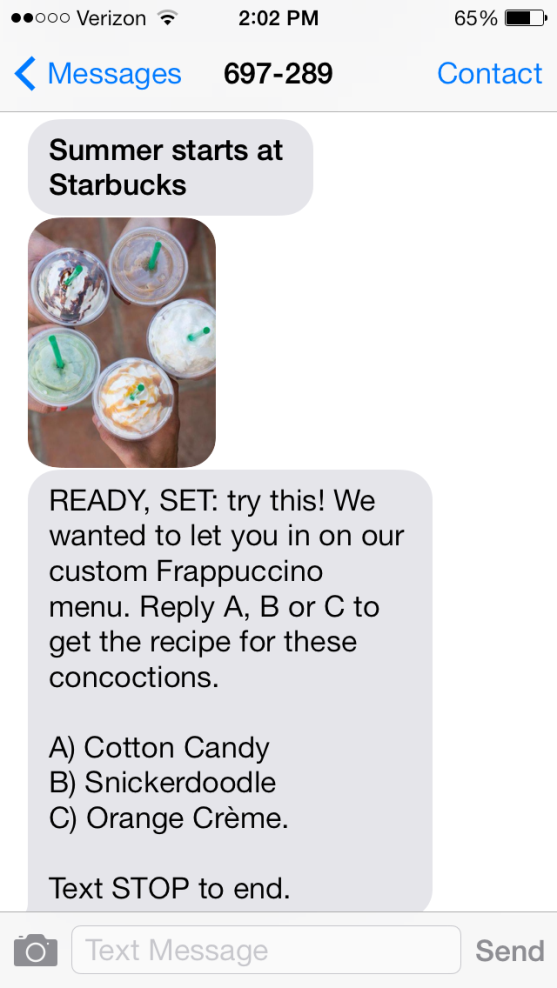 We also anticipate more reminder emails being sent later in the day to catch those users that may have glanced at an email on their phone in the morning but who may be on a laptop or tablet later at night. Research shows higher transactions on tablets, so it's a smart move to try to target those who may be in a buying mood at night. Tablets will play a much bigger role in shopping this year. Last year, mobile sales overall, which include smartphones and tablets, had a huge boost — up more than 96% from 2011. Based on a survey in August of 2,500 cell or smartphone owners aged 12 to 64, a study by Frank N. Magid Associates, estimates 74% of people now use a smartphone and 52% use a tablet. With that broader framework in mind, the research projects 80% of Americans will use a smartphone next year, and 64% will use a tablet. Be on the look-out for mobile tactics to become a spotlight during this year's holidays.
5.       Later email deployments. Because of the growing mobile trend, we foresee emails being sent later to those who may be ready to make a purchase later in the day. We know more people are opening emails because of ease on a mobile device, but in early tests we see a good indication that more people are buying later in the day when they're maybe more settled at home, or not just looking quickly at emails on their phones. Last year we saw that most emails were sent at the same time every day per retailer. We anticipate this shifting some as more clients and retailers in general test time of day and see that the time they've been sending may not be getting the best results based on new user behavior on smartphones.
6.       More video in email and more eye catching emails. A trend we saw through much of the year will intensify over the holidays. Our clients want their emails seen and want to stand out in the inbox! Video, countdown clocks, dynamic offers and content, and live feeds all help bring the web to email and keep users engaged. We hope to see a lot of creativity around the holidays utilizing these tools.
7.       More passbook inclusion and emails addressing the new iBeacon. Passbook has been implemented successfully by the likes of Sephora, Delta and many other travel and retail companies. Over the holidays when customers are running from store to store, it makes sense to tout this functionality to ensure customers have their offers in one place. With iBeacon, retailers are now able to easily arrange multiple beacons to do triangulation allowing rough indoor navigation at less virtually no cost. iBeacons are more about proximity and context than trying to locate position precisely. Our guess is that retailers may stop using Shopkick because they can integrate iBeacon into their own apps rather easily.
8.       Enhanced gift guides. In an Experian Marketing Services study published last year, we found that gift guide transaction rates are 48%higher than normal promotional mailings. Last year those gifting emails started in October and peaked in December, but we foresee gift guides expanding and even growing to become more interactive.
9.       Triggers around the holidays. This translates to more messages reminding you of gifts from last year and abandon cart programs being enhanced to more than one email. Experian Marketing Services found that adding a second abandon cart message can increase revenue by 54%. Our clients have been busy building up to holiday getting those triggers up and ready for the volume onslaught. We foresee many more triggers including those with a holiday theme, as well as those with product recommendations.
10.   More in store ties to email. Been to Sephora lately? Anthropologie? Gap? Bloomingdales? Nordstrom? An Apple store? Been on a Delta flight lately? What do they all have in common? They offer ereceipts in addition to, or in place of, paper receipts. Do holiday shoppers want 50 different receipts crowding their wallets as they shop during the holidays, or a file of emails to search through instead? These companies are banking on folks wanting to save a tree and we foresee more companies following suit. Additionally, ereceipts are a great way to remind consumers who aren't email subscribers to sign up. NOTE: There are some pitfalls to aggressive acquisition in store over the holidays. With long lines and cash wrap reps more crazed, there is more room for errors in miss-keying email addresses or a tendency to opt people in to lists without asking. Be mindful of this, as the last thing any marketer wants is to get blacklisted or blocked over the ever important and lucrative holiday season.
Are the above trends incorporated into your marketing mix for the holidays? Did we miss something? Let us know! Tweet me @gouldliz using #Holiday13. Please make sure to register for our Experian Marketing Services' holiday webinar on October 24th where we'll cover similar retail trends for the holiday season.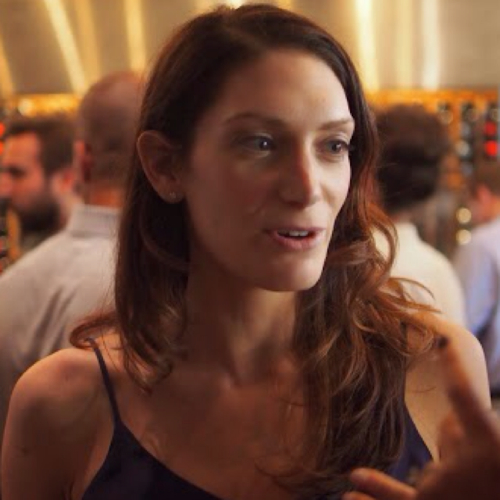 Author:
Liz Gould is the Director of Strategic Accounts, Cross-Channel Marketing at Experian Marketing Services