The weekend between Black Friday and Cyber Monday is likely to have more sales than ever before. Tweet

Hot this week:
In 2012, consumers did half of their holiday shopping online or via a mobile device, and the highest traffic on mobile devices peaked on the weekend after Black Friday. We expect even more online and mobile shopping this year.
Last year, 25 days before Christmas was one of the top 10 email shopping days. This year, Thanksgiving is a week later than last year, and 25 days before Christmas falls on the Saturday after Black Friday.
Email highlights and trends: Preparing for peak shopping days
The Wednesday before Thanksgiving through Cyber Monday are the peak email shopping days of the holiday season. With Thanksgiving on November 28th this year, these peak days will be a full week closer to Christmas than they were last year. Last year, mailings sent 25 shopping days before Christmas (November 30th) were ninth in overall transactions for the season. This year, that date is in the center of the peak week falling on the Saturday after Black Friday, and we may therefore see even more sales on that day than we have in the past.

Best times for peak day mailings
We are frequently asked for the best time to send emails on these key days. Based on emails sent in 2012, the chart below breaks each of these days into six 4 hour time periods and the starting hour of each time period is shown. Each period is sized according to volume. The highlighted time periods had the highest revenue per email for that day. These 'best' periods present opportune times to mail on these days this holiday season.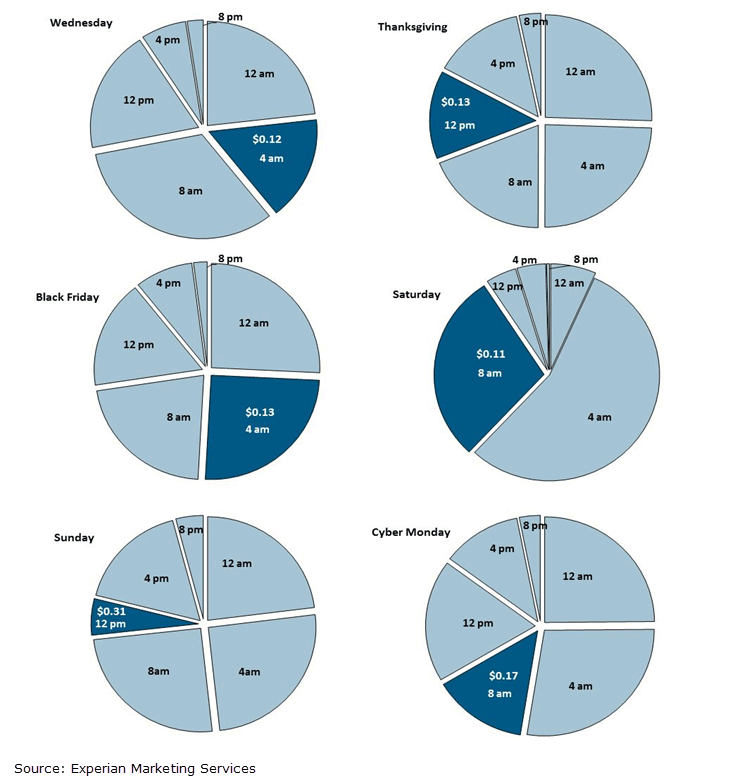 Sunday between 12 and 4 pm may be a particularly good time to start your Cyber Monday campaigns. Tweet 
Whether you are reminding customers of what's coming: 'Cyber Monday Doorbusters starting at midnight tonight!', or getting an early start to the sales: 'For you, Cyber Monday starts right this second', mid-day Sunday is a good time to mail.
Consumer insights
According to a study conducted prior to the 2012 Holiday shopping season by Experian Marketing Services and Research Now, American consumers said they would do half of their seasonal shopping either online from a computer or from their mobile device.
With online and mobile shopping expected to comprise an even larger share of 2013's holiday shopping, marketers can prepare by making note of the daily traffic to the Hitwise Retail 500 sites on key holiday milestones from years past. The Hitwise Retail 500 includes the top 500 retail websites. Between 2011 and 2012, visits to the Hitwise Retail 500 websites on Thanksgiving Day increased 6 percent; on Black Friday they increased 7 percent and on Cyber Monday visits increased 11 percent year over year. While the overall volume of visits is lower for the Free Shipping Day (December 17 in 2012) and Christmas compared to the prior milestone days, visits on each of those days increased 18 percent and 27 percent, respectively, between 2011 and 2012.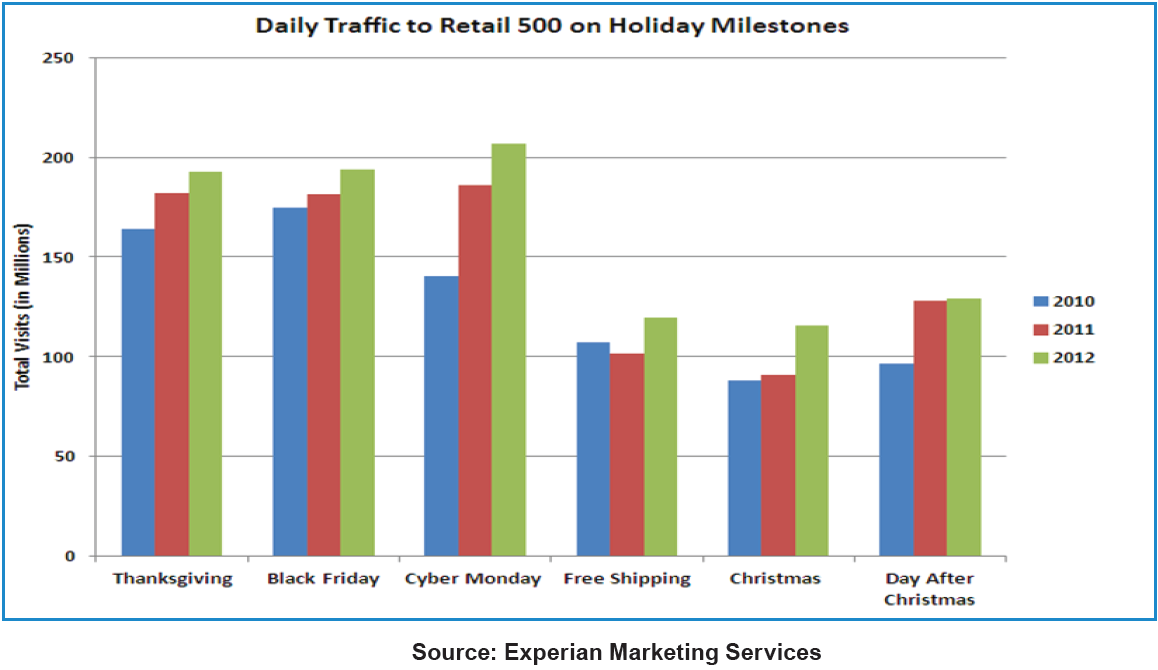 Peak in-store and online shopping
To gain insight into the differences between how consumers shop online and in-stores, the Experian Marketing Services/Research Now survey tracked respondents' physical and online visits to the top 20 retailers and their respective websites during the last two weeks of November, 2012, beginning November 19, 2012 (the Monday before Thanksgiving). To determine physical store visitation, we measured opt-in respondents on their smartphones with an activated GPS location-based capability.
In the days leading up to Thanksgiving, respondents were shopping in stores in preparation for the holiday, and foot traffic was high. As expected, physical visits were much lower on Thanksgiving Day, but respondents were clearly using their PCs and phones to browse the retailers' websites on Thanksgiving in preparation for Black Friday deals.