When I arrived at the office of one of my clients last week, I noticed a new sign in the lobby telling everyone who entered how many days until Black Friday and how many days until Christmas. This is nothing new – October is the new November when it comes to holiday promotions, so it's no shock that we're starting to see holiday emails become more and more common in the inbox.
Some emails like this one from Bobbi Brown are more obvious in their approach: it's all about the gift guide call to action and gift imagery. This is very clearly a holiday-themed email.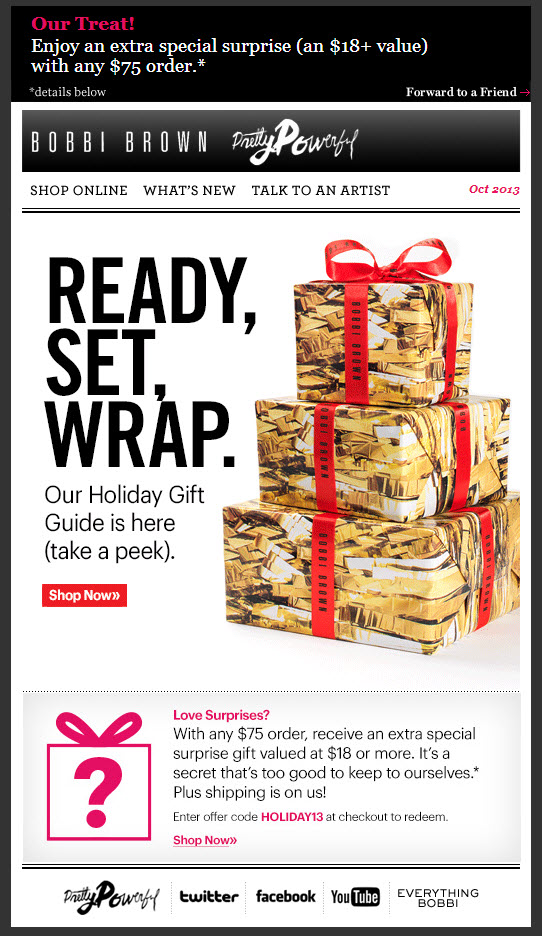 What I noticed last week is that even though I'm still seeing more "non-holiday" emails overall, retailers are finding a way to slip in a little reference… some of them so subtle that if you were to blink (or quickly scroll through your emails like most people do), you wouldn't even notice.
Take a look at these emails from Anthropologie, Steve Madden, Vera Bradley and The Container Store. "Holiday" is not the main message, but rather it is referenced at the bottom of the email, all in different ways. Anthropologie references "a holiday heads-up" about their display workshops, Steve Madden introduces free shipping with no minimum "just in time for the holidays," Vera Bradley includes a countdown to Cyber Monday  and  The Container Store teases a holiday Pinterest contest. Holiday strategies are clearly being executed, and we're slowly starting to see the evidence.
Speaking of free shipping in time for the holidays, Neiman Marcus introduced free shipping and free returns via email on October 1. Sure, there's no holiday reference or imagery, but I have no doubt that this move was made "just in time for the holidays." Continuous free shipping will be important to shoppers this year as they're trying to find the best deals of the season, and I wouldn't be surprised if even more retailers follow suit. Only time will tell.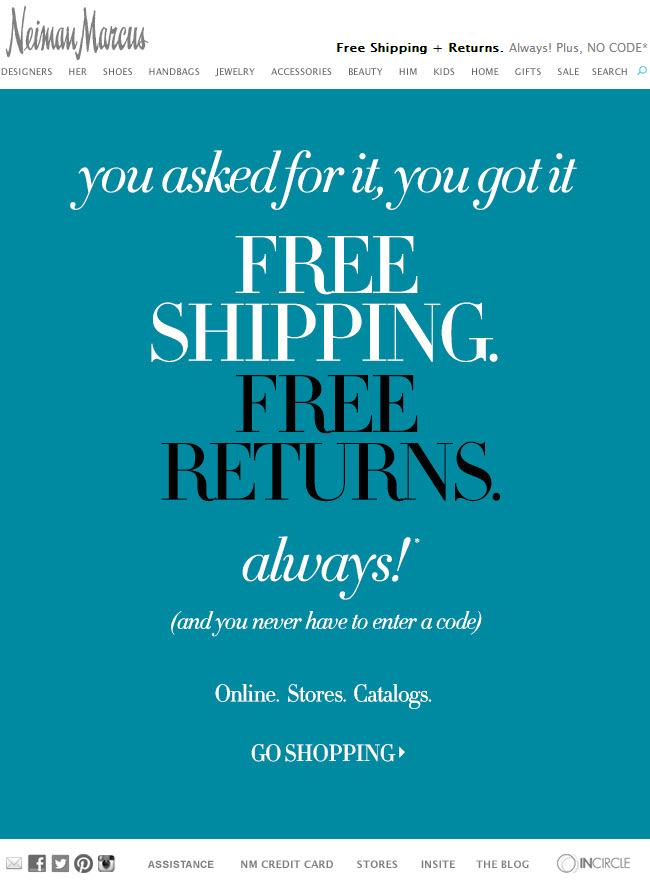 Be sure to come back to the Experian Marketing Services blog week after week throughout the holiday season, as I'll be watching retailer email trends and standout programs. And join our holiday marketing webinar on October 24th for more trends and tips to update your campaigns as they're happening. May the rush of holiday emails to the inbox commence… It's the most wonderful time of the year!