Experian Marketing Services clients often discover new trends from the timely data within our Consumer Insights products. One client, PM Digital Research, takes a look at the luxury retail market based on findings from their recent 2013 Trend Report: Luxury Brands Online study.
Luxury shoppers are becoming increasingly dependent on digital platforms to find, research and even purchase fine apparel, handbags and shoes. Online has continuously ascended into a more significant role in the luxury shopping sphere, and now consumers demand and expect a cohesive, streamlined and efficient buying experience, both on and offline. Luxury brands now recognize the necessity of implementing in-store and digital offerings synergistically; consumers expect to receive the same level of service and attention to detail across visits to the brand site, social media page and store location. It is not just ecommerce sales that are benefitting from consumers' contemporary web and mobile-centric mindset, as research shows that online drives offline sales simultaneously. Luxury brands must now accommodate consumers who are willing and able to conduct extensive product research, and as such, their digital offerings need to meet the same standards as their in-store aesthetics and service.
Industry sources predict that luxury goods sales will reach $285 billion in 2013 and continue a 5-6% annual rise through 2015. In an ongoing effort to assess the state of the digital luxury market, PM Digital released their Trend Report: Luxury Brands Online leveraging their independent research as well as data sourced from Hitwise®.
Some key highlights from the 2013 study include:
Five luxury brands capture 75% traditional online market share and 68% mobile market share, based on 2013 YTD traffic to 52 sites in this study. These are Ralph Lauren, Coach, Michael Kors, Louis Vuitton and Gucci.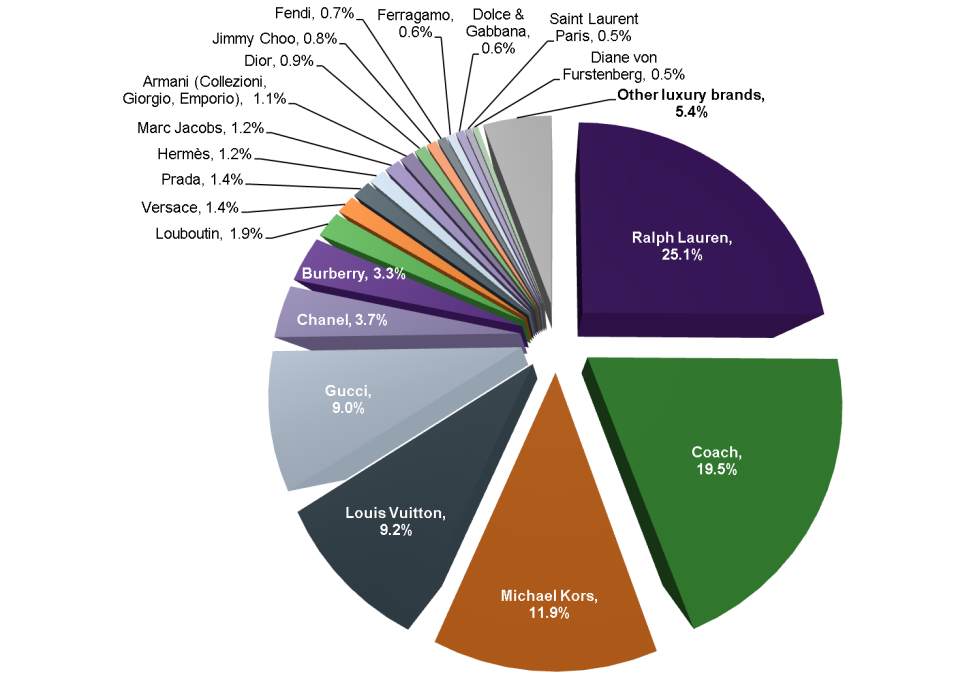 Source: Experian Marketing Services, 2013 YTD
Traffic to luxury brand sites is up 10% in 2013 YTD.
Search engines remain the largest source of traffic to luxury brand sites, accounting for 51% of all visits. This dependency outpaces that of the broader apparel and accessories category.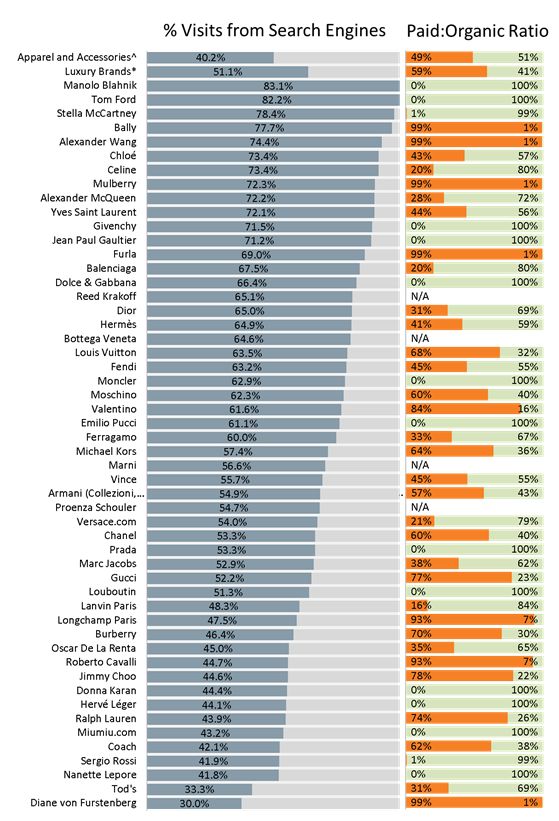 Source: Experian Marketing Services, August 2013
Google accounts for 41% of referrals to luxury brand sites.
Nearly all major luxury fashion companies now offer e-commerce, but too many are still leaving direct traffic on the table by not running paid search campaigns and even some do not offer ecommerce at all. It is likely that these brands may be deferring to their retail partners to yield the traffic and the sale for their respective brand. Those who are running paid search campaigns favor the higher margins of selling direct to the consumer.
Handbags and shoes are the most popular products driving search clicks for luxury brands. Most of these searches include trademark terms, indicating a high degree of brand loyalty and decisiveness, although a higher-funnel marketing channel may also have driven them to search.
Luxury brands are largely absent on Google Product Listing Ads at this point. However, luxury products often appear with a department store or a multi-brand reseller's Product Listing Ads, and it is possible that this is a deliberate strategy by the brand in choosing to let their retail partners control this particular subset of the paid search channel.
Luxury consumers are among the most-connected demographic groups, with twice the smartphone ownership rate as the general population.
Social media accounts for 6% of traditional web traffic to luxury brands, and nearly all of it stems from Facebook and YouTube. Many brands have also achieved sizeable, and still growing, audiences on Twitter, Tumblr etc. Engagement on these sites is mainly disconnected from visits to brand sites, but that is less true in a mobile environment. As mobile traffic continues its ascent, other social sites will become increasingly more influential within each brand's digital interplay. It is also worth noting that these luxury brands have sizeable fan bases in their social channels, which is a natural fit to support their branding efforts.
Overall, the study finds that all digital channels — paid and organic search, email, social and display —will have a major effect on luxury brands as they increasingly shift toward mobile and cross-channel offerings. Mobile will become even more integrated with the live experience of in-store shopping than online already is, since consumers can now access their favorite brands at any time by reaching into their pocket or purse. Comprehensive strategies across practices and devices will drive consumer awareness, engagement and, ultimately, transactions.
Make sure to register for the Experian Marketing Services' holiday webinar on October 24th where we'll cover similar retail trends for the holiday season.