Earlier this week we published our email plus mobile report which provides valuable insight into the ways in which today's consumers are interacting with their emails on mobile devices. As smart phone and tablet usage continues to increase and the majority of email opens are occurring on mobile devices, understanding the impact of mobile on email marketing is a necessity.
Here are some tips and highlights from the report:
Consumers interact with email and mobile in complex and variable ways. It is important, therefore, to analyze your subscribers' platform and device preferences regularly to identify and monitor trends for all segments.
Key stats:
More than 50 percent of smartphone users check email each hour from 8 a.m. through 9 p.m.
Among tablet users, those ages 65+ are most likely to check email on their device
Half of unique email opens occur on a mobile device
Links sent in an email from a friend strongly influenced the purchases for 38 percent of smartphone users and 41 percent of tablet users
Information sent from an advertiser strongly influenced the purchases of more than 20 percent of smartphone and tablet users
Men are 38 percent more likely to purchase stocks or bonds and women are 11 percent more likely to purchase pharmaceuticals on smartphones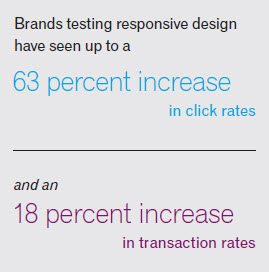 Tip: Leverage platform preferences and engagement metrics to identify key subscribers for future targeted offers.
Tip: Make sure that your email creative is optimized for mobile. Responsive design templates automatically adjust email layouts to deliver a consistent experience for customers across platforms. Case studies of Experian Marketing Services clients testing responsive design have shown increases of up to 63 percent in click rates and 18 percent in transaction rates when using responsive design.
Mobile tablet use is gaining in popularity each year. With the popularity of the iPad® as the mobile device of choice for transactions, it is important to ensure that emails render properly on tablets. Also, consider developing a tablet-specific app for your brand to further engagement and promote transactions.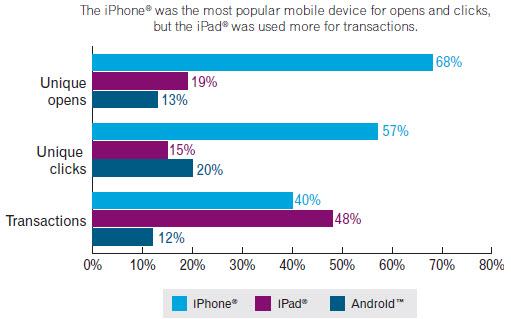 Download the full report, Email plus mobile interactions, for more insights into how today's consumers are interacting with email through mobile and helpful tips on how you can leverage mobile to create more effective email marketing programs.