As the dog days of summer come to an end, marketers are already having visions of sugar plums dancing in their heads. Since the winter holiday season is a very successful and profitable time for retailers, it's never too early to start planning. A recent study by Experian Marketing Services asked marketers to share their cross-channel marketing plans for the holiday season. The results of the survey are pretty illuminating and will help marketers better prepare for the upcoming season. Once you get your holiday fix, don't miss your chance to register for Experian Marketing Services' holiday webinar on October 24th. We'll cover important topics to help marketers better connect with their customers.
June is the most popular month to start planning holiday campaigns
Before children head back to school, the majority of marketers have already begun to start planning holiday campaigns. 69% of marketers surveyed will start planning holiday campaigns by August, with June (18%) earning the title as the top holiday planning month for marketers.
When it comes to launching the first holiday campaign, almost half (49%) of marketers surveyed suggested they will launch before Halloween. Despite this, the most popular time to launch campaigns is the first fifteen days of November, right after Halloween but before Thanksgiving.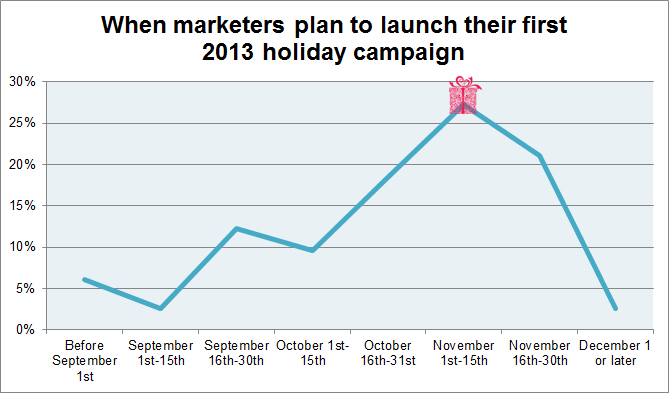 The shift to cross-channel marketing
Marketers are planning on integrating across channels more than ever this year. Of those surveyed, 83% said they plan on running coordinated, cross-channel marketing campaigns during the holiday season. More than half (55%) went as far as saying they will be coordinating marketing campaigns across 4 or more channels. Which of these channels will marketers utilize the most? According to the survey results, online display (59%), email (55%) and print (46%) are the top three channels, while search (30%) and mobile (24%) are not as widely used. Despite mobile and search ranking low on marketers' priority lists, learn why these channels should not be ignored when planning this year's holiday campaigns.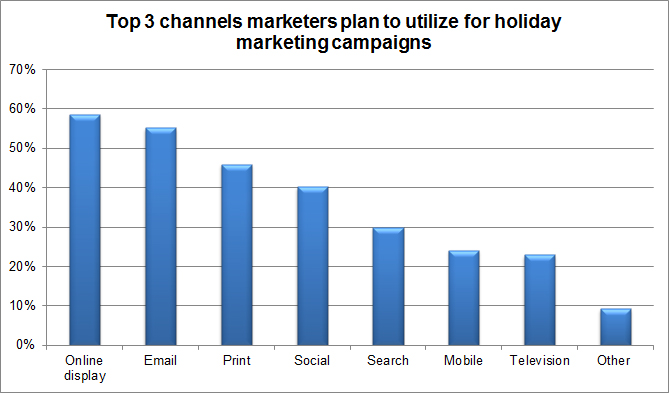 Top promotional tactics
Everybody loves a good deal, so it's no surprise that free shipping offers was ranked the top promotional tactic marketers will integrate into their customers' holiday shopping experience this year. 39% of marketers surveyed will use free shipping, followed by deal of the day offers (28%) and eCoupons (21%). Very few marketers plan to use layaway (3%) while an astonishing 28% plan to not use any type of promotion.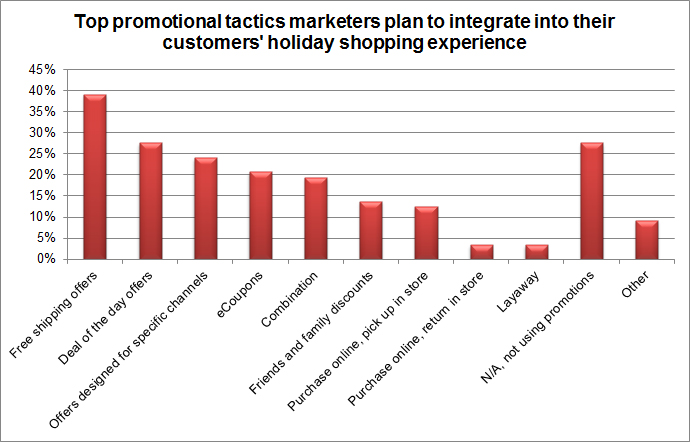 Top social tactics
According to marketers surveyed, sharing is caring. When asked, "What are the top three social tactics you are integrating into your customers holiday shopping experience," almost half (49%) of respondents answered that they plan on integrating social sharing tools from their website. Social advertising (45%) and product promotions (36%) rounded out the top three.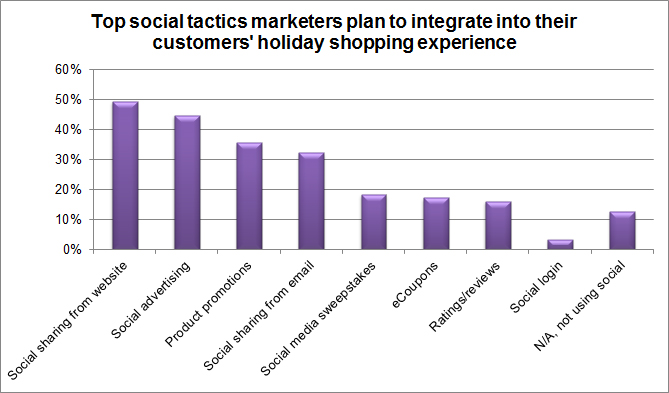 Top mobile tactics
Although marketers didn't rank mobile marketing as a top priority, many said that they will be using mobile tactics during the holiday season. Developing mobile optimized websites was ranked as the top activity by 43% of respondents, followed by creating a mobile optimized email (37%) and using mobile advertising (31%). 15% of savvy marketers plan to utilize geolocation promotions this season. Engaging consumers through contests and sweepstakes seems to be at the bottom of marketers' lists with only 1% saying they will use SMS sweepstakes to engage consumers.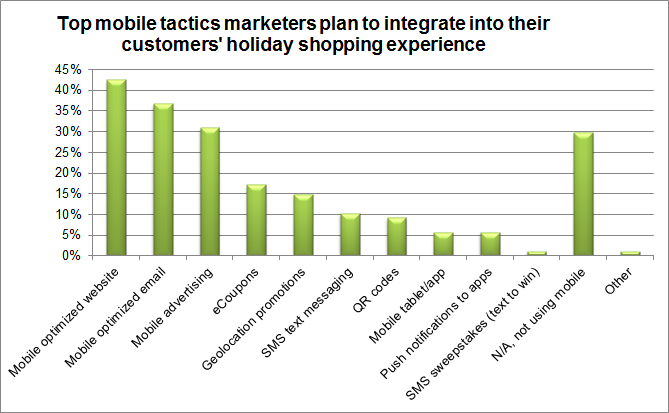 Happy holiday planning!