Gmail recently launched new tabs to organize users' inboxes, a change that has moved industry insiders and marketers alike to question if this might cause detriment to client engagement rates. To follow up on that question, we looked at email engagement data before and after the tabs were launched . We took a small sampling of clients across multiple verticals to see if there were considerable or noticeable drops in opens rates from before the tab changes to after.
Here is what we saw: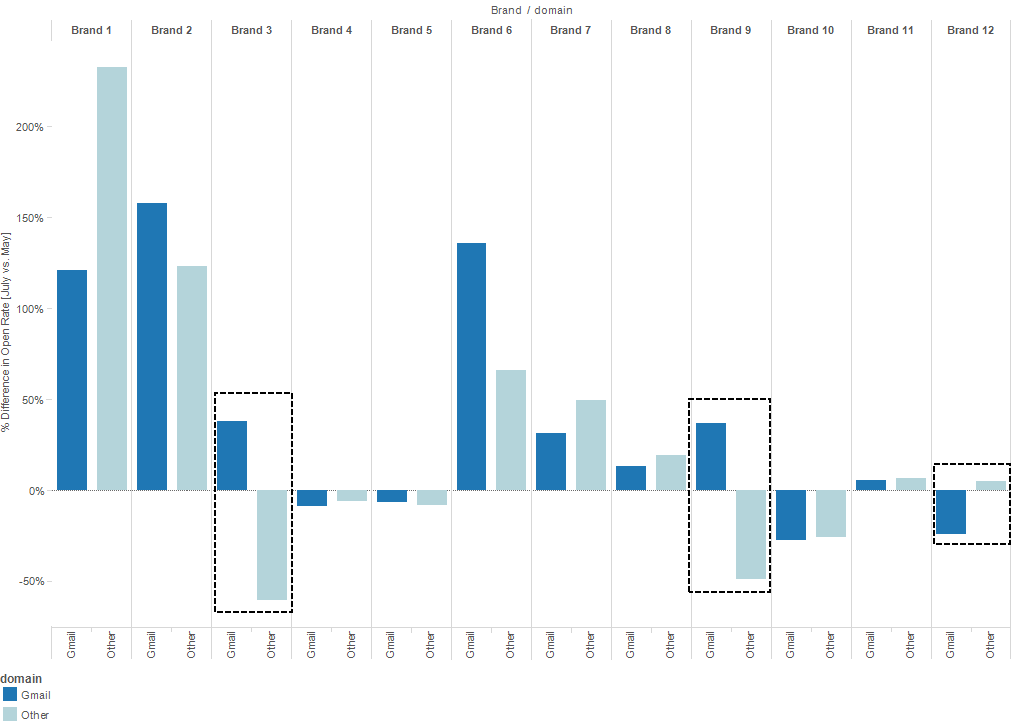 The 3 circled brands saw a deviation in open rates across Gmail versus the other email clients. And in 2/3 of the cases, we actually saw opens increase in Gmail after the change.
While it's still too early to make any definitive conclusions, results from this small sample show that the new Gmail layout may actually be promising for marketers.
However, there may be a few factors affecting results:
Tabs may not have rolled out completely at this point
Gmail users may have turned the tab feature off
Because the change is recent, subscribers may be interested in exploring their Gmail inboxes, and there may be more eyes on promotional emails. Hopefully, though, the promotions tab is making it easier for subscribers to find the promotional emails they've signed up for and want to read. If this is the case, the Gmail changes may actually have created sustainable value for email marketers.
As marketers, there are ways to adjust our strategy to take advantage of the Gmail changes.
Our top tips:
Review your email "From" name, subject line & pre-header text. 

Does your "From" name clearly identify your brand as the sender?
Note that each tab lists new senders by name until the user clicks on the tab
Always make use of the pre-header text to encourage engagement

Consider sending an email to your Gmail users now to explain how they can see all of your messages by starring them and moving them to the "Primary" tab.

Add this information to your onboarding messages where you explain about how to whitelist messages

Here is an example from Mr. Porter that nicely illustrates how to explain the change:


And here is an example of how you might want to visually show users how to move their emails:


We've seen an influx of this type of email over the last week. Even today, The Gap sent an email offering a discount for "changing your preferences".  We don't know yet if customers are responding actively to these, but we will keep an eye on the data and report back.

Consider potential impact on real-time emails. Some customers may miss out on flash sales or other time sensitive mailings. One recommendation from our partner Movable Ink is to use technology to update emails in real-time to move around this obstacle.
If you are concerned about customers missing promotions, now is a good time to get your users connected to your Facebook, Twitter, Pinterest or other social pages where you promote your brand. The same goes for getting them on your SMS list. Think about targeting Gmail customers with a special promotion or email to get them linked to your brand through these other channels.
We'll keep an eye on Gmail performance in the coming weeks and months, and will continue to provide updates and recommendations as we see how this affects our clients' businesses.