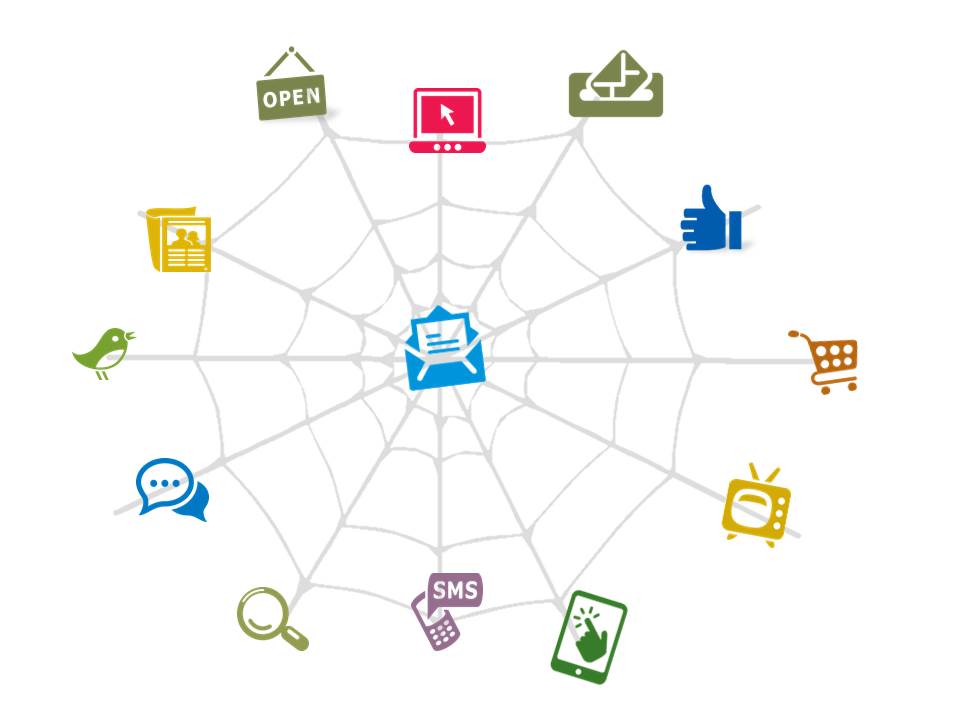 The other day, I found myself watching a spider spinning her web. This was a tiny little spider, meticulously creating a pattern that was about 20 times her size. It seems impossible when you think about it, but when she was done, she had successfully bridged the gap and created something beautiful in the process.
You may be able to see where I'm going with this. In a lot of ways, our job as marketers is to bridge the gap between our brand and our customers. And with consumers more connected than ever, it's no longer effective to have one touch-point. We need to reach out across many different channels if we want to create a truly strong brand connection.
Cross-channel marketing can be daunting. How can we create a truly cohesive, effective marketing strategy when our customer is connecting on different devices at any given moment?
Let's take a hint from our little spider friend. One of the structural masterpieces of the spider web is the hub system. Each touch point comes together in the middle, allowing easier, stronger access to any of the other points. As marketers, we need to find that middle touch point, the one that connects all of the other channels and holds the strength of the strategy. And really, if you think about it, the hub of the marketing web is email.
As Forrester Research recently said, "The more channels marketers embrace, the more email programs they'll need to support them." Email continues to reign as one of the most profitable channels for marketers, and one of the leading paths to purchase. But how can email serve as the connection between all  of the other channels? Let's look at a few examples that were highlighted at Experian Marketing Services' recent Client Summit:
Store to email. Many stores are exploring e-reciepts. In fact, 40% of our clients are emailing e-reciepts this year, compared with only 10% last year. This is a trend we anticipate will grow even more in the coming years.
Online display to email. Marketers can retarget their display ads based on email activity. For example, a customer that did not open the email can be targeted with the same message, where a customer that did open the email can be targeted with further information or deals.
Social to email. Emails to customers can include a "tweet this" call to action, connecting the email campaign with the brand's social media presence. Additionally, the retargeting efforts explained for the display ads online can be mimicked for ads on Facebook. Our data shows that those targeted through custom audiences had a 9x higher return on investment than those who received traditional Facebook ads.
SMS to email. A great example of this can be found with a Neiman Marcus campaign. They had in-store signage that invited customers to send a text to sign up for emails and receive a special offer.
There are infinite ways to support your cross-channel campaigns with email. It will take time and effort to determine the best ways to reach your ever-moving customer, but if a little spider can do it, so can you!
For more information on creating effective, cross-channel campaigns, visit our cross-channel marketing platform page.