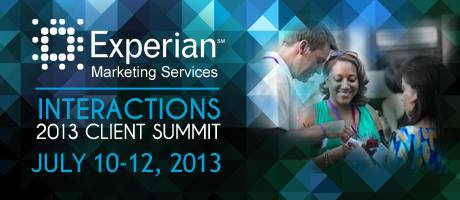 Matt Seeley – President of Experian Marketing Services N.A.
"Marketers must remember that, yes, technology matters, but our relationships with our customers matter much more. Data is going to drive this – that's how we know who our customers are and what they want. Forrester's first Cross Channel Campaign Management Wave is just one year old and this year's Client Summit is all about cross-channel. It's here."
Patrick Fitzgerald – SiriusXM
SiriusXM started to integrate email and social, weaving in messages to "like us on Facebook and follow us on Twitter and Instagram." Facebook was the overwhelming winner in terms of where customers want to interact with SiriusXM. Using email, they had a 540% increase in the average number of likes they got. Said Fitzgerald: "I would put that in the success category."
Bill Elliott – Bare Necessities
Trigger campaigns led to a 60% lift in open rate, 100% lift in click rate and 310% lift in revenue per email. Bare Necessities focused on welcome offers, pre-purchase/first purchase, pre-purchase browse and abandon emails.  The email campaigns are highly strategic, coordinated and targeted. Bare Necessities also included social plug-ins in their emails which led to huge engagement upticks on Facebook and other social media sites.
Fireside Chat with George Takei – Mr. Sulu and social media rock star
George has 4.2 million FB followers and great sense of humor. He's not just an actor, but a pretty savvy marketer as well. He is passionate about injustices around the internment of Japanese-Americans during WWII and wrote a musical on the topic, but wanted to be sure there was an audience prior to opening. That meant he had to educate and build interest, and he turned to Facebook to do just that. At first, his fans were mostly sci-fi geeks and nerds with an overlay of Howard Stern aficionados (as he frequently appeared on Stern's radio show), but the fan base quickly grew out of that niche.
George said he uses humor – even ridicule! –and memes with the goal of getting things to go viral. He suggests taking something contemporary and even possibly divisive and using humor to help engage people.
Change Agents Panel
John Cena® – WWE® Superstar and major charitable force
Kevin Love – NBA All-Star, Minnesota Timberwolves
Austin Bone – VP of Products, Snaps! (formerly known as GoldRun)
Don Steele – VP Digital and Marketing, Comedy Central
Mike Dean – Panel Moderator and President, Experian Consumer Direct/FreeCreditReport.com
Kevin Love is an NBA superstar and serves as the face of the Minnesota Timberwolves while also growing his own brand. As one of his favorite brands, he cites Apple. "iPhone, iPad, mac book…they're always into something big." As for a brand that's "authentic" – Taco Bell is the one for him. He's been obsessed with the brand his entire life, and now he works with them.
Austin Bone also cited Apple as one of the most memorable brands. For him, Apple has created "this magical relationship with the people who use their products. That's what makes it memorable – the connection."
Don Steele said that Comedy Central tries to be authentic and highly connected with their fans. How do they stay authentic? They use the acronym SHOE when it comes to social media; keep it Smart, Honest, Organic and Engaging.
John Cena, WWE Superstar, argued that the great thing about social media is that it connects all of us. But professional athletes especially have to take responsibility for their personal brand. Everything they put out there is property of the world and it's easy to make a mistake. WWE stresses this to their superstars. None of them can have a truly private account—it's all out there. Also, Cena said you have to love what you do and have fun. As he put it – "I fake fight for a living, for heaven's sake!" And his best line of the day: "I'm crusading for boobies – I'm a breast cancer advocate!"