Each year, the holiday season brings many retailers their highest sales figures of the year. It's no wonder, then, that the time between October and December is regarded with major importance to marketers all over the world. Traditionally, marketers have relied on international email campaigns to reach customers across geographical markets. A new study by Experian Marketing Services suggests, however, that there are significant differences in the ways customers respond to holiday-themed email campaigns from region to region.
The study includes an examination of over 100,000 email campaigns sent between October 2012 and December 2012 by over 1,000 brands across Australia, China, France, Hong Kong, India, New Zealand, Singapore, Spain, the United Kingdom and the United States. The results of the study will help retailers customize their email campaign strategies for different regional audiences, allowing for more effective messaging and an increase in overall revenue.
One of the most interesting insights developed from the study is the differences found in responses to timing of campaigns. As the graph below shows, weekday/weekend preferences differ significantly in different countries. In the United States and Singapore, holiday emails sent out on weekends had higher open rates and click rates than those sent out on weekdays. In China and France, the opposite is true. By noting the regional preferences for email timing, marketers have the ability to more effectively reach consumers at the best times.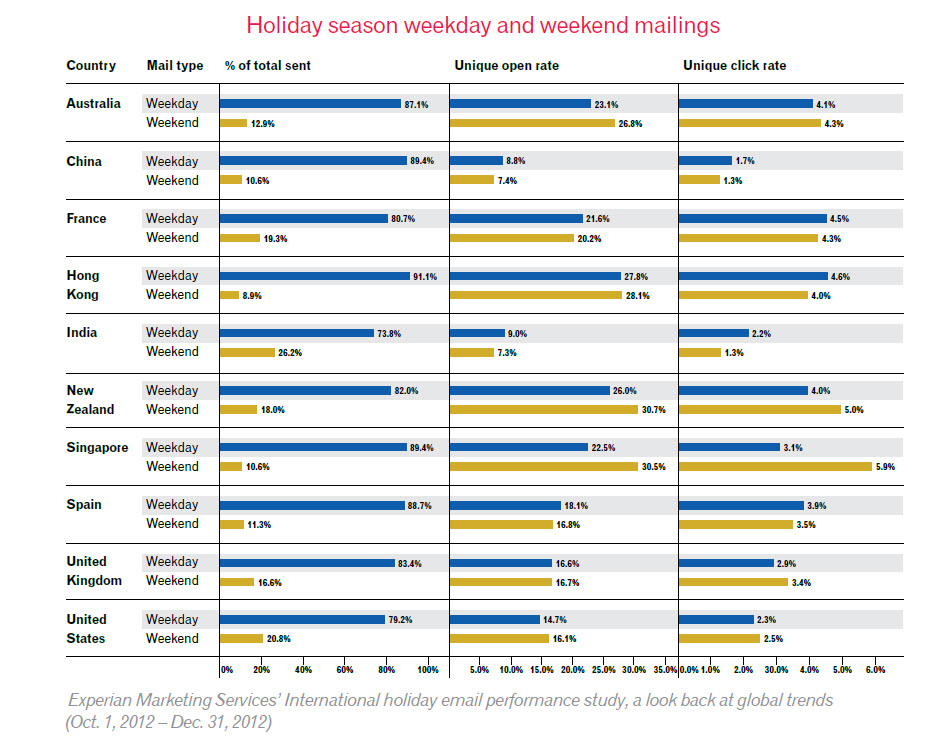 By internalizing further holiday email insights, global brands could benefit from a "first mover advantage." In specific countries where email marketing is less mature, as demonstrated by the graph below, marketers could implement practices and tactics that are not yet common.  For example:
Abandoned cart campaigns typically produce high response rates, especially in Spain where click rates during the holiday season were 13.2%.  Many retailers in Spain are not using this form of remarketing, but should consider doing so—especially during the holiday season.
Birthday emails around the holiday season can also be used to catch buyers in a "gift giving" or "gift receiving" mood.  They are an easy win for email marketers, yet the study results show that Asian brands are not employing this tactic.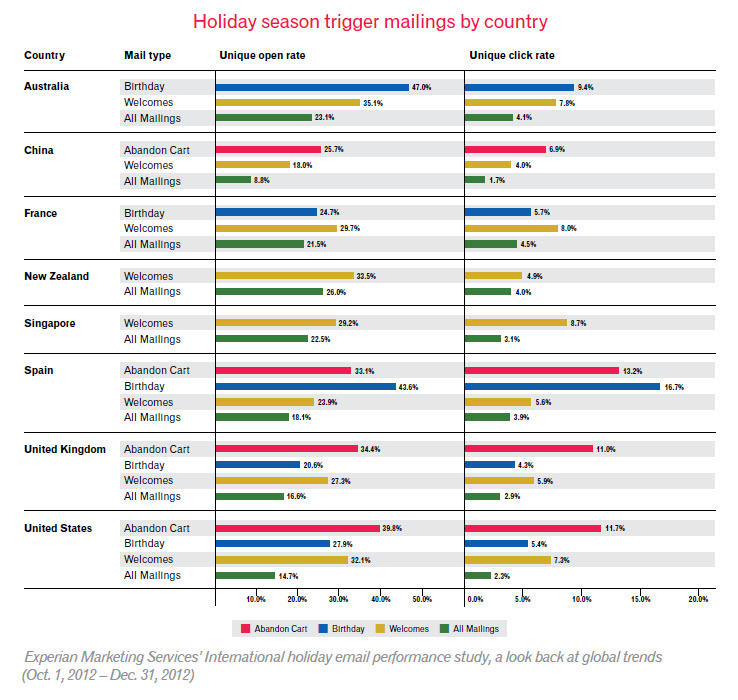 These practices are important and potentially revenue-generating, and with the right tools, they are very simple to implement. Programs like Experian Marketing Services' cross-channel marketing platform  have triggering capabilities that allow marketers to send targeted emails to customers that fulfill certain criteria, such as geographical location or having an upcoming birthday. For brands in less mature email markets, these tools could prove invaluable in reaching consumers when they are most likely to respond.
Other key insights from the study include:
Globally, the most popular types of offers sent by brands during the holiday season are % off and $ off, yet response results vary significantly by country, for example:
China heavily uses % off campaigns, however, these campaigns had higher open rates than standard mailings, but lower click rates.
In Spain, the % off mailings performed worse than the standard mailings. The Spanish market also prefers to use the percentage off than a euro off offer.
New Zealand and France are the two countries relying most on dollar off promotions, yet, in spite of the high proportion of campaigns promoting a dollar off in the subject line, these messages had lower open and click rates than the average campaigns.
Other actionable insights from this study include the variation between countries in timing of email volume and smartphone usage. All of these insights will be helpful for marketers looking to reach global customers during this holiday season.
For more statistics and insights regarding global holiday email trends, download Experian Marketing Services' international holiday email performance study.
Learn more about the author, Shelley Kessler