As the ways in which brands can connect and engage with customers continue to grow, so do customer expectations. It is no longer enough to simply offer customers a loyalty program that consists solely of rewards based on transactional points. To gain consumers' allegiance, brands must now strive to truly understand their customers' unique needs, wants and motivations to continually deliver them highly customized brand experiences at every point of the interaction. So how can you accomplish this? Well, it all begins and ends with the customer.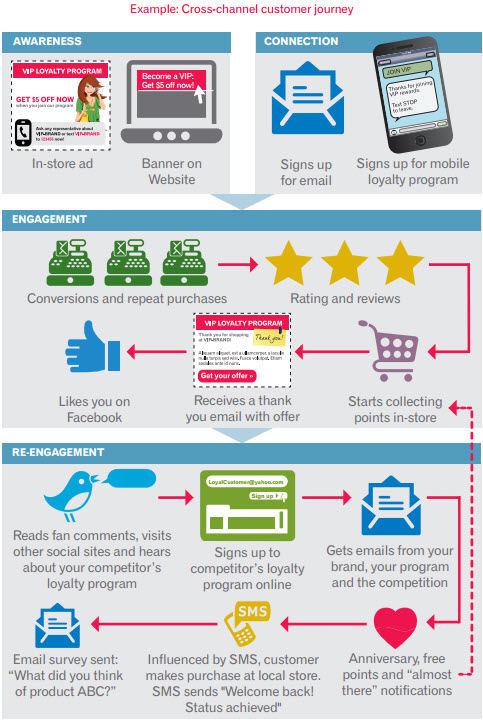 Using the cross-channel customer journey as your guide
A customer journey is the set of experiences and interactions customers have with a brand as they travel through all phases of the sales funnel:
Awareness
Connection
Engagement
Re-engagement
These interactions may or may not lead to a transaction and long-term brand loyalty, but for a consumer, the customer journey is an indication of the degree to which the brand values his or her business. For the marketer, the customer journey is a guide that can aid in evaluating and improving the overall brand experience.
Mapping a cross-channel customer journey is also a key step in improving efficacy and efficiency of customer interactions. For example, it can help to pinpoint redundancies in current communications practices that may overwhelm the customer or to identify information that may not be consistent across channels. It also can highlight missed opportunities to connect with a customer who is signaling for contact with the brand at certain points in the journey but is not presently being helped.
Developing a loyalty communications framework
Once the customer journey is designed, an organization can decide on the communication tied to each interaction. For example, the marketer should ask the following questions:
•             Which channel is the best to engage the customer at this point?
•             What content should be presented?
•             How customized should the message be?
•             What cadence can we develop?
What's next?
The answers to these questions will depend upon the phase of engagement the customer is in, as well as the customer's profile and unique needs. Therefore, it is essential to implement a robust customer segmentation strategy, utilizing internal data, consumer insights and third party data to articulate the communications framework at every step of the customer journey. For example, a customer may be highly engaged, interacting online and through in-store visits and purchases. This loyalty should be recognized by the brand through special treatment. Knowing the individual customer's preferences and values is beneficial to proposing a VIP service, gift or discount offer. The key takeaway here is to ensure that the loyal customer is always recognized and receives special treatment that is aligned with his or her values, preferences and relationship with your brand.
Pulling it all together
The chart below is a helpful guide to structuring communications utilizing insights from the customer journey as a framework and messaging tactics derived from consumer insights.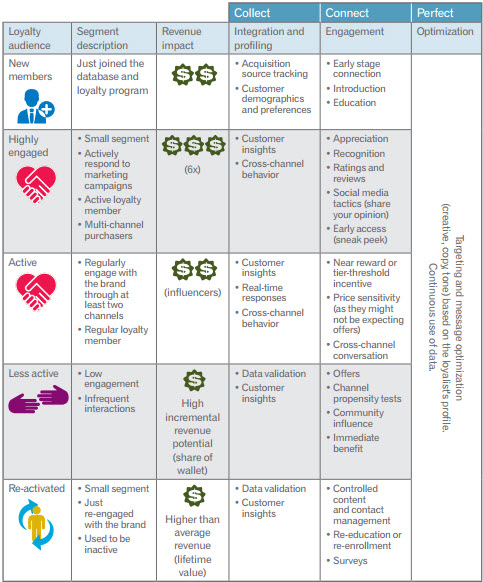 In general, campaigns that focus on building customer loyalty exhibit higher than average response, emphasizing the importance of a customer-centric strategy focused on delivering relevant and timely messages.
For more helpful tips and examples download our Building customer loyalty in a cross-channel world white paper or view our cross-channel loyalty webcast.