We hope you checked out our infographic on newsletters (if you missed it, click here), but maybe you're still skeptical — can a newsletter really get people talking? Let me share my own recent experience with a newsletter I received…
About a year ago I did what I never thought I'd do; I got a tattoo. It took me years—okay, a couple decades—to build up the nerve. It had to be a decision I'd never regret, even with wrinkles lurking (to avoid that dilemma I opted for the ankle area, but yowser!, did it hurt). When the swelling subsided, I was left with a work of art: a stem of forsythia with the words "I Am My Sister's' Keeper." Yes, two apostrophes. Let's just say I took some intentional artistic license with my punctuation.
My tattoo artist came via recommendation from two superb graphic designers I work with, Roald and Riko, both of whom sport significant ink. I may be a novice, and trust me, I will remain one, but something pretty cool happened soon after; I received my first digital newsletter from the tattoo shop. Yep, just like those seasoned veteran coworkers of mine. Suddenly, I was part of a community.
The value of organic communication
That simple, fun tattoo shop newsletter succeeded in getting my gears turning. I was discussing the articles with my friends, trading ideas on future tats, staring at my remaining blank ankle. It's more than just keeping your audience engaged; consider the prospect of keeping them engaged with each other. A digital newsletter, when effectively written and designed (always keep the mobile platform in mind), has tremendous potential for triggering the sharing of information around your dedicated consumer base. It's also the most practical way to keep up with today's on-the-move consumers, as you can no longer depend on them to visit Websites at regular, voluntary intervals to stay up-to-date with the latest announcements, releases and deals.
What type of newsletter works best?
That depends on your business, your audience and what you're trying to promote. For the tattoo shop, they had a brief intro with a couple of announcements, followed by bios of their artists and some of the artists' most recent work. This was effective because it was just enough attention-grabbing information followed by strong visuals. For your newsletter, you need to consider the frequency and what you want to promote. Newsletters can take the form of daily news updates, weekly recipes, monthly loyalty reviews, presentations of new services or classes, and virtually all other topics related to brands. You can usually gauge what your subscribers most want to hear about by studying past sales performance and analyzing consumer inquiries — what information do they seek when they contact you? From there, you can determine what essential topics should be covered briefly but effectively — as well as how often — in order to build your newsletter.
Key words in subject lines
Remember, a newsletter's main appeal is rooted in its ability to suggest exclusivity. Employ this strategy when crafting subject lines. For example, top unique open rates were found for subject lines that included the term VIP (unique open rate of 25.8%) and those that started with the words 'you' or 'your' (unique open rate of 20.9%).
Examples:
*Exclusive* For your VIP eyes only!
Your latest newsletter awaits…see what's up
Save BIG! Your weekly circular has arrived
You won't believe what we've got in store
Keep it visual
Cool graphics are obviously a no-brainer when it comes to advertising in the tattoo world, but every business benefits from clever use of visuals. Just because a newsletter is informative, doesn't mean it has to be text heavy. Newsletters with images or graphics had unique click rates that were 60% higher than those with just text.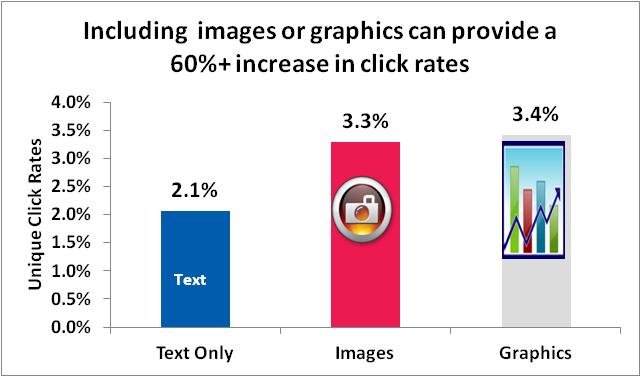 Love those links
My tattoo shop has two locations; one right here in the big city, and one waaaay out in the countryside (that's how some of the city dwellers I work with tend to view the suburbs). How do I know this? Because their newsletter was populated in a few places with links to each location. Include a link to your Website with each article, even if the entire content is in the newsletter. Newsletters with articles containing links to their Websites had 74% higher click rates than those with no links.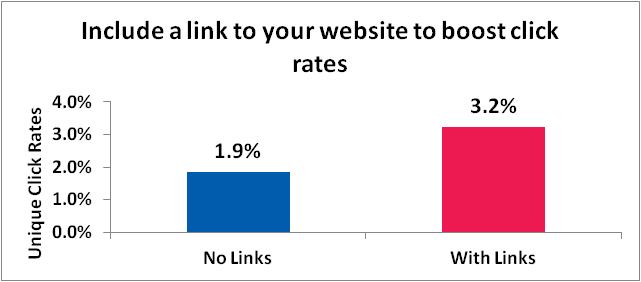 A few more boosters
Newsletters with links specifically calling out shopping on their Website do quite well, and had average unique click rates of 3.4%.
Including a navigation bar, which gives readers the choice of where they want to go on your Website, boosts click rates even more. Newsletters with navigation bars had average unique click rates of 3.5%.
In order to address all channels for your brands, it is a best practice to include links to your social media sites. Sixty-five percent of newsletters include a link to social media outlets, with almost all including at least Facebook and Twitter.
Start spreading the news
As you can see, there's an element of experimentation, trial and error that goes into the development of a digital newsletter. During the process, the key theme to remember is: KEEP SUBSCRIBERS ENGAGED.
Any type of business – from tattoo artists that depend on word of mouth to major corporations facing major competition – should view a newsletter as an opportunity to get people talking. Don't be overly promotional; be conversational, be current and when possible, bring something lighthearted and entertaining into the mix. Chances are your readers are already your customers. A newsletter is an ideal way to reach out and make them part of something bigger –  a community.