Yesterday we kicked off The Digital Marketer Webinar Series, a three-parter hosted by Experian Marketing Services' thought leaders and data experts, that took marketers through the key trends and insights from The 2013 Digital Marketer: Benchmark and Trend Report. Bill Tancer led the first session, Life is the Channel, and discussed consumer confidence levels, cross-channel optimization and the always-on consumer.
Using Experian's Consumer Expectation Index, he reported that the confidence levels of digital consumers ¾ those who have purchased online in the past 12 months ¾ tend to be higher than those of the adult average consumer.
Tancer noted that, "In the past we've seen that when confidence is high, visits to online retail sites go up. When confidence goes down, visits to online retail also go up. Our theory on this paradox is that when times are good, consumers spend more online, when times aren't as good, consumers use the Internet as a tool to stretch their buying power."
Take a look at the slides from the Webinar, below, or view the recording to hear commentary from Bill.
There was also a lot of social chatter throughout the Webinar and during the TweetChat (#BeDigital) held following the session. Here are a few tweets from the community: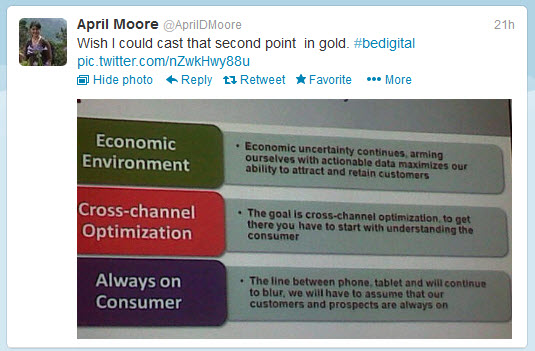 The remaining Webinars from the series will take place during the next few weeks. Check out their descriptions below and register to get in the conversation. You can also download the report if you haven't already.
Cross-channel campaign management
April 11th 1 pm EST
Hosted by: Marcus Tewksbury, VP, Client Partner, Experian Marketing Services
Break down the barriers that have challenged marketers, and learn how to enhance future cross-channel campaigns to better connect with your customers.
Register >>
Consumer insights
May 9th 1 pm EST
Hosted by: Heather Dougherty, Director of Research, Experian Marketing Services
Explore the consumer behaviors that will help you identify your target audience and fully understand your customers' needs, wants and preferences.
Register >>
Learn more about the author, Denice Surjan