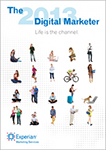 We have spent the last several months gathering data and uncovering insights marketers need to know for the upcoming year. We previously revealed excerpts from the report, and are now happy to announce that the learnings have been compiled and The 2013 Digital Marketer Report is here!
Centered on the theme "Life is the channel," the report covers how today's hyperconnected, always-on consumers don't seen in channels, and what marketers need to do to orchestrate relevant experiences in an integrated way across email, display advertising, mobile, search and social media.
Here are a few key takeaways to whet your appetite for insights; you'll find many more in the report:
Thirty-six percent of U.S. organizations interact with customers and prospects in five or more channels
Nearly one-quarter of adults ages 35 to 49 visit Websites from four or more different devices in a given week
Hispanic households control 10 percent of all discretionary spending in the United States
Forty-four percent of emails are opened on mobile devices
The most profitable social sharing level is the first degree of separation, i.e., Jane shares, and then Jane's friend clicks on the shared link and purchases something
In conjunction with the report, we're hosting a three-part Webinar series with various Experian Marketing Services thought leaders who will explore such topics as the top trends, cross-channel campaign management and how to apply consumer insights to marketing programs. We invite you to register for the Digital Marketer Webinar Series today.