Two of the most frequently asked questions I get in email strategy meetings with clients are:
What is the optimal frequency I should use to mail to my subscribers?
Can my program increase frequency without negatively affecting my email list health?
My answer always is, "How is your list health currently?"
In order to increase frequency of mailings to subscribers, it's imperative that marketers have a healthy subscriber list and measure it on a consistent basis. Email list health is the bloodline of any email program, as it affects program growth, consumer engagement and list fatigue. An unhealthy email list can prevent your message from arriving in inboxes and reaching your intended recipients.
Every email marketer should be monitoring the key metrics for list health below to keep a continual pulse on overall program health.
Here's an example of dashboard view of these metrics that I recommend maintaining and monitoring on a monthly basis.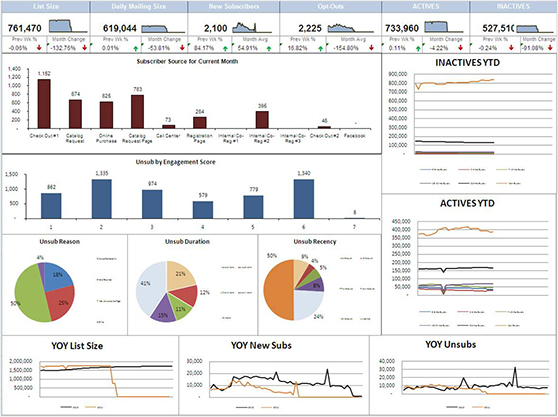 Top row: Monitor "Basic core"
List size
Daily mailing size
New subscribers
Opt-outs
Actives
Inactives
Key questions the above metrics can answer:
What's the promotional population size?
Is the full mailing list utilized?
Any spikes in opt-out?
What are the active and inactive segment variances?
Plus the graphic indicators below each section include previous week and month performance, this allows quick insights.
Middle row: Monitors "Ins & outs" plus insights on why
Subscriber source for current month
Unsubscirbe by engagement score
Unsubscirbe by reason, duration, or recency
Key questions the above metrics can answer:
Which acquisition source garners the most addresses?
Does engagement score affect/trigger an unsubscribe?
Why are customers unsubscribing?
How long are customers on the file until they unsubscribe?
Side and bottom row: Monitor "Trends"
Inactives year to date
Actives year to date
Year over year

List size
New subscriptions
Unsubscribes
Key questions the above metrics can answer:
Are there any trends for actives and inactives populations?
What's the expected percentage population that will move into inactives yearly?
How are list sizes, subscriptions and unsubscribes trending annually?
Is there email program growth annually?
Testing list health with frequency:
After you have these metrics in place, you can begin to think about increasing your program frequency. As consumers' tolerance for email is heavily dependent on their personal engagement with a unique brand, testing how your subscribers interact with your brand is imperative.
Will your consumers benefit from hearing from you more often? Well, you won't know until you try. Similar to A/B testing with a control group, build a test design to increase frequency and monitor that population's list health variances.
The dashboard above is leveraged monthly to monitor any anomalies or red flags.
Metrics from email list health monitoring is a great way to find out if consumer's love your brand and if you're sending relevant emails. As long as you keep these key points in mind, and give your email health constant checkups, you should always know how well you're doing, and where you need improvement.