Experian Marketing Services launches Hitwise Mobile to complement its leading online measurement service
Mobile is one of the most dynamic aspects of marketing today. Understanding the way consumers use the Internet from their mobile devices is vital for any business to optimize its cross-channel marketing strategy. Experian Marketing Services announced Hitwise Mobile today, providing marketers with comprehensive data and insights about mobile consumer behavior.
The mobile data is based on a sample from 3G/4G and Wi-Fi sources including both smartphones and tablets providing data on mobile Internet activity. For the initial release of Hitwise Mobile, we are providing Rankings data on visits to Websites from mobile devices (including both smartphones and tablets). Rankings are reported weekly and are available for the visits share, page views and average visit time metrics across more than 170 categories for more than 4 million mobile sites globally.
Google, ESPN and Amazon are the top mobile sites in their categories
Looking at data for the week ending Feb. 23, 2013, Google.com was the top visited site from mobile devices for this past week receiving 17.27% of the market share of mobile visits. YouTube received the second largest share of mobile visits for the week with 4.55% followed by Facebook.com with 2.65%. Gmail and Wikipedia rounded out the top five receiving 1.54% and 1.17% respectively.
Hitwise Mobile: Website rankings among all sites
| Rank | Website | Market share of visits |
| --- | --- | --- |
| 1 | Google | 17.27% |
| 2 | YouTube | 4.55% |
| 3 | Facebook | 2.65% |
| 4 | Gmail | 1.54% |
| 5 | Wikipedia | 1.17% |
| 6 | Google News | 1.04% |
| 7 | Amazon | .80% |
| 8 | Twitter | .60% |
| 9 | Google Maps | .55% |
| 10 | Yahoo! Answers | .49% |
Source: Experian Marketing Services
Other top sites visited from mobile devices last week:
ESPN.com was the top visited Sports site
Google News was the top visited News and Media site
AutoTrader.com was the top visited Automotive site
Amazon.com was the top visited Shopping site
Looking at the average time spent among the top five mobile sites for last week shows that Gmail accounted for the longest average time spent, as mobile users appear to be checking their email quite frequently. YouTube visitors had the second longest average time spent, followed by Google, Wikipedia and Facebook.
Hitwise Mobile: Average time spent among all U.S. sites
| Rank | Website | Mobile time spent | Desktop time spent |
| --- | --- | --- | --- |
| 1 | Google | 00:04:10 | 00:12:31 |
| 2 | YouTube | 00:05:51 | 00:24:15 |
| 3 | Facebook | 00:02:45 | 00:20:21 |
| 4 | Gmail | 00:06:42 | 00:12:08 |
| 5 | Wikipedia | 00:02:55 | 00:07:19 |
Source: Experian Marketing Services
With the new mobile data, marketers will be able to compare the breakdown of visits from desktop computers versus those from mobile devices. For example, the top sports sites browsed from mobile devices shows that ESPN properties accounted for three of the top five sites last week. ESPN.com and ESPN Scorecard were the top two visited sports sites, followed by Bleacher Report, ESPN NBA with Yahoo! Sports Blogs rounding out the top five sites.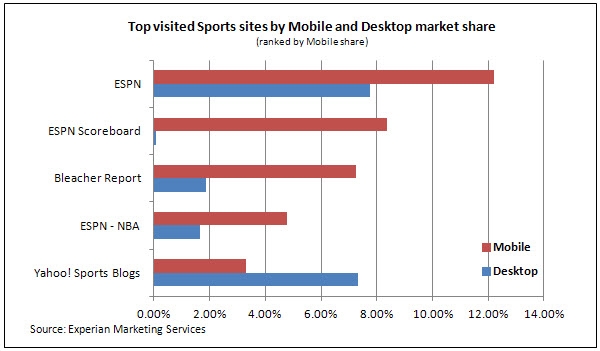 Looking at another category – Rewards and Directories – shows that Groupon was the top visited mobile site and ranked as the third most visited site from desktop computers. SlickDeals.net ranked as the second most visited site for mobile, followed by Living Social, which ranked as the fifth most visited site from desktop computers. BradsDeals and Amazon Local made up the rest of the top five mobile sites for last week.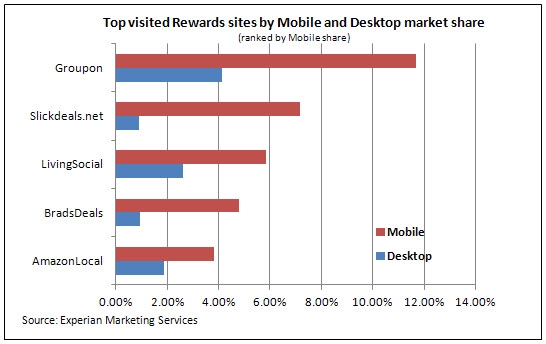 Hitwise Mobile is the latest offering from Experian Marketing Services, helping performance-driven marketers, agencies and media companies target and engage their best customers through consumer insight and cross-channel marketing technology. Measuring in-depth consumer behaviors and attitudes, Experian Marketing Services provides a more vivid and complete understanding of how consumers think and what they do in a cross-channel, multicultural world. This latest addition of mobile data allows for smarter marketing decisions through actionable cross-channel insights.
Make sure to check back here for more mobile insights. Learn more about Hitwise Mobile.
[1] Our 3G/4G data sample includes data collected from Apple iPhones, iPads, Android phones and Android tablets. Our Wi-Fi sample covers all types of devices, including Apple devices, Windows devices, Blackberry devices, Android devices. The visits data is based on browsing from mobile devices. External links clicked within applications are counted towards the destination site and application usage measurement will be included in the future.
Learn more about the author, Matt Tatham