It is no longer enough to utilize multiple channels, now marketers must unite their messages across those channels to create relevant experiences regardless of the customer's channel or device preferences. In the upcoming Digital Marketer Report we explore this shift from multichannel marketing to true cross-channel marketing. Here is an excerpt from the report containing results from a recent Experian Marketing Services study:
For two consecutive years, marketers have told Experian Marketing Services that multichannel coordination is the biggest marketing challenge they face. To provide more clarity on this topic, we conducted a follow-up study asking marketers to share a deeper perspective on their multi- and cross-channel marketing efforts. Thirty-five percent of marketers said response attribution was the most challenging multichannel marketing issue for their organization, followed by campaign coordination (22 percent). On the other end of the spectrum, only seven percent listed identity resolution as the most challenging multichannel marketing issue.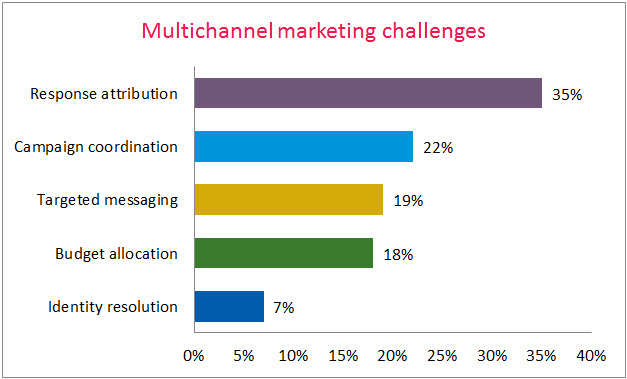 Identity resolution is a key aspect of cross-channel marketing, and in order to get there marketers must first tackle response attribution and campaign coordination. Therefore, it seems that marketers may be working hard to overcome the challenges of multichannel marketing before they can work on achieving cross-channel optimization.
Providing a seamless cross-channel customer experience is important for marketers. Marketers shouldn't expect customers to change their channel or device preferences; they should be truly customer obsessed and optimize the brand experience around the customer. Seventy-four percent of those surveyed are either coordinated (44 percent) or are in the process of coordinating (30 percent) the experience between online and offline channels. Twenty-six percent of respondents said their online and offline customer experiences were separated. The fact that nearly three-quarters of respondents have either coordinated, or are in the process of coordinating, customer experiences shows that marketers are striving to become more customer obsessed. They are investing in a cross-channel strategy to provide consumers with a user-friendly experience.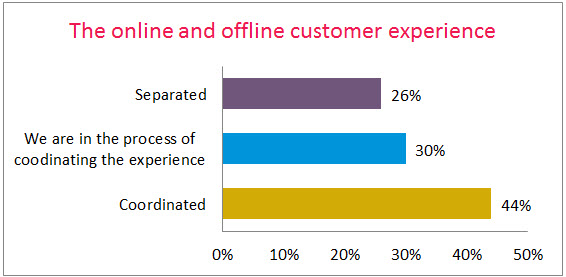 It's important to be mindful that in many cases the consumer got to this point well before the rest of us did, so the good news is the bulk of organizations are still in the strategic planning stages of cross-channel marketing rather than executing upon it.
For more information, data, analysis and case studies to help you on your journey to true customer obsession and, ultimately, successful cross-channel marketing, pre-order The 2013 Digital Marketer Report.