In The 2013 Digital Marketer Report, coming soon, we take a look at cross-platform media planning. The report covers time spent using various media platforms, activities by device and the numbers of devices used for various activities. Here's an excerpt from the report on the first of those topics.
Consumers move between multiple devices and platforms many times each day without batting an eye. For example, Dana was watching her favorite sitcom on the television when she saw a commercial for a musical she and her friend want to attend. She searched for reviews from her tablet, while texting her friend about it from her smartphone. They decided to purchase tickets, which Dana did from her tablet. She then forwarded her friend the confirmation email from her smartphone. When sequences like this happen, Dana's not thinking about the different channels she used, she's thinking about how great the musical is going to be — she's simply living her life. Making this all happen, however, is not as simple for marketers.
Life may be the ultimate "channel," but marketers still need to address the reality that consumers have an increasing number of platforms through which they can communicate, access their social networks and consume media. Experian Marketing Services tracks the reach and usage of 11 different media platforms, including computers at home and work, mobile phones and tablet computers, Internet-connected game consoles and more. During a typical week, television still reaches the greatest number of U.S. adults, but mobile is rapidly gaining ground. In fact, among young adults ages 18 to 34, mobile phones now tie with televisions when it comes to reach, with each platform reaching fully 94 percent of adults in this age cohort in a given week.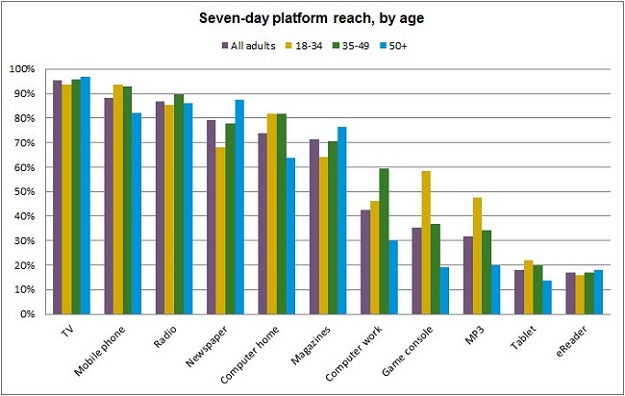 Source: Simmons
As expected, digital platforms like tablet computers, game consoles, MP3 players, computers and mobile phones, reach a greater share of young adults, while traditional media, especially print newspapers and magazines, extend their greatest reach into the 50-plus age cohort.
When it comes to relative time spent using various media platforms, the medium used most consistently across adults of all ages is the work computer. Meantime, adults under age 35 spend 44 percent more time using their mobile phones than the average mobile phone user. Young adults also spend more time than average using their home computers, game consoles and MP3 players. On the flip side, adults age 50 and older spend 34 percent more time reading newspapers than the average newspaper reader. This older cohort also spends more time than average reading magazines, watching television and using ereaders.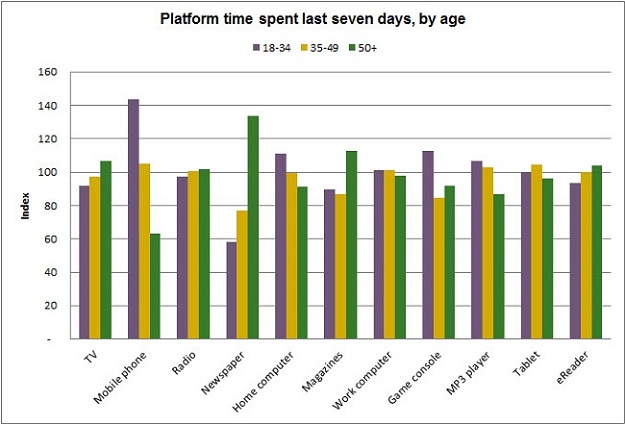 Source: Simmons
For more on cross-platform media planning, pre-order The 2013 Digital Marketer Report today.