The 2012 holiday season brought with it a record number of marketing emails in our inboxes – according to Experian Marketing Services, the volume was 5% higher for this holiday season compared to 2011. One trend we couldn't help but notice was the number of holiday gift guide emails.
We like these examples from Crate & Barrel and Levi's. The Crate & Barrel email creates a warm holiday feeling with a call-to-action to "shop holiday gifts" at the top, along with a more detailed call-to-action below to get inspiration from their gift guide.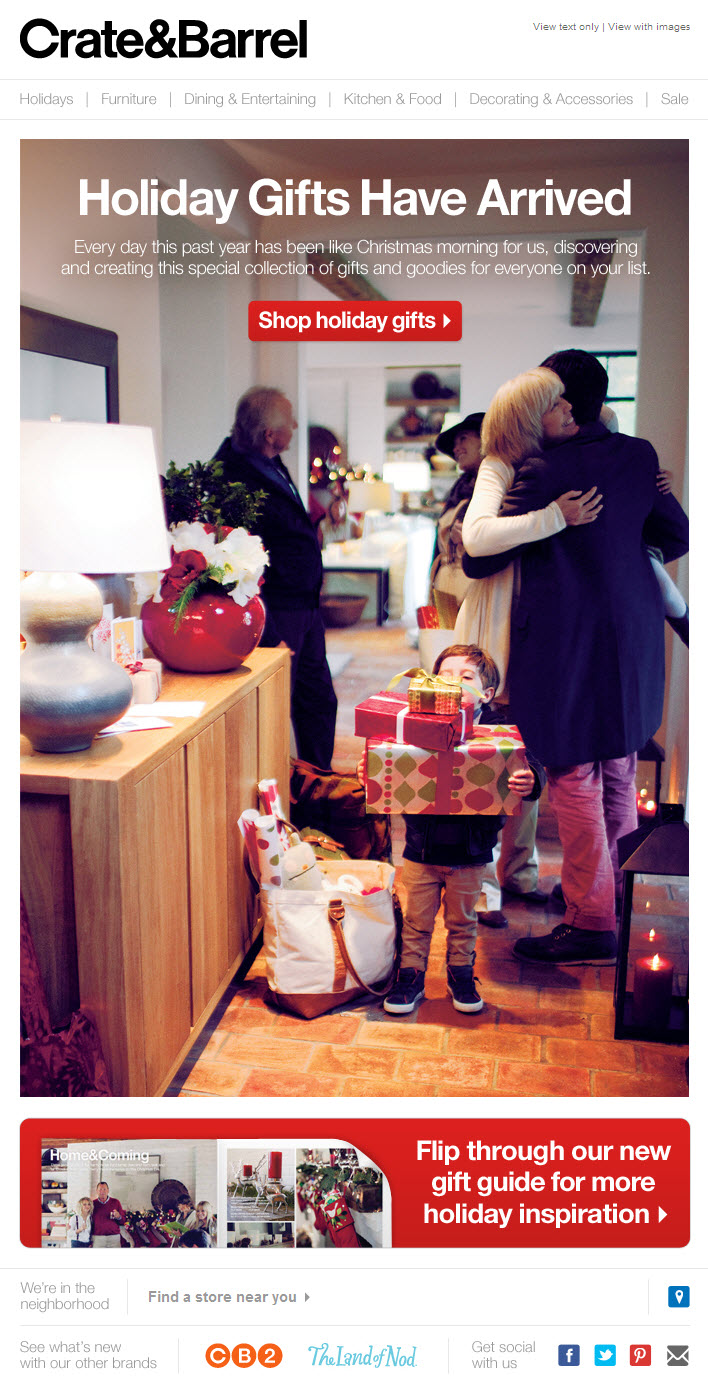 This example from Levi's provides a nice incentive to shop their gift guide – 25% off.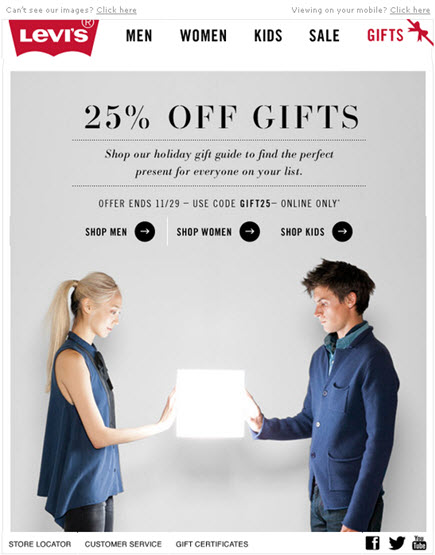 What we learned
To put it simply: gift guide themed emails outperformed other promotional mailings this holiday season.
Our clients experienced 48% higher transaction rates for gift guide emails when compared to other promotional mailings, which is huge, especially during the holidays when it's a challenge to stand out in the overcrowded inbox.
Comparing only gift guide emails, we found that emails with gift guides for 'her' had the highest click rate (5.85%) compared to all gift guides (2.6%) and promotional mailings (2.4%). What's more, gift guide mailings with "best" in the subject line, such as "Best-selling gifts for her & him" from Saks Fifth Avenue had the highest open and click rate.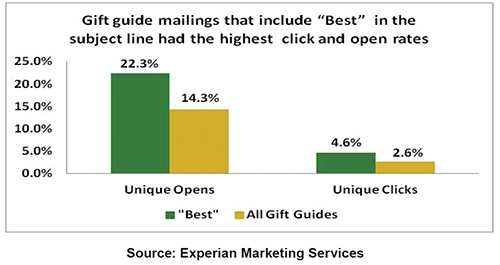 The best part about this great data is that we don't have to wait until next holiday season to reap the benefits of gift guide emails. Knowing that emails featuring gift guides perform well and that gift guides for 'her' are the best performing of the gift guide emails, it seems like the perfect opportunity for (but not limited to) Valentine's Day emails. Here are three things to keep in mind when testing gift guides for any occasion:
1. Think mobile
Urban Outfitters does a nice job of making sure all of their emails are optimized for mobile: thin width, big font sizes, reduced navigation, and – what especially stands out in the gift guide email below – clear calls-to-action for the recipient to click (or tap!).

Of course, a mobile-optimized template doesn't do much good if your landing page isn't optimized for mobile as well, so be sure your links lead to a page where the experience is just as good (if not better) on a mobile device.
2. Use what you know
We don't know their exact logic, but we do know that when Target sent this gift guide for toys, they didn't send it to everyone on their list. I didn't receive this email, because I didn't click on any toy-related links in previous emails, nor did I browse Target's site for toys. However, a co-worker did do these things, and we assume she was targeted with this email because of that activity.

Whenever you can, we recommend sending targeted, relevant emails – whether the data you use to segment is based on past click or purchase behavior, or on information the recipient gave you in a preference center.
3. Be social
A May 2012 SteelHouse study found that 59% of Pinterest users clicked through a "pin" to make a purchase. We like this American Eagle example where recipients could create their holiday wish lists on Pinterest to share what they want with their family and friends.

Leveraging social media in email is also great because it can help increase open and click engagement. This holiday season, Experian Marketing Services found that emails mentioning Pinterest in the subject line had about a 15% higher unique open rate and 52% higher unique clicks than other emails (check out this Holiday Hot Sheet for more). We've seen higher engagement levels for Facebook and Twitter-focused emails as well.Open and click engagement is becoming even more important now that ISPs are increasingly using recipient engagement data to determine whether or not your mailings make it to the inbox (see this email deliverability blog post from Spencer Kollas, Director of Global Deliverability at Experian CheetahMail for more information).
Whether you're planning for Valentine's Day or any other upcoming event that might utilize gift guides, it's a good idea to test out the above suggestions to see if they work for you and your brand. With heavy competition and crowded inboxes, we hope these suggestions give you a leg up with your next campaigns.
Have a great gift guide email to share? Email us at strategicaccounts@cheetahmail.com.