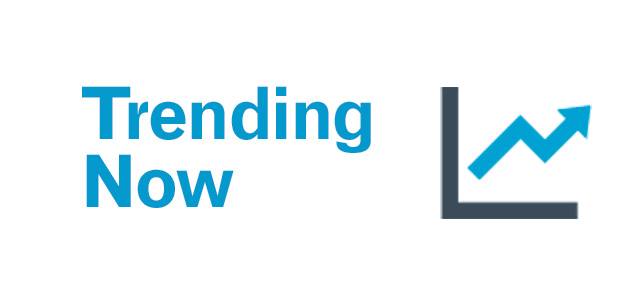 Instagram, the popular online photo-sharing and social networking service, upset many loyal users last month when they controversially changed their terms of service. The ambiguous language additions led many to believe that Instagram would be allowed to sell members' photos without their permission and without payment. Users immediately voiced their frustration online and the press quickly picked up the story which made international news. Shortly thereafter, Instagram reversed back to the previous terms of service and apologized (you can read the details on the official Instagram blog).
Despite the uproar, both users and brands have not stopped using the service. Our consumer insights group, Experian Hitwise, observed there was no major impact to Instragam.com Web visits. For the 15 days since December 18, Instagram.com received more than 41.7 million total U.S. visits, an increase of 18% compared with the 15 days prior to the controversial proposed policy changes (more details can be read here).
Realistically, there is no better time to begin incorporating Instagram into your email campaigns, for the following reasons:
Instagram now has over 100M users. It is likely that many of your customers are also engaged with Instagram.
Until recently Instragram has predominately been a mobile application. In general, mobile email engagement is growing very fast. On average, 38% of email subscribers open on a mobile or tablet device.
Instagram launched "Web profiles" last November which opened up an entirely new audience (albeit less mobile focused). Web profiles mimic the previously mobile-only experience. You can follow users, comment and like photos directly from the Web. And similar to most social networks, brands have a profile with a custom URL (for example, http://instagram.com/neimanmarcus). More on Web profiles here.
Below are a few ways to get started incorporating Instagram in your email campaigns.
1. Add the "follow Instagram" button.
Make your audience aware that you have a presence on Instagram. Many users need this reminder, as Instagram is still very new and they aren't yet trained to search for your brand. Consider adding a banner or small icon the way you might add "Facebook," "Twitter" or "Pinterest" at the header or footer of the email. This icon should link directly to your Instagram Web profile. And don't forget to communicate the value of following your brand, especially if you're showing the Instagram logo for the first time. Even dedicated, non-promotional campaigns can be effective for engagement and eventually lead to sales.
Examples: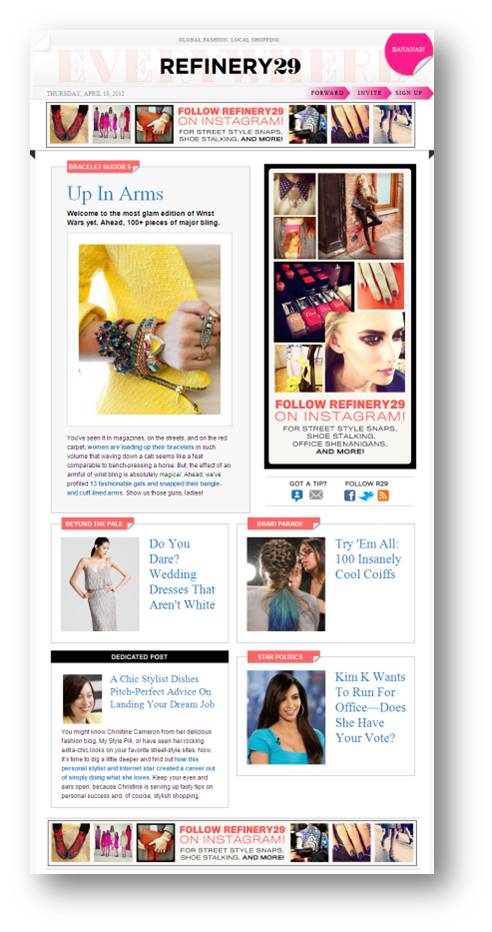 2.    #Hashtag #engagement
Hashtags are words or phrases prefixed with the symbol #, a form of metadata tag. Allow your audience to actively participate with your brand by submitting photos with an accompanying hashtag. Set the rules to ensure the campaign is relevant to your brand and then allow users to be creative.
Examples:
Steve Madden #MaddAboutIt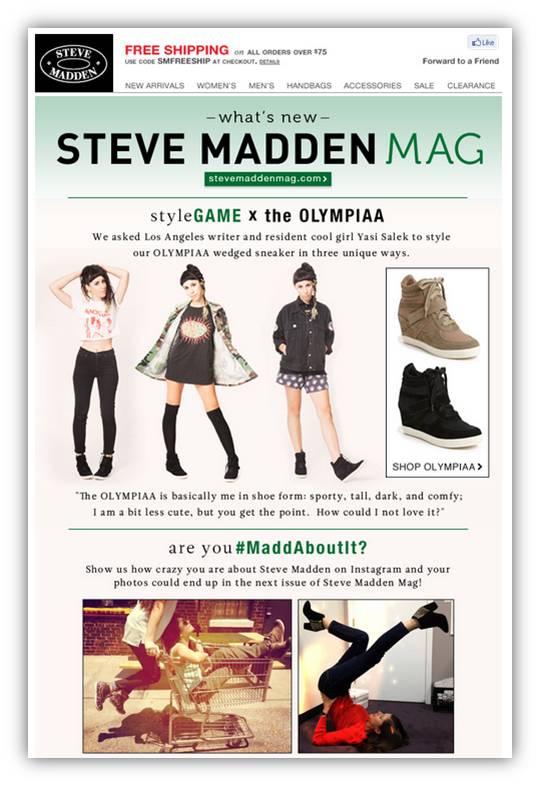 Horchow #HorchowHolidayTraditions
Hollister #SoChill
Journeys #VoteForNewShows
Foot Locker #Kickastagram
Consider also adding hashtags to your subject lines.
3.    Editorial and content marketing
Content marketing is a great way to give insight to your brand and culture without a hard promotional sell. There is a big trend of mixing editorial into email with insightful information, of which lifestyle photos are popular. Whether it's coming from a stylist or your biggest brand ambassadors (who might happen to be amateur photographers), the beauty of Instagram is the ability to create a customer dialogue with a visual focus. Consider featuring select photos from your customers (perhaps from the aforementioned hashtag campaign). Brands can also create "review" style emails that feature user comments on the photos or the most "liked" product photos, which is done frequently with Facebook and Pinterest data.
Examples: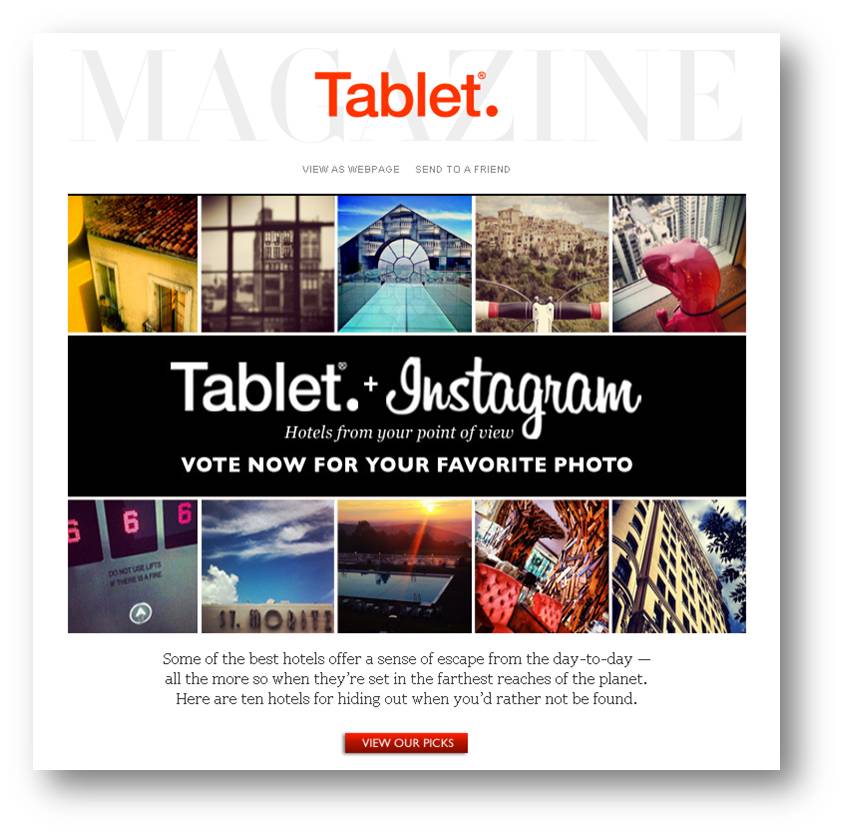 4.    Contests
Chances are you have done some promotions or contests on Facebook (or even Twitter or Pinterest). Taking the same concept, with a photo twist, there are several types of contests you can execute on Instagram to drive brand loyalty and engagement.
Example: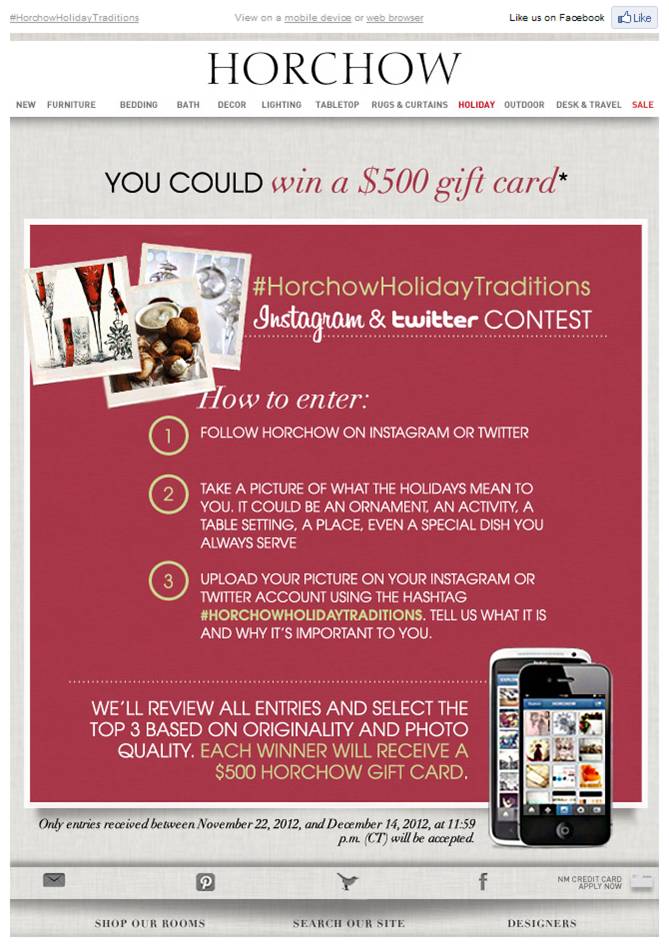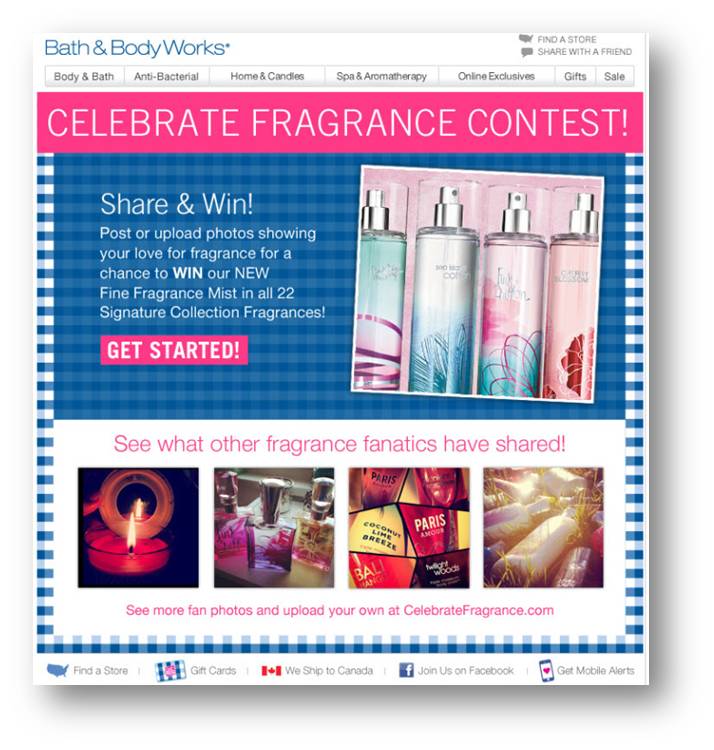 5.    Mobile targeting
Our partnership with Movable Ink allows clients to focus strictly on mobile Instagram users.  With a single click from a device targeted email banner we can launch the Instagram app into different functions (camera, library, # search). For contests, follows and likes, this is a great tool, as Instagram is still primarily used as a mobile application. We can also capture real-time photos from Instagram directly into an email based on a hashtag campaign, showcasing live streaming photos within your email.
Example: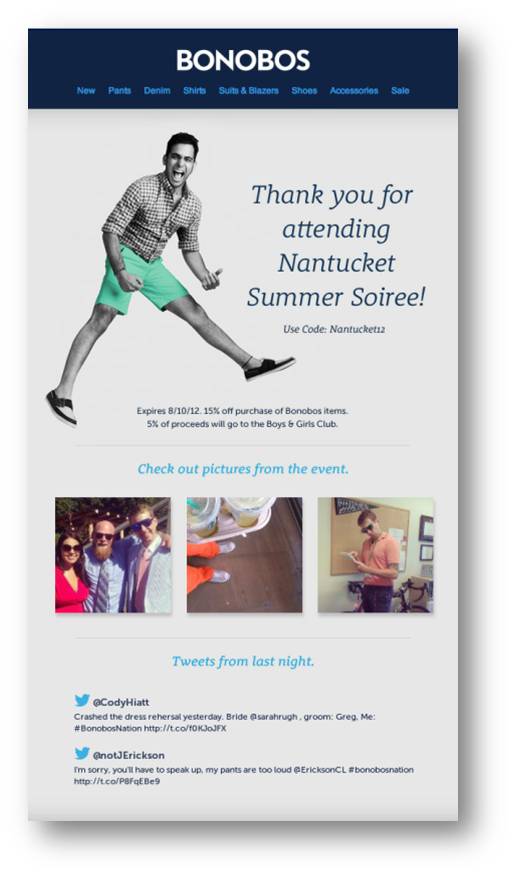 The above examples should help you get started with promoting Instagram to your customers. As we see more examples from our clients, we will look to benchmark these campaigns to get a better sense for the best campaigns using Instagram. Until then, we look forward to watching the evolution of these campaigns unfold.
Contact us if you've seen a great Instagram campaign or want to share your own.