Experian Marketing Services has released its last week of holiday insights for the 2012 holiday season.
This week's key findings:
2012 email performance for the holiday season saw a 5% increase in volume and a 21% increase in revenue compared to 2011.
Open rates, transaction rates, revenue per email and average order values were all higher in the 2012 holiday season than in 2011. The season saw a 12% lift in open rates and a 24% lift in transaction rates and revenue per email compared to 2011.
The home stretch for the holidays saw an increase in online retail traffic on Christmas Day, as well as on overall 10% increase in traffic to the top retail sites in 2012 vs 2011 in the 7 weeks prior to Christmas.
"Dollar off" email campaigns made up 10% of all holiday season offers in 2012, a 19% increase from 2011.
Email campaigns with offers in the subject lines increased from 27% of holiday season campaigns in 2011, to 28.7% in 2012, a 6% increase.
There were half as many flash sales this season as there were last year.
Apple iTunes site visits increased 193% and Apple.com visits increased 155% on Christmas Day 2012 vs. Christmas Eve 2012.
Search volume for gift cards spiked during the week before Christmas.
Top days of the 2012 holiday season for email:
The Top 10 transaction days provided 22% of overall email transactions and had 15% of the overall volume. The two major times for transactions were the key days of Peak Week – the Tuesday before Thanksgiving Day through Cyber Monday – and two weeks before Christmas. Four of the top 10 transaction days in 2012 occurred between 8 and 15 days before Christmas. In 2011, there was only one Top 10 transaction day during that time period. It is possible that the impact of Hurricane Sandy delayed shopping on the East Coast this year.
Transactions on Cyber Monday were 40% higher than those on Black Friday, which was the second highest transaction day. While the Sunday after Black Friday rose in volume rank from 72nd in 2011 to 49th in 2012, it was 3rd in transactions this year, showing that there is still a great opportunity to mail more on that day.

Looking at transactions for the holiday season for both 2011 and 2012, we see that the first 7 weeks of the season had similar patterns in each year. The last two weeks of November (including Thanksgiving, Black Friday, and Cyber Monday) accounted for 24% of transactions in 2011, and 25.1% of them in 2012. As noted above, 2012 had an increase in transactions in mid-December. Also seen here, is a 2012 increase in the last two weeks of the year. Volume sent during those two weeks increased 25%, while transactions had a 16% increase over 2011.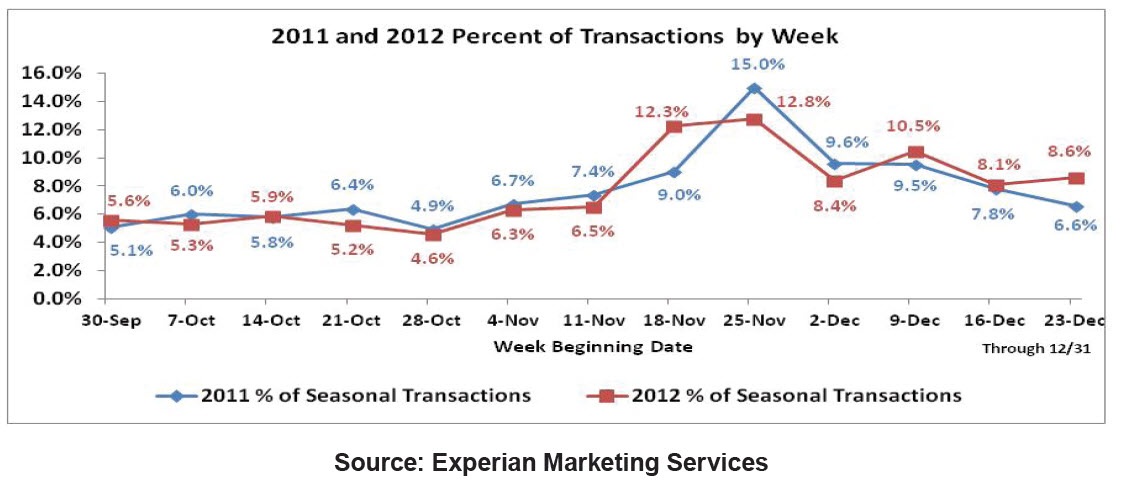 Online consumer insights:
Christmas Day 2012 saw a 27% increase in online traffic to the top 500 retail sites compared to 2011. The top retail sites received more than 115.5 million total U.S. visits. The holiday online traffic to retail sites for the 7 weeks leading up to Christmas is up 10% for 2012 vs. 2011. Each retail holiday milestone day saw online traffic increases this season. The top 500 retail sites received more than 129 million total U.S. visits on Dec. 26th, an increase of 1% compared to 2011 and 12% compared to Christmas Day 2012.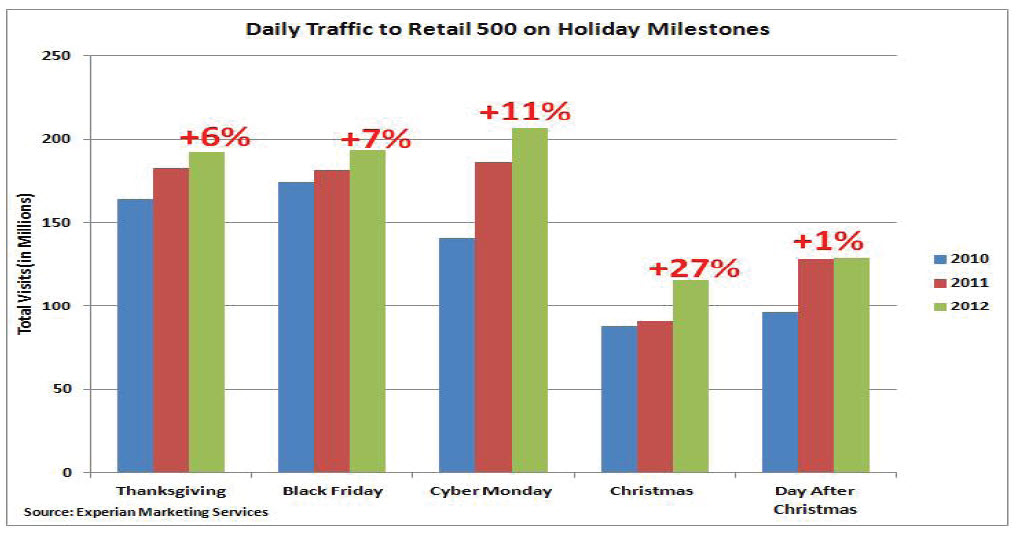 Amazon was the top visited site on Christmas Day. Walmart, Target, Best Buy and Macy's round out the top 5 most visited sites. The chart below includes the top 10 results: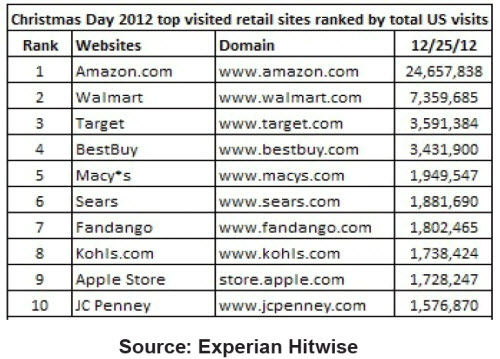 On the day after Christmas, Amazon was the top site, followed by Walmart, Target, BestBuy and Macy's. Sears, JCPenney, Kohl's, QVC and The Home Depot round out the top 10 for December 26th.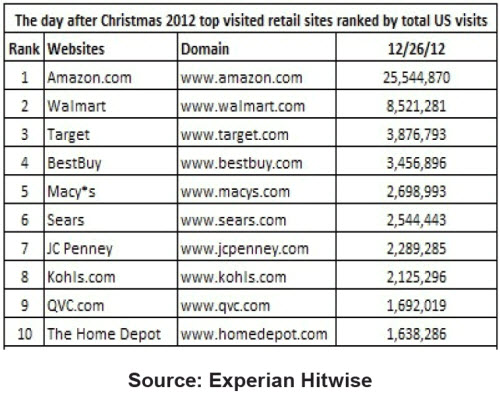 As tablets dominated our weekly top product search lists all holiday season, it wasn't surprising to see that the Apple iTunes site visits increased 193% and Apple.com visits increased 155% on Christmas Day 2012 vs. Christmas Eve 2012. The top product search terms sending traffic to the Apple.com site were iPod Nano, iPad Mini and iPad 4. Amazon.com visits increased 24% on Christmas Day 2012 vs. Christmas Eve 2012 as the top product search terms sending traffic to their site were Amazon Kindle, Kindle Fire and Kindle.
Also seeing growth were gift card searches as the year-over-year total search volume for "gift card" variations increased 6.1% this year compared to 2011. The big spike in searches happened the week before Christmas as shipping deadlines passed. Below are the top 10 gift card searches for the week before Christmas.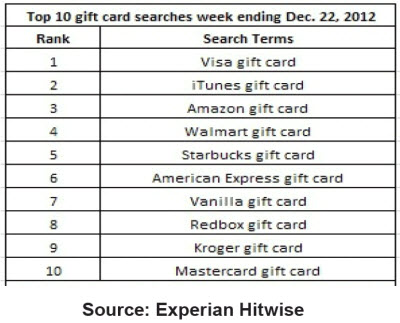 Learn more about the author, Shelley Kessler