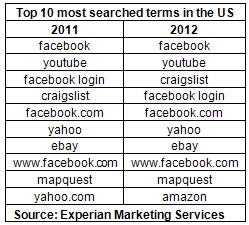 Experian Marketing Services analyzed the top 1,000 search terms from Hitwise data for 2012 , and Facebook was the top-searched term overall in the US. This is the fourth year that the social networking Website has been the top search term overall, accounting for 4.13 percent of all searches, a 33 percent increase from 2011. Four variations of the term "facebook" were among the top 10 terms and accounted for 5.62 percent of US searches overall, a 27 percent increase from 2011.
Among the top 10 terms, the top two terms stayed the same with facebook the top search term and "youtube" ranked at number two. The search term "craigslist" moved up from the fourth spot in 2011 to the third spot in 2012. "Facebook login" was the fourth most-searched term in 2012, followed by "facebook.com" and "yahoo." The search term "amazon" moved into the top 10 terms for the first time. Analysis of the search terms revealed that social networking–related terms dominated the results, accounting for 6.03 percent of the top 50 searches. This is an increase of 44 percent compared with 2011.
When combined, common search terms for Facebook — e.g., facebook and facebook.com — accounted for 5.84 percent of all searches in the United States among the top 50 terms, which represents a 27 percent increase compared with 2011. YouTube terms accounted for 1.67 percent, representing a 23 percent increase compared with 2011. Google terms (including YouTube) accounted for 1.91 percent — an increase of 20 percent compared with 2011. Yahoo terms accounted for 0.79 percent — an increase of 34 percent compared with 2011.
"Navigational searches continue to dominate the top search results as users continue to visit their favorite sites via search engines instead of directly entering a web address into their browsers URL bar," said Bill Tancer, general manager of global research for Experian Marketing Services. "Single-word searches grew 16 percent in 2012 as a result of continued reliance on search engine's suggested results. Other top 2012 searches reflected the ongoing infatuation with celebrities online."
Other highlights include:
The top 50 search terms accounted for more than 12 percent of all Internet searches in 2012 – representing a 30 increase compared to 2011.
New terms that entered the top 50 search terms for 2012 included: backpage, cool math games, fox news, pinterest and pof – an acronym for Plenty of Fish, the top visited dating site in the US.
The search terms yahoo and ebay have appeared among the top 10 since this ranking was started in 2006.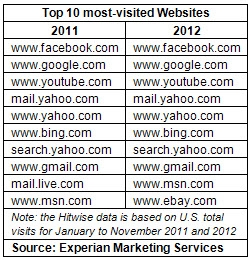 Top-visited websites in 2012
Facebook was the top-visited Website for the third year and accounted for 79.1 billion total US visits between in 2012. Google.com ranked second, with 78.5 billion total US visits — followed by YouTube (25.9 billion), Yahoo! Mail (22.2 billion) and Yahoo! (20.8 billion). eBay ranked in the top 10 for the first time since 2009.
The combination of Google properties accounted for 109.3 billion total. Facebook properties accounted for 79.1 billion total US visits, and Yahoo! properties accounted for 76.5 billion total visits. The top 10 Websites accounted for 276.3 billion total US visits or 32 percent of all U.S. Internet visits in 2012, which was slightly up compared with 2011.
Top public figure searches – Whitney Houston was the 196th most popular overall search term in the United States in 2012:
Whitney Houston (196)
Justin Bieber (242)
Kim Kardashian (291)
Nicki Minaj (371)
Bobbi Kristina (397)
Miley Cyrus (432)
Movies Titles – the top five searches from within the Movies category:
Breaking Dawn – Part 2
Magic Mike
The Dark Knight Rises
Prometheus
Dark Shadows
Music – the top five searched for artists/bands:
One Direction
Taylor Swift
Justin Bieber
Beyonce
Zac Brown Band
Branded Destinations – the top five search terms:
Disney World
Great Wolf Lodge
Disneyland
Hershey Park
Universal Studios Orlando
Top TV show searches – the top five primetime show searches from the Television category:
American Idol
Dancing with the Stars
The Voice
The Bachelor
South Park
Sports – The top searched-for athletes were Tiger Woods, Tim Tebow and Peyton Manning. The top searched for sports team was the Dallas Cowboys.
News and Media – The top non-celebrity search topics among News and Media sites in 2012 were hurricane sandy, iPhone5, election results and George Zimmerman.
If you are interested in more top 2012 data visits and fastest-moving searches, visit: the online trends page
Learn more about the author, Matt Tatham