Experian Marketing Services has released its holiday insights for the week of December 2nd, 2012.
This week's key findings:
More promotional mailings are being sent on weekends. The average weekend this holiday season had 43% promotional and 57% trigger campaigns. This past weekend, 47% were promotional campaigns, a 9% increase from the 43% average.
Although still a small percentage of mailings, the number of campaigns offering gift cards in subject lines more than doubled compared to the same week in 2011.
The top 5 ranked Websites, in the Hitwise retail 500 by visits share, for the week ending 12/8 were Amazon, Walmart, Target, Best Buy and J.C. Penney.
"Shutterfly coupon codes free shipping" and "Harry and David free shipping" topped the free shipping search term list for the week ending 12/8.
Email highlights and trends:
Christmas day mailings:
Only one third of brands sent promotional mailings on Christmas day in 2011 and, of those, about half of the campaigns included an offer in the subject line. Christmas day offers for post holiday sales actually did quite well, receiving double the transaction rate compared to the mailings without offers (transaction rate of 0.17% with offer in subject line compared to 0.08% without an offer).
If you do plan to mail on Christmas, make sure that you mail early in the day: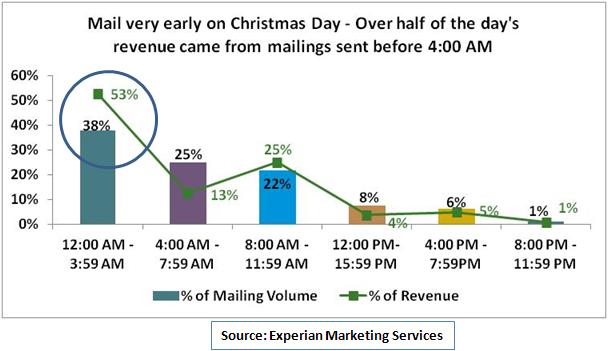 Post-Christmas week:
Promotional mailings with offers also did well in the post-Christmas week (December 26th – 31st).
The transaction rate for mailings with offers in their subject lines was 0.09% compared to 0.08% for mailings without offers. Revenue per email was also higher for the campaigns with offers.
The 4:00 AM time slot received a much higher percentage of total revenue than its percentage of volume, making it the best time to mail.
Morning mailings also did well on post-Christmas days. The 4:00 AM time slot received a much higher percentage of total revenue than its percentage of volume, making it the best time to mail.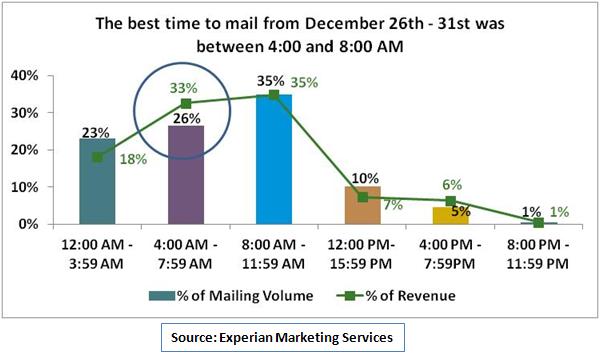 Online consumer insights:
While Peak Week last year, including Black Friday and Cyber Monday, saw big spikes in online retail traffic, there was another spike in traffic the day after Christmas. In 2011, there was a 3% increase in online retail traffic on Christmas and a 33% increase the day after Christmas.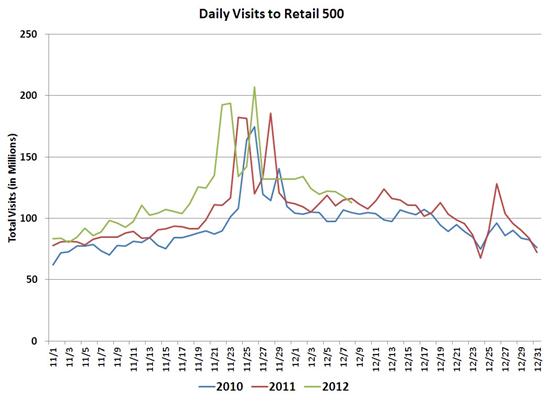 Source: Experian Hitwise
In 2011 we saw a spike on Christmas day occur in both social and search driving traffic to the Retail 500 sites.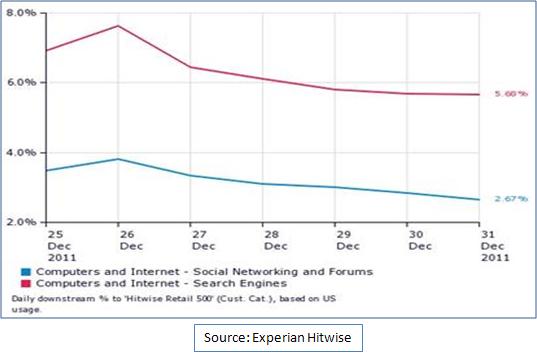 As we noted last week, interest in gift cards peaks during the final weeks leading up to Christmas. While searches for gift cards last year reflect that pattern, it should also be noted that searches for gift cards during the week after Christmas were also at higher levels than those seen at the start of the season.


Source: Experian Hitwise
Learn more about the author, Shelley Kessler