Experian Marketing Services has released its holiday insights for the week of November 25th, 2012.
This week's key findings:
All peak days, from Monday 11/19 through Cyber Monday (11/26), saw increases in total email transactions and revenue. Email marketers experienced a 28% increase in the number of email transactions, and a 38% increase in revenue.
There has been a 33% increase in the number of email campaigns with "Black Friday" or "Cyber Monday" in their subject lines this season compared to 2011.
Personalization in email subject lines has increased 27% over 2011.
Coupons in subject lines have increased by 58% this season.
Cyber Monday search terms increased by 16% the week ending 11/24/2012 versus 2011 and by 5% the week ending 12/1/2012 versus 2011.
For the week ending 12/1/2012, the top Cyber Monday search terms include "Cyber Monday deals 2012," "Cyber Monday deals," "Cyber Monday" and "Walmart Cyber Monday deals 2012".
40% of Cyber Monday search terms contained 4 keywords in a search term.
Email highlights and trends: Peak Week performance:
Total email transactions and revenue increased every day of Peak Week compared to 2011, for a total increase of over 28% in transactions and 38% for revenue.

The largest email transaction and revenue increases are seen in the three industries that are the most 'holiday' and gift driven:

Online consumer insights:
Search was a big driver for the Retail 500 websites on Cyber Monday this year.
Search engine downstream traffic to Retail 500 websites on Cyber Monday increased by 5% compared to 2011
For Cyber Monday search terms over 12 weeks ending 12/1/12, the paid rate of generated traffic was 20.36% and the organic rate of traffic was 79.64%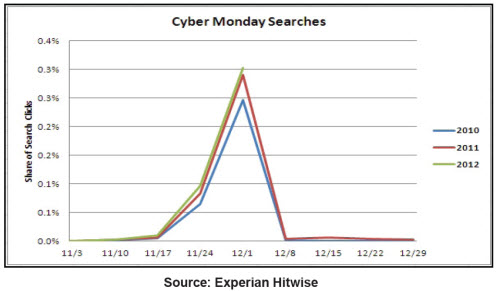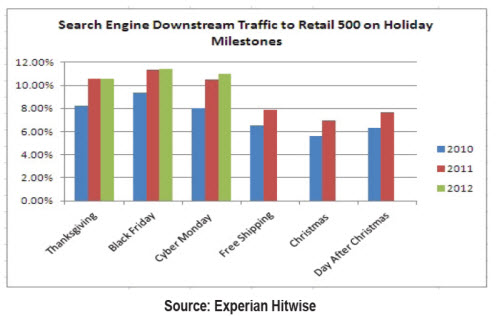 Learn more about the author, Shelley Kessler