In today's digital world, with instant comparisons between brands available at your fingertips, it is particularly important to cultivate and reward 'loyal' customers. Whether the program is based on points, miles, gift cards, credit cards, stamps or coupons, the goal of a loyalty program is to keep the best customers committed to the brand. Customer retention has never been more important. Communication is key, and email marketing plays a leading role in informing loyalty members of benefits, status, offers, as well as brand and program news.
To identify current brand loyalty trends, we looked at the latest survey research from Experian Simmons (Spring, 2012 NHCS Adult Survey 12-month) and at loyalty emails sent between January 2011 and March 2012 from 43 brands.
Who are these brand loyalists?
Experian Simmons found that 34% of the adult U.S. population has been a 'brand loyalist' as of April of this year. Looking at that 34%, we have identified some key areas in which brand loyalists differ from the overall adult U.S. population.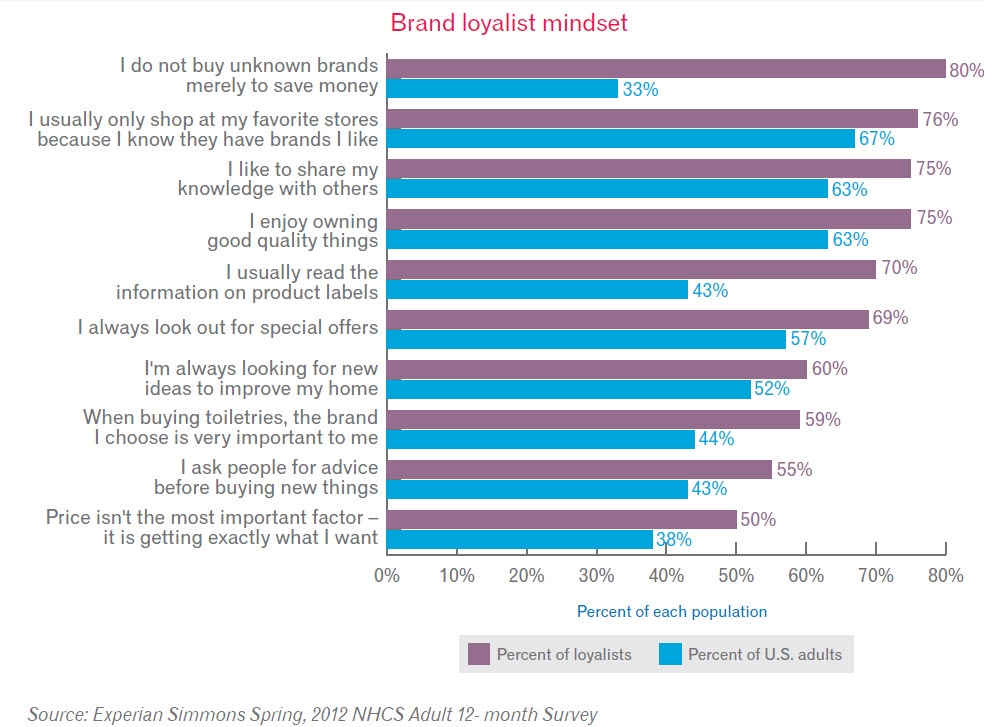 The response to email campaigns reflects this mindset in a number of ways:
Dollars and sense
Offers are valuable, but purchasing the right product from a preferred brand may be more so. While 80% of brand loyalists said they do not buy unknown brands merely to save money, 69% are always looking out for special offers. Mailings without offers in the subject line had 24% higher transaction rates, but 11% lower revenue per email than loyalty mailings with offers in the subject line.
Consideration: Test whether including an offer will work best for your loyalty program.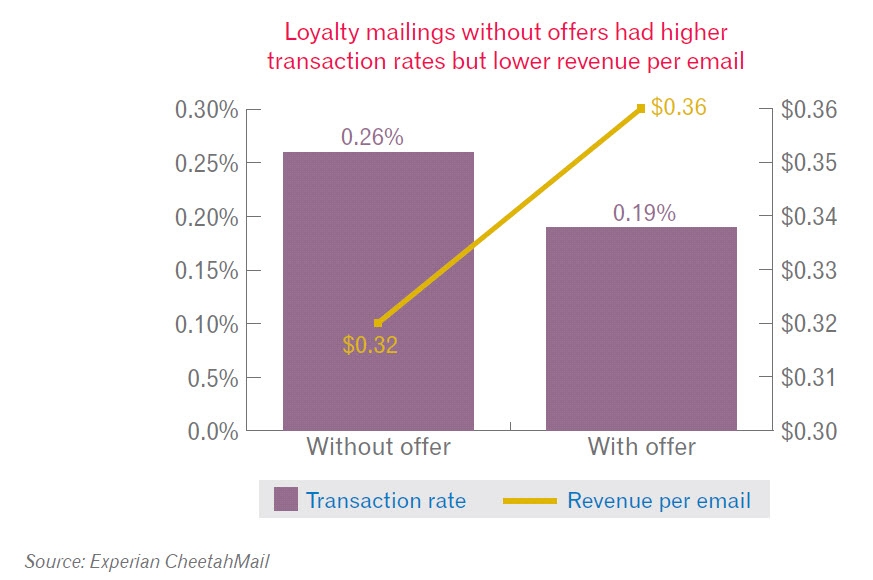 The 1:1 – Value your customer
When looking for a 'favorite store,' emails with dynamic store locations in the subject line can help ensure that your loyalty members will easily find your brand. Loyalty emails with name, dynamic benefit or status updates, or dynamic store locations enjoyed unique open rates that were 83% higher than loyalty mailings that had no dynamic content in the subject line (loyalty mailings with dynamic content had unique open rates of 43.5% compared to 23.5% for those without dynamic content).
"Spend $75 and Get a $10 Summer Reward Coupon at %storename%!"
"Use your $%point_balance% in Instant Rewards on gifts for Dad"
"Here's Your Online Reward Dollars %fname%"
Keep it fresh
New ideas, new benefits — equates to more engagement. Campaigns mentioning new, updated benefits had more than double the transaction rates than other loyalty mailings (loyalty mailings with new benefits had transaction rates of 43% compared to 20% for other loyalty mailings).
Mobile Marketing and social media attitudes
Two areas in which brand loyalists expressed opinions that were stronger than the average U.S. adult population in the Experian Simmons survey are mobile marketing and social networks.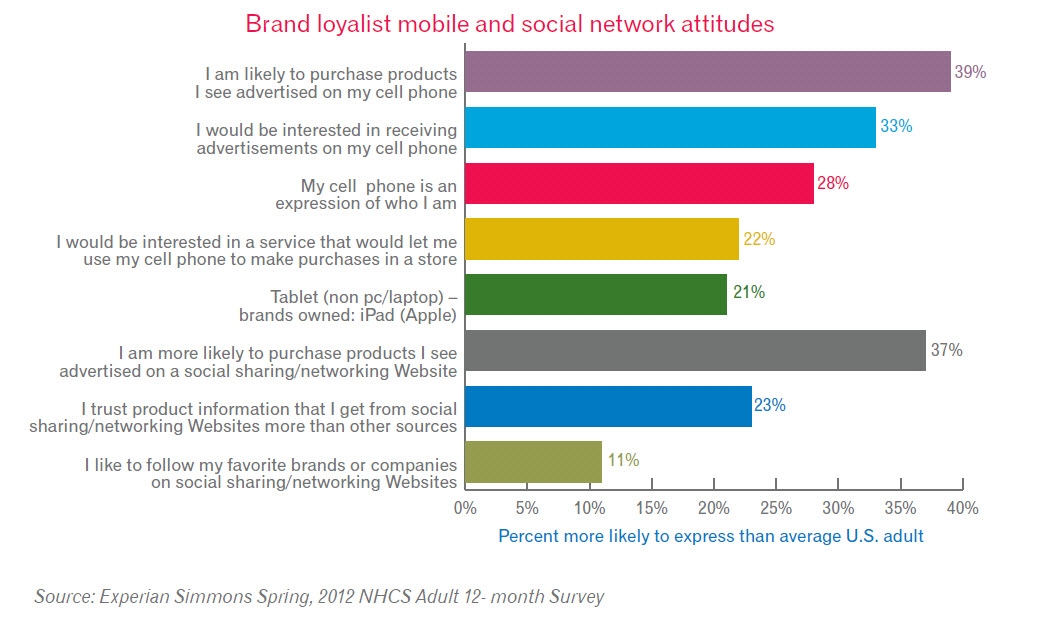 Loyalty email campaigns can be effective cross-channel marketing tools that boost your brand's mobile and social media program engagement
Support mobile programs
Loyalty programs are crucial to the travel industry and travel brands are leading the way with mobile communications and mobile apps. Travel is not alone. Mobile loyalty programs are being started in many different types of brands including supermarkets, pharmacies, consumer electronic stores and office supply companies, just to name a few. Loyalty emails are a great way to increase mobile program enrollment and provide unique benefits to loyalty members.
"Earn Bonus Points when you enroll in mobile messaging"
"Introducing Quick Prints – The Fastest Way To Print From Mobile Phone to Store"
Use surveys and ratings and reviews
Sixty-seven percent of brand loyalists said they ask people for advice before buying new things. They are also 23% more likely than the average U.S. adult to say that they trust product information on social networking sites. Email is an effective way to obtain opinions and product reviews that can then be used on your social media site. Survey and review requests to loyalty members had 38% higher open rates and more than double the click rates of other loyalty mailings (surveys/reviews had unique open rates of 28% and click rates of 10.7% compared to non-survey loyalty mailing rates of 20.2% and 3.7% respectively).
"Earn 1,000 Miles For Your Valued Feedback"
"Tell us what you think."
Take full advantage of social media
With 75% of brand loyalists saying they like to share their knowledge with others, it is likely that some of that sharing is happening on social media sites. The keen interest brand loyalists have in social media can be seen in their response to emails asking them to join or follow a site:
Experian CheetahMail click analyses have shown that emails with invitations to 'like us', typically receive 43% of their total clicks on the main link to the social media site
Social invitation emails sent to loyalty segments, however, received almost 70% of their total clicks on the main link to social media
Above all, the key to building and retaining loyalty is to know your customer, understand their mindset, acknowledge their individuality and tailor your brand's messaging to meet their needs, wants and interests across channels. The extra efforts will be recognized by your brand's biggest supporters and you will soon gain new fans along the way.
Brand loyalty was spotlighted in Experian CheetahMail's Q3 2012 Benchmark Study. View the full Email Marketing Benchmark Study.
Learn more about the author, Shelley Kessler