Hi again, it's me, Dana. I am so excited for the holidays this year! I'm looking forward to spending time with my friends and family, eating home-cooked meals and gift giving. It's the perfect time of year to show my appreciation for all the wonderful people in my life. This year I have a pretty mixed list to buy for: mom and dad, of course; Collette, my roommate; my mixed-doubles partner, Dean; and my niece, Sienna. I'd also like to get creative with some homemade gifts for a few friends and coworkers.
My mom is usually tricky to buy for, but now that she's on Pinterest all I have to do is check her boards to see the home décor, cook books or crafting tools she's got her eye on. It's like I have access to her virtual wish list – love it! My dad is all about the gadgets. He just got the iPhone 5 so I know any accessories would be great. I'll do a quick search to see what's out there that he would enjoy.
Collette is by far the easiest to buy for. We live together and like a lot of the same things. I'll make a trip to Evolution. I love that store and Collette will love something from there too. Also, the fall dress I got there would transition to winter if I had the right blazer or scarf – why shouldn't I give myself a little holiday cheer too!
Since signing up for their email loyalty program earlier in the fall, I've been getting great offers from ShoeSparkle. Just this week they emailed suggesting I surprise the man in my life with new shoes. I didn't even realize they sold men's shoes! It's perfect though, because Dean's been talking about these neon tennis shoes he wants. While I wouldn't normally buy a guy shoes, I know he'll love them – plus, their return policy is superb if he doesn't.
So that leaves little Sienna. I don't normally shop for toys, so this one might be tricky. I'll probably do some online searching for gift ideas. There's got to be toy gift guides out there to help me know what's popular for the kiddies. While I'm at it I'll search for homemade gift ideas too. I'm sure to find something fairly easy and super cute.
I'm planning to do most of my shopping this weekend to take advantage of all the great Black Friday and Cyber Monday deals. Most likely I'll do the majority of my buying online – it'll be cozier shopping from my couch. It sure seems like shopping this year will be a lot less stressful than years past!
Happy Thanksgiving and happy shopping!
XOXO,
Dana
Note from the editor: Holiday shopping really is getting easier for customers because savvy marketers are more customer obsessed than ever.
Dana is resourceful, using technology to save time and money this holiday – and she's not alone. Rather than roaming from store to store, a quick online search for gift ideas can point her in the right direction for what she's looking for. In order to reach people like Dana as they search for ideas, marketers need to make sure they have content on their site to attract people looking for recommendations. Here's a quick look at search terms that include the word "gift." "Unique Christmas gifts" and "homemade Christmas gifts" top the list.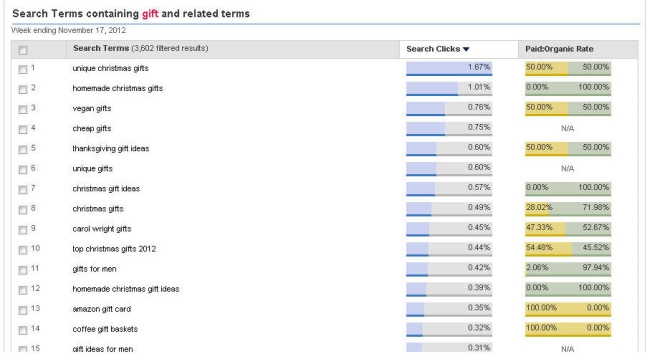 Source: Experian Hitwise
Homemade gifts – something Dana is looking for ideas about – appeared in several variations. If we look at what sites are receiving traffic from homemade gift terms, we see that Pinterest is number five on the list, with an increase of search clicks from the same time last year.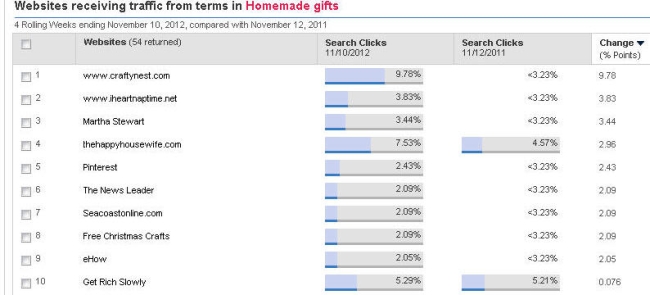 Source: Experian Hitwise
Homemade gifts aren't the only thing on Pinterest. Similar to Dana searching her mom's board for gift ideas, many consumers are actually creating "holiday wish list" boards specifically so friends and family know what they want or need. Adding "pin it" buttons to your emails and website can help get products on those boards and in front of buyers. With the varied ways people use Pinterest, marketers are seeing the value – a recent EMS survey revealed that 71% of marketers are investing in Pinterest this holiday.
Like ShoeSparkle, many marketers are also touting their gift guides via email. One trend is highlighting specific categories, like "for her," "for him" or "for the home." This is a great way to remind recipients of the different people they need to buy gifts for during the holiday season. In addition, remarketing emails could also be sent based on what categories were clicked by recipients. Experian Marketing Services recommends testing this method when sending gift guides – in general, more targeted emails perform better.