While we all associate the color red with Valentine's Day, the revenue generated during this holiday is indeed very green. According to a study by the National Retail Federation, this holiday generates nearly $18 billion for businesses, second only to Christmas. Similarly, in email marketing, Valentine's Day volume is second only to the Christmas holiday season. Mailings for Valentine's Day begin right after the New Year, but planning for this holiday should get underway now.
Here's some insight from Valentine's Day 2012, to help you with your Valentine's Day campaign planning:
Subject lines
The NRF study also found that cards, candy, dining out, flowers and jewelry were the most given gifts on Valentine's Day, and those items were common themes in email subject lines. Other, less typical products that were also promoted were video games, wine, phones and travel getaways.
Key features of the highest performing subject lines were gift and card 'ideas,' personalized greetings, including a heart symbol and using the word 'sweet.'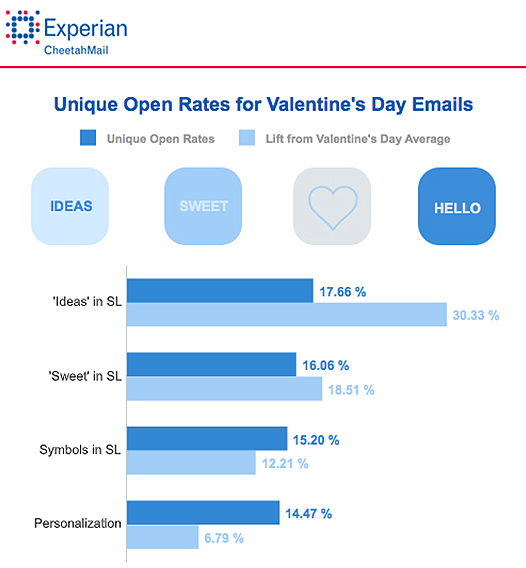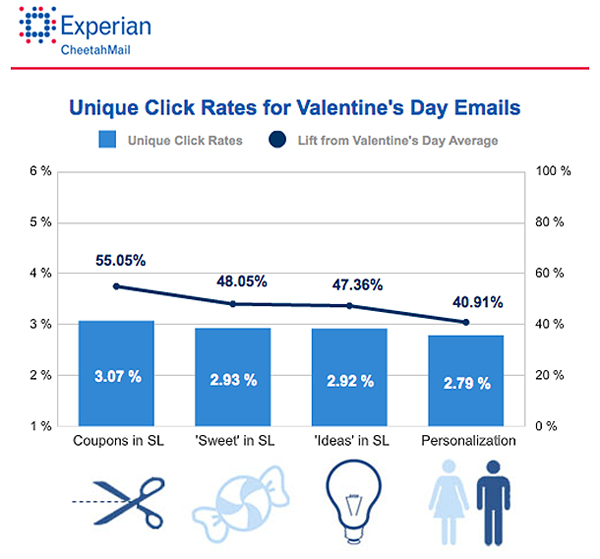 Timing
Valentine's Day is a last minute shopping holiday. Half of all volume and revenue occurs in the week leading up to and including Valentine's Day.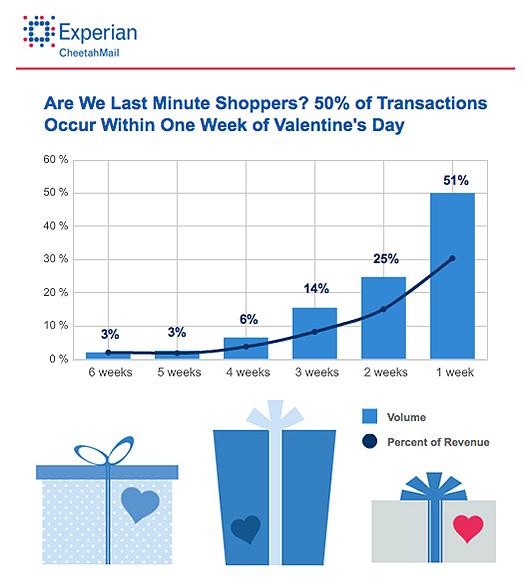 The National Retail Federation estimates that Americans making Valentine's Day purchases spend an average of $128. The average order value for email was even higher at $140. While clearly willing to spend, Valentine's Day buyers were also highly interested in getting something for 'free.'
Free shipping generated the highest transaction rates and revenue per mail (0.17% transaction rates and $0.19 revenue per mail)
Free gifts, such as movies, lip gloss, dresses or lingerie also had higher transaction rates than the Valentine's Day mailing average
Price conscious Valentine's Day buyers were also motivated by percent (%) off deals.
Percent (%) off mailings had both higher than average transaction rates and revenue per email (0.08% transaction rates and $0.10 revenue per mail)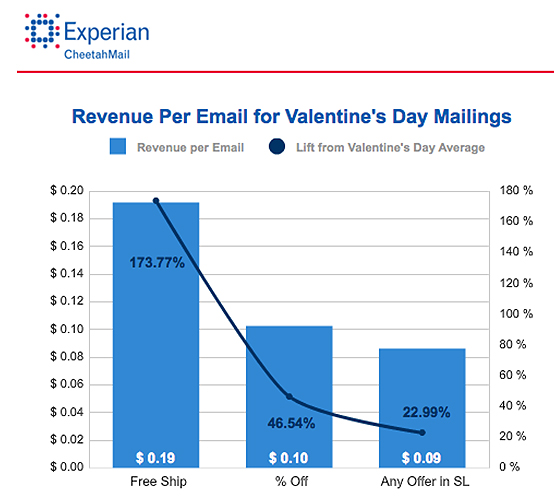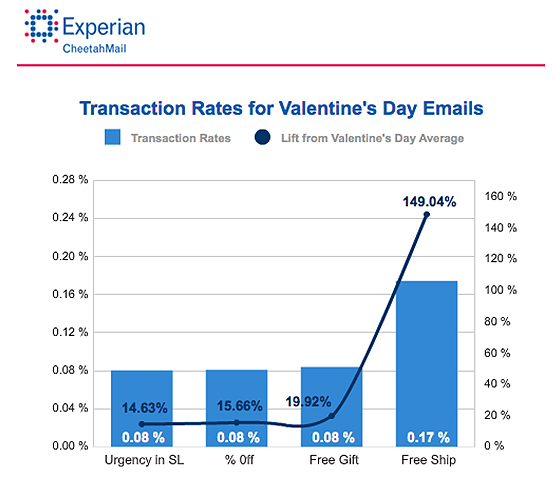 Tips for marketers for Valentine's Day 2013
The immediacy of mobile SMS/MMS campaigns would work well for all of the last minute Valentine's Day purchases. Establish and actively grow and promote your mobile SMS/MMS program to take advantage of the Valentine's Day buying frenzy.
Subscribers are searching for 'ideas' for Valentine's Day gifts. Use remarketing campaigns based on abandoned cart and browse behaviors to suggest other products they might also find of interest.
Promote your brand in ways beyond email by connecting email to your social media sites. Invite subscribers to 'pin' their most desired gifts, 'tweet' a review of their chosen restaurant or post pictures of the lovely flowers they received.
Fresh creative for the holiday can help ensure subscriber engagement. Personalize the message, consider cinemagraphs or animation to add some fun, and most of all share your love of your brand with your subscribers to make this holiday a success for everyone.
Learn more about the author, Shelley Kessler