As a long time resident of Manhattan and now Brooklyn, I have been crushed by the devastation of Superstorm Sandy to my beloved state and outlying areas.
While the storm was still raging, and even afterwards, as we all pick ourselves out of the ruins, marketers continued to work diligently as we move closer to the holidays. While many campaigns seemed to go out as planned, other marketing campaigns sprung up anew. Some campaigns were seemingly opportunistic, while others surprised us with generosity and thoughtfulness.
I recently re-read an interesting quote from John F. Kennedy:
"When written in Chinese, the word "crisis" is composed of two characters. One represents danger and the other represents opportunity."
While opportunities present themselves, as marketers, it's how we react to crisis that matters most, and how we take hold of those opportunities.
As we move forward with regaining normalcy in affected areas, I thought I'd share a roundup of the stand out campaigns from our colleagues post-storm; a heartfelt letter from a CEO, news of donations based on purchases, effective usage of social media (Twitter), as well as an email that was perhaps less sensitive to victims of the disaster.
I also wanted to share a few tactics, which can be found at the bottom of this post, for fellow email marketers that might assist you in the coming days or weeks, as follow up to Superstorm Sandy.
1)      Seamless.com
The first standout marketing and operations team I want to highlight is that of local delivery service Seamless.com. For those that are not familiar with Seamless, they are a restaurant delivery service that most New Yorkers live by. Either online or with their various apps, you can view which restaurants all over the boroughs are delivering, including time estimates and reviews. During Superstorm Sandy they really stood out as a business who was both prepared but also quick on their feet. Fast Company also reported on Seamless' Sandy response here.
Not only did Seamless.com work hard to accommodate their customers by over-communicating with their restaurant partners, they went out of their way to set customer expectations, as well as find alternate channels to contact their customers. Twitter became a huge vehicle for Seamless to communicate and, in turn, earned them props from their customers. Without this technology to communicate, Seamless may not have triumphed as they did with their customers.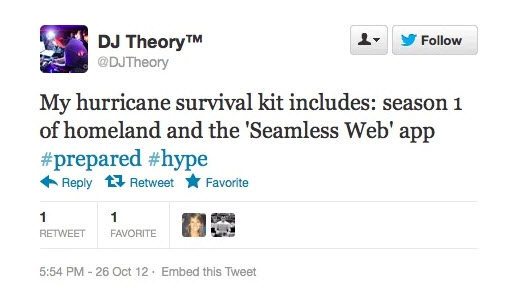 2)      United Airlines
The second company I want to call out is United Airlines. Here is the text of an email they sent to customers on November 1:
Subject: Support Superstorm Sandy relief efforts and receive bonus miles
Dear Liz,
We hope that you and your loved ones are safe and well in the wake of Superstorm Sandy. Our thoughts go out to all those who are coping with the aftereffects of the storm. As the recovery efforts get underway along the East Coast, we are working hard to restore normal travel operations. However, the storm has caused damage at some of our airports, and customers may experience flight delays throughout our network. If you are flying with United, we encourage you to check the status of your flight at united.com/flightstatus before leaving for the airport.
Travel change exception policies issued for the East Coast
As a result of Superstorm Sandy's impacts, United has issued exception policies for customers flying to, from or through select cities on the East Coast. For details and other travel updates for United flights, please visit united.com/importantnotices.
What you can do to support Superstorm Sandy relief efforts
We can all help support the American Red Cross, AmeriCares and Feeding America in providing aid to those affected by Superstorm Sandy. Join the relief efforts by donating to one of these organizations, and we will reward your generosity by providing you with a one-time award mile bonus. MileagePlus® members who give $50-$99 USD will receive 250 bonus miles, and those who contribute $100 USD or more will be rewarded with 500 bonus award miles. We have committed to awarding up to 5 million miles to members for contributions made before November 30, 2012, to support this initiative.
Donate now
MileagePlus members can also help by donating their miles to a charity through united.com. Visit united.com/charitymiles to provide a mileage donation today.
We appreciate your support of these relief efforts, and our thoughts remain with those affected by the storm.
Not only did United send a timely message to its customers, but they're also offering donations to charities via a source their customer's already know: MileagePlus points. This is a great way to allow their customers to feel like they're giving back while booking or rebooking flights they would have had to make anyway. Kudos to United for being both smart and generous.
3)      Kenneth Cole
Kenneth Cole, who normally is known for pushing the envelope, sent out an email communicating a few key points post storm, but they also added a benefit for their customer: a 50% donation towards the Red Cross.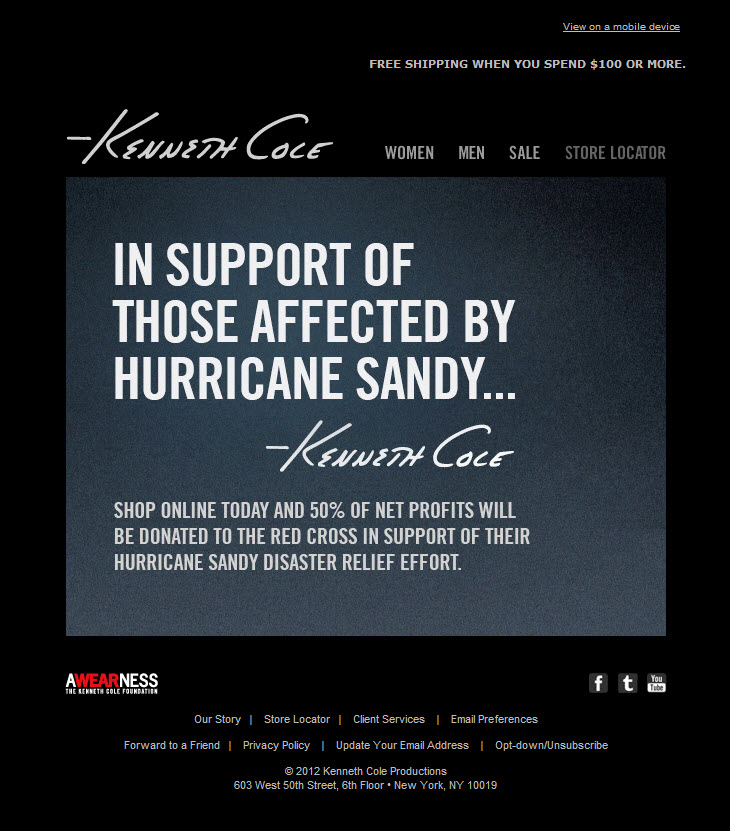 4)      Ann Taylor
While not all of brands donated profits, it was still nice to receive notes from CEOs expressing their sympathies, letting customers know the status of their business operations. Below is an example from Ann Taylor (Ann Inc).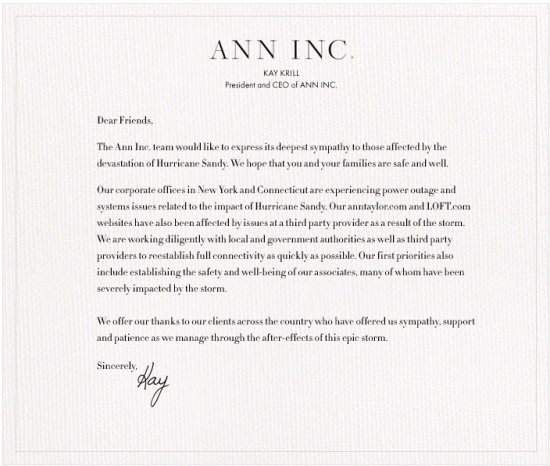 5)      American Apparel
Our final example is a timely email, but perhaps not so sensitive, from American Apparel.
Their email was one of the first to be sent out in the wake of Sandy, causing customer outrage across news portals to Twitter.
Subject: ☁ ☂ ϟ Hurricane Sandy Sale! ϟ ☂ ☁ 20% Off Everything!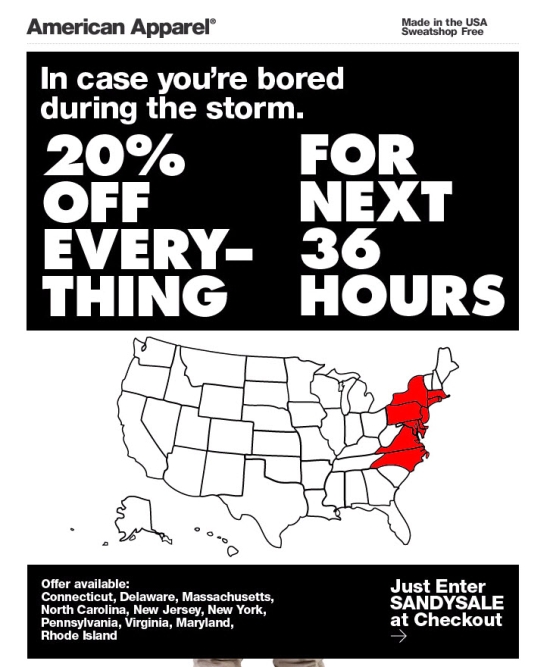 American Apparel reps tried to justify the send, explaining that "retail stores are the lifeline of a brand like ours so when they are closed, we need to come up with ways to make up for that lost revenue."
In the meantime customers tweeted that they would be "boycotting" American Apparel stores, and the brand has garnered some negative PR. This email came off as insensitive to those suffering from the tragic event.
While this may have received a lot of press, most marketers would prefer to stay away from this type of negative PR.
What Experian Marketing Services recommends in the coming days and weeks post-storm:
Geo-target your emails to those affected by the storm. You may want to adjust your messaging. Think about frequency, recency and offers. Remember that folks in New Jersey may not be running out to stores due to issues just getting gas. Perhaps it would be easier for them to shop online? Here is an example from West Elm with a specific discount to their Brooklyn Store in an area that was flooded by the storm:
Subject line: WE ♥ NYC | Take 15% off at our Dumbo store…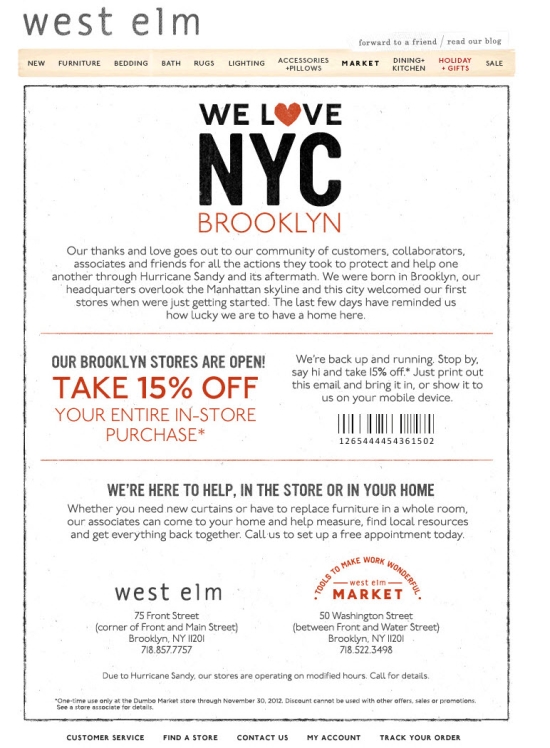 And one that went to those in a different zip code in New York: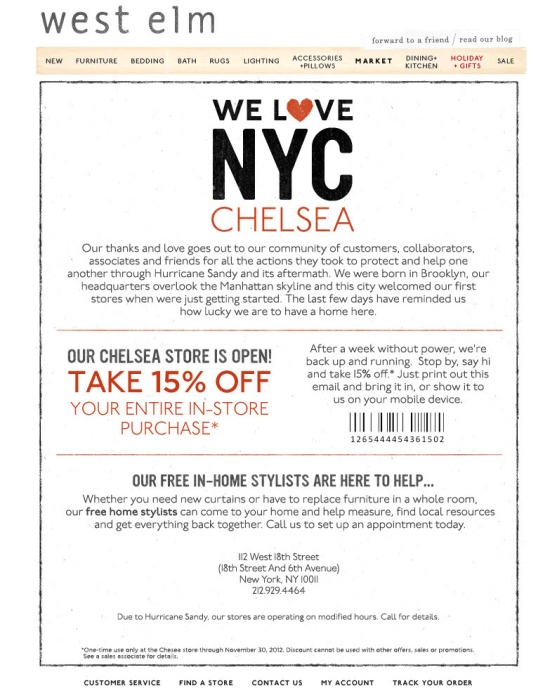 The above is a great example of personalizing with known geographic information.
Provide discounts where you can – reduced or waived express shipping fees, friends and family offers (order on behalf of those who can't).
Like Kenneth Cole and United, send a campaign or campaigns promoting a donation for each dollar spent.
Update your customers of any changes or impacts that may be occurring based on the storm. Is shipping delayed? Stores closed? Are phone lines busier than normal?The example below from Coldwater Creek calls out store locations that may have been affected:
And finally, watch your tone. Are New Yorkers ready to "storm" your sale, as one retailer put it? Probably not. While I'm all for staying on brand, if you think you're going too far or might offend, you probably are.
With technology making it easier than ever to reach and target customers quickly and simply, the above tactics should be ones you already have in your marketing arsenal.
How you handle your marketing communications to consumers, especially those affected directly or indirectly by the storm, will be looked at with particularly critical eyes in the coming days and weeks. Don't miss your opportunity to be looked upon positively in the face of a crisis.
How do you think your company performed in the face of the Sandy crisis? Leave a comment below or tweet me: @gouldliz