Earlier this year Experian Marketing Services surveyed marketers about their holiday marketing plans. We wanted to learn what successes they had with the marketing tactics they used last year and what their investment plans are for those tactics this holiday season. Here's what we found.
Email marketing, paid search marketing and online display advertising were the three most successful tactics of the 2011 holiday season, as reported by those who used them. Fifty-four percent, 49% and 35% respectively, reported extremely or very successful campaigns.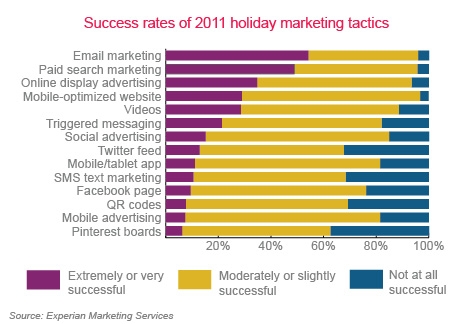 Based on these successes it makes sense that when we look at investment, email marketing leads the pack with 96% of marketers planning to invest this year. Paid search marketing and online display advertising also show increased adoption rates for the upcoming holiday.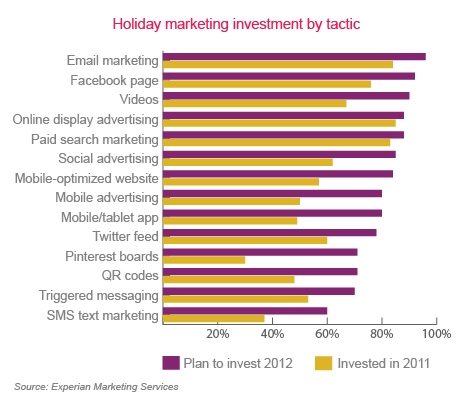 What a difference a year makes for Pinterest boards. Despite the lowest success rates last year, they are the biggest mover in our survey. Thirty percent reported using the emerging channel last year and 71% plan to use it in 2012. This isn't surprising, since at the end of last year Pinterest emerged as the third most visited social networking site behind Facebook and Twitter. Marketers see the value of this traffic and want to put the site to work for them this holiday. They've also had a year to test what's working and what's not, so hopefully they'll see higher success rates next year.
Other tactics on the move: mobile. More marketers in our survey reported that they will adopt mobile-related marketing tactics this holiday season. Last year 57% of marketers used mobile-optimized Websites, 50% used mobile advertising and 49% used mobile/tablet apps. This year adoption rates for those tactics are expected to be 80-83%. Rounding out the top five biggest movers this holiday is another mobile tactic, SMS text marketing. Thirty-seven percent used it in 2011 and 60% plan to in 2012. This is a smart move for digitally-savvy marketers because 23% of smartphone owners send a text message to a business or organization for more information in a given month – it's the number one mobile shopping activity reported by consumers.
We hope this data gives you some ideas for the investments and campaigns you're running this holiday season and beyond. For more tips watch our holiday webcast featuring marketing insights you can use right away. And be sure to keep your eye on this blog, where throughout the season we're releasing holiday data as we get it.